Are License Plate Readers Tracking Your Every Move in RI?
Rhode Island cities are betting on license plate-reading technology to solve crimes but critics warn of widespread-surveillance and traumatic mistakes.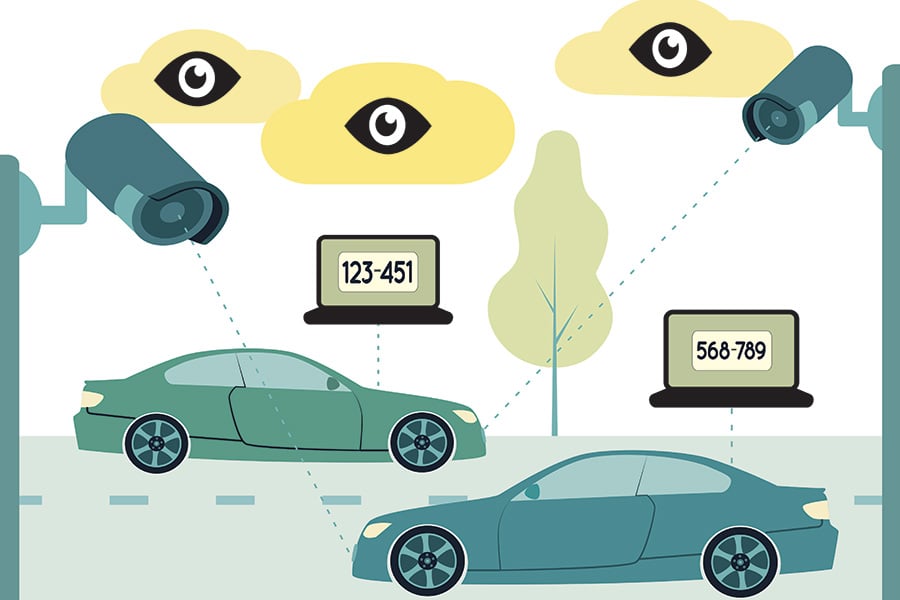 Over the two-month pilot, all three departments used Flock hits to recover stolen cars. Flock-captured images cleared one suspect in Pawtucket. Woonsocket Police Chief Thomas Oates III says his department used the system to find a fourteen-year-old runaway from Central Falls who heisted a car in Lincoln and made it to a Pawtucket gas station. In Cranston, Flock helped to produce headline-worthy conclusions to two criminal investigations: nabbing a pair of violent armed robbers who are alleged to have carjacked a Mercedes, pistol-whipped a man and assaulted his pregnant wife; and the eventual apprehension of a suspect in two Cranston bank robberies.
"I'm very happy with it. It exceeded our expectations," says Cranston Police Chief Colonel Michael Winquist.
Eli Silverman, professor emeritus at John Jay School of Criminal Justice, says Flock's crime-reduction claims should be treated skeptically.
"It's spurious to attribute a crime increase or a crime decline to a single factor," he says. "Generally, we find these crime trends are multifactorial; it could be the weather, or COVID, for example. To attribute this to a single device or program is quite suspect."
The success rates fall apart when subjected to rigorous statistical analysis with larger sample sizes, says Brian Hofer, founder and executive director of Secure Justice, a technology privacy advocacy group. A paralegal by training, Hofer got involved in 2014, when the city of Oakland was poised to implement the Domain Awareness Center, a surveillance system that collects data from a variety of sources, such as APLRs, security cameras and gunshot detectors. Since then, Hofer has successfully challenged several California municipalities to drop plans for expanded surveillance, adopt stringent protocols with civilian oversight and enact privacy laws, many of which he drafted.
"I've been tracking efficacy for seven years," he says. "The vendors' claims are 100 percent fiction. There are some successes, but when the number of crimes solved is compared to the amount of data collected, as a matter of cost-benefit, the impact is statistically invisible, no greater than random chance."
At present, the three Rhode Island police departments plan to manage the system with internal guardrails. Cranston's policy covers limited access to the data by trained personnel, a requirement that data is linked to a specific case number and regularly audited.
"I think the safeguards in place are adequate and battle-tested," says Winquist. "We already have access to many sensitive databases. It's not out of the ordinary. The focus of the system is to solve serious crimes in the database, not to track individuals or to use for traffic enforcement."
Civil libertarians and privacy advocates don't think police policy is enough. For one, private entities use the system. Homeowners associations have been one of Flock's biggest customers, says Matthew Guariglia, a policy analyst for the Electronic Frontier Foundation.
"The people who have access to this material are often your neighbors. They could learn if you have a regular guest at midnight who leaves half an hour later or when you go to work every day. There's a lot that can be inferred about your private life just by who comes and goes in the neighborhood. There's nothing limiting their use."
And, like any system, it is not impervious to mistakes. In August 2020, a heart-wrenching video of Aurora, Colorado, police officers, weapons drawn on an African American family — including four sobbing children, ages six to seventeen, face down on the hot pavement — went viral. Police blamed a mistaken APLR hit for believing the family's SUV was stolen. (The stolen vehicle was a motorcycle.) Coincidentally, Secure Justice's Hofer and his brother had a similar experience driving home after a Thanksgiving visit with his parents.
Warwick Representative Joseph Solomon Jr. is weighing the possibility of sponsoring state legislation to ensure privacy protections.
"Years ago, we put laws in place for red light cameras and school speeding cameras," he says. "As it stands now, there's not much of a limit on what these [APLR] cameras can record, or the purposes used for. Policies are just that: They can be changed at a moment's notice. At the end of the day, you need a law."
Ellen Liberman is an award-winning journalist who has commented on politics and reported on government affairs for more than two decades.