Are License Plate Readers Tracking Your Every Move in RI?
Rhode Island cities are betting on license plate-reading technology to solve crimes but critics warn of widespread-surveillance and traumatic mistakes.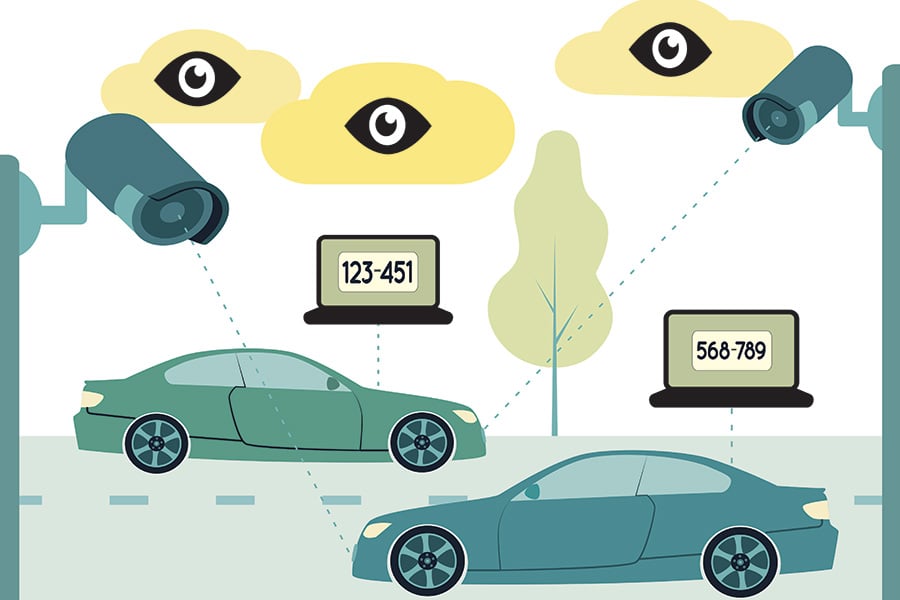 Sergeant Anthony McHugh's cruiser glides through the dark arteries of Cranston. By 6:30 p.m., the clots of rush-hour traffic have broken apart, and the headlights flow smoothly around the city like a movie marquee. This Thursday night is quiet, and McHugh's early evening patrol picks up a few minor traffic infractions and a fender bender. McHugh, thirty-five, the son of a Long Island cop, is still young, but has been on the job for thirteen years — long enough to experience what he sees as a sea change in policing.
Take stolen cars, he says. Finding a perpetrator was usually a matter of happenstance. You stopped the driver for a busted tailpipe or an outdated registration sticker, one check led to another, to the discovery that the vehicle was owned by someone else.
"It probably doesn't seem like that big of a deal, but when guys used to make a stolen car arrest, it was like 'Whoa — what did you do? How did you do that stop? Let me hear this story.' But now it's like 'How did you get that stolen vehicle?' 'Well, I heard it on the Flock hit. They told me it was on Reservoir Avenue travelling north and I stopped it a half a mile from where it was.' "
The "Flock hit" is a reference to the Flock Safety system, a network of time-stamped license plate-reading cameras linked to a vehicle's make, model, color and distinguishing marks. The image information is instantly checked against information stored in other crime databases, such as the National Crime Information Center, a digital index of "wanted" people and property associated with that plate. The department's dispatchers and officers get a "hit" when a camera records the passing of a vehicle on a hotlist.
This fall, three departments — Cranston, Pawtucket and Woonsocket — tried out the system on a sixty-day trial. To police, automatic license plate reader (ALPR) systems are like an exponential explosion of patrol power. Geo-locating vehicles linked to crimes or missing persons give police additional data points to solve crimes and arrest suspects.
"Any new technology that enhances our capabilities or adds a tool to the tool belt of a police officer draws our attention," says Pawtucket Police Chief Tina Goncalves. "It can prevent crimes from happening, give us a lead on stolen cars and wanted individuals, and helps us with Amber alerts and Silver alerts. It's multifaceted."
Civil libertarians see a troubling intrusion on privacy. ALPRs are along a continuum of surveillance techniques used by law enforcement that combine image capture systems, such as close-circuit television, with other stored information and algorithms to recognize faces, locate the source of gun shots or detect unusual activity, such as loitering, in a particular location.
"This is widespread surveillance with no limitations being put on its use. The police departments unilaterally decided to implement them," says Hannah Stern, a lobbyist for the American Civil Liberties Union of Rhode Island. "Not only is privacy an issue, but there was no solicitation of public input or even notification before these programs were implemented. That's contrary to a process that encourages a set of protocols to adopt strict public oversight measures and ensure public transparency."
Some Cranston residents were upset that the city police went ahead with the tryout without informing or taking comment from the community.
"It's a revolutionary change of policy that went by with no debate or scrutiny until after the fact," says Michael Beauregard, thirty-one, an Edgewood resident who belongs to Cranston Forward, a civics advocacy group that opposes the cameras. "I don't know if I trust every single person who has access to the system. And is the data secure? We know the biggest banks and social networks have gotten hacked periodically. How is this venture capital tech startup any different?"
Automated license plate readers for crime detection are a long-established law enforcement technology. According to British manufacturer ANPR International, ALPRs were invented in the UK in 1976. By 2013, a survey conducted by the Police Executive Research Forum found that 71 percent of the respondents used some form of this technology. Over the last forty-six years, ALPR systems have improved: less cumbersome, with better image resolution and analytic capabilities, and cheaper. Flock Safety, founded in 2017 by an Atlanta man who was the victim of a burglary, came up with a formula that police departments find attractive. Using a "crime map" of the municipality, Flock will work with the department to identify the most effective camera locations. Jurisdictions lease the system at $250 a camera. Flock installs, maintains and removes the solar-powered hardware. It also manages the cloud-based software. It purports to protect privacy by keeping the cameras aimed at license plates only, and maintains the data —which the lessee owns — for thirty days. As of November, Flock cameras were operating in 1,400 communities in forty states.
"One thing a lot of people mention is the value of objective evidence," says Flock spokesperson Holly Beilin. Eyewitness testimony is notoriously inaccurate and can lead to a false accusation "that's very traumatizing. Our cameras are completely objective evidence. It's a photo and it adds a layer of objectivity to the very difficult job of policing."
Flock's most powerful pitch is amazing results: up to a 70 percent reduction in crime, the company reports.