A Walk Down Westminster Street
Get the low-down on all the good eats, gift shops and more on this street in the Downcity Arts District of Providence.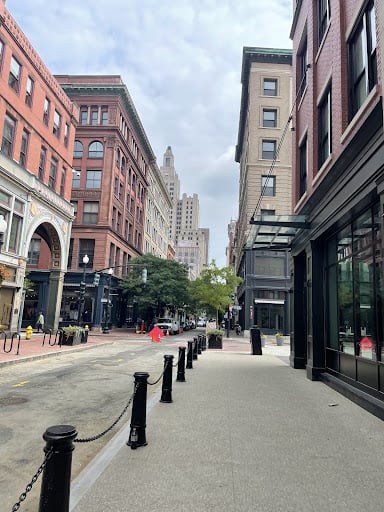 The city streets are hot, but Westminster cuts through the center of downtown to deliver you to a walkable street full of air-conditioned storefronts and restaurants. Have your pick of Greek, Korean, Italian and all-American for lunch before diving into the artsy gift shops (after all, AS220 is right around the corner), boutiques and bookstores this area has to offer. There may be some noisy road work going on at the moment, but if you're lucky you might hear an accordion playing in front of the book store instead. There is a lot of business packed into this half-mile stretch of road, so let's break it down:
Eat
KOREAN– There are many delightful restaurants to pick from, but Mokban Korean Bistro is the place for authentic Korean inspired meals. These elevated meals are veggie-forward and use only the freshest ingredients (not to mention delicious). For a no-nonsense lunch or an after-work drink, head to Wok and Pot down the street. This spot features a full bar crowned by a glittering disco ball and a simple lunch menu: bento, bibimbap or ramen. Even the clergymen from the church across the street love to get their kimchi fix here (three priests walk into a bar … no joke here, they really did). One last place to get some Korean eats is Sura. This combination spot serves both Korean and Japanese cuisine, complete with a sushi bar and a comfortable atmosphere.
GREEK– The City of Providence might have to rename Westminster to Greek Street, because there is an abundance of Greek and Greek-inspired restaurants on this strip. Take Yoleni's, for example; this restaurant and marketplace sells authentic Greek products you won't find anywhere else in the US. Peruse the wares, or sit down and have a flatbread or the Greek platter to try small portions of the menu items. From the owners of Italian restaurant Rosalina comes another modern Greek restaurant, Kleos. There's plenty of tzatziki to go around here, as well as a great opportunity to practice your pronunciation of "gyro." Small plates (meze), large plates (megálo), side plates and desert (glyká); Kleos has got it all, so come hungry. For something more casual and on-the-go, try out Livi's Pockets, a Middle Eastern restaurant serving wraps with Greek staples like falafel, tabouleh, hummus and grape leaves. Located in The Arcade shopping center, this shop is a mecca for quick and delicious lunches.
ITALIAN– The upscale city dining experience at Bellini is pretty much notorious. Its authentic Italian cuisine is served in a sophisticated and modern dining room and bar, offering the best of the city. Bellini even hosts a members-only club for the real high-flyers. For the rest of us, however, we can still get our Italian fix at Providence Coal Fired Pizza. After all, who doesn't like pizza? You can also munch on appetizers and salad, and wash the whole thing down with a drink from its varied menu; beer, wine, whiskey shots, whatever you want. This casual affair promises to deliver. Actually, they only do pickup, but you get the idea.
CASUAL DINERS– Ocean State Sandwich Company; pretty self explanatory, but what you might not know is that every sandwich is made with local, quality ingredients, to accommodate the desires both of customers who are looking to eat healthy and those who are looking to indulge. Cold and hot sandwiches are stuffed with yummy goodness, and the casual atmosphere makes one feel right at home. This is a sandwich shop for anybody in the Ocean State. NicoBella's down the street is a family restaurant, sometimes filled with live jazz and art exhibits. Owned and operated by the Crenca family, NicoBella's offers you a spot at the table as if you were one of their own. Come by for breakfast, lunch and dinner for familiar favorites and some Italian flair.
Sip
COFFEE AND TEA– Small Point Cafe is quite the popular spot for those with a caffeine addiction and a love of live plants. This inclusive space that also provides breakfast, lunch and bakery items make a point to welcome everyone into its little oasis. One could argue that the scratch made treats at Little City Coffee and Kitchen deserve more attention than the coffee, but the roasters may disagree. Either way, this bustling spot with outdoor seating has something you are bound to love, and no one will judge you for having a chocolate chip cookie for breakfast. Something a little different is brewing over at New Harvest Coffee and Spirits, and it's not just the coffee. This shop and wholesaler prides itself on sustainability and quality throughout the whole process of harvesting the beans to pouring your morning latte. At this particular location one can grab their morning brew or a bag of beans to take home, and then later in the evening come back for a cocktail with friends. Really puts the "bar" in barista, huh?
BOOZE– If you're only looking for spirits, there's plenty of that too. Start with The Malted Barley, where beer and pretzels reign supreme. Get any kind of brew you can imagine, from the familiar Whalers Brewing Company Stout, to a Banana Bread Beer by Eagle Brewery. There are a lot of local flavors to try, not to mention the menu full of pretzels, pretzel sandwiches, soups and salads for the hungriest among us. Barnaby's Public House (oh, so that's where the word "pub" comes from) is another laid-back kitchen and bar with good food and good brews. They even serve brunch and have a special late night menu. If you're planning to eat with a group of friends as opposed to just stopping in for a drink, however, you might want to make a reservation. Speaking of being on-the-go, Eno Fines Wines And Spirits is a bottle stop for those with great taste. This store specializes in unique and organic wines, artisanal beers, specialty spirits and genuine sake, but they have a good stock of the everyday stuff as well. Chat with the staff to find the perfect wine for date night, or just stop in to get some weekend celebration beers. Cheers to that!
Shop
FASHION– There's a fashion boutique on the corner selling jewelry, dresses and unique accessories, and that shop is none other than Queen of Hearts. This store boasts being part of the vibrant art district of Providence, and it has the style to prove it. Fun, colorful prints dominate, as well as to-die-for earrings (handmade by women-owned companies) and sunglasses. You can even purchase some local art right off the walls. If you're looking for something a little less modern (and you have a lot of time to browse), then look no further than The Vault Collective, a vintage clothing store made up of over half a dozen dealers. This open industrious space features sections for each dealer's wares, plenty of dressing rooms and a glorious green couch for you entourage to judge your costume montage. There are even some non-clothing items for the collectors out there, some items being pre-1950s antiques. Shop around and show some old clothes a new love. Now, for the laid-back street fashionista who's serious about skateboarding, Civil is the place to be. Along with skate and snowboarding gear, this place also serves the street style that goes hand-in-hand with the lifestyle. Sneakers, bucket hats, snapbacks, brands like Thrasher and OBEY and even its own in-house brand are all available. Skate on by and check it out, even if you're not the risk-taking type.
GIFTS– Modern Love may give you a deja vu if you're going by this list, because it's actually the little sister store to Queen of Hearts. These two shops share a spot on the corner, but while Modern Love is all about kitchen and lifestyle, this is the stop for home goods such as candles, blankets, cookbooks and select food items. In the back you'll find a crystal corner full of good vibes and great merchandise. If it's good vibes you're looking for, then the best vibes can be found at Craftland. This gift shop is bright and colorful, showcasing art from local makers in every form imaginable; prints, postcards, stickers, pins, tote bags, ceramics … the list goes on. Spin the repurposed gumball machine at the counter to get a mystery pin for only two dollars. Craftland is true to its name, selling kits to make your own crafts at home including stamps, crochet and origami. Even if you don't buy anything, you'll want to stop by just to take it all in.
BOOKS– Symposium Books is a cozy spot to open your mind, offering tons of books in all the genres, even academic books for the roaming scholar, and comfy chairs to read them in. Dive into new fiction and bestsellers, sci-fi and fantasy, feminism and gender studies, black and critical race theory, eastern philosophy, world religions, politics and current event, poetry and biographies. If this seems overwhelming, don't fear; each section highlights a staff pick to get you started. If you're looking for something a little more spooky, try Lovecraft Arts and Sciences, a horror and occult themed bookstore located in The Arcade shopping center. Here you can find weird fiction from the likes of H.P. Lovecraft and similar authors, physics and astronomy texts and also some creepy art and collectibles. Now, if you want some really underground stuff, the place to check out is Cellar Stories on Matthewson. Okay, the books are mostly ordinary but we couldn't pass up the pun. Cellar Stories is the largest used and rare bookstore in the state, and its collection focuses mostly on Rhode Island and New England history. However, with over 70,000 books on its shelves, there is sure to be something for everyone.
Learn
LIBRARY– Even if you're not a student, Fleet Library at RISD is open for discovery. Located in what used to be a magnificent bank, this collection of books, periodicals, and visual and material resource collections. You can find rare books, a quiet place to work, or peruse through scientific artifacts like preserved insects and other species. Take advantage and remember; knowledge is power.
MUSEUM– Founded in 2016, Stages of Freedom museum aims to educate about and uplift the Black community. Along with its artifacts and galleries, the museum also acts as a nonprofit. Their swim empowerment program uses donations to fund swimming lessons for African American youth. Opening soon is an exhibit on the Bannisters, a power couple from the nineteenth century who created institutions, shaped the art scene, fought for the abolition of slavery, and built alliances across the racial divide. Learn a little a give a little too.
Stay
There are two hotels on Westminster, so you can be within walking distance of all this fun stuff. Hotel Providence (on Matthewson Street) and The Beatrice both offer valet services and the benefit of being located right in the city. You won't have to go far from the comfort of your hotel room to experience some of the best Rhode Island has to offer.
Honorable Mentions: The Great Escape Room, Grace Episcopal Church (even if you're not religious, you can't deny the beauty of architecture), Kwench Juice Cafe and Amaryllis