A Rhode Island Woman's Bond with Dolphin to be Featured on New discovery+ Show
Get a sneak peek of Jay and JoJo's decades-long friendship.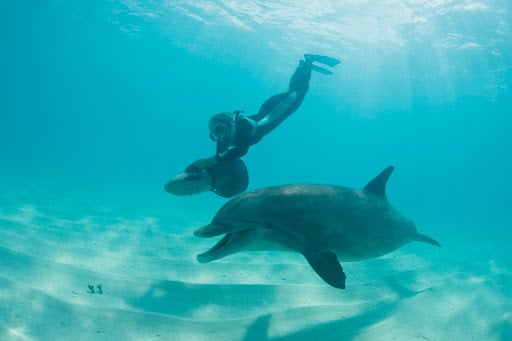 Dive into "The Bond," a brand new feel-good series from Team Downey (that's right, as in Robert Downey Jr.) that explores the fascinating relationships between a few humans and their counterparts from the animal kingdom. The four-part wildlife series on discovery+ includes a traveling couple with a pet goat, a woman raising kangaroo joeys and a couple that took in an injured cheetah alongside Rhode Island native Jay Sargent and her Dolphin friend JoJo. While Jay visits JoJo every year in Turks and Caicos, her home base is in Portsmouth, where she runs Sandy Point Stables. Jay clearly has a way with animals, and her team of equestrians has brought home several ribbons for the successful stable.
It's hard work running a stable with over twenty horses, so Jay and her husband retreat to their condo in Turks and Caicos when they can. On a visit in 1999, Jay was introduced by a boat captain to JoJo, a male bottlenose dolphin, and began to swim with him. JoJo has since introduced Jay to more than ten other dolphins in his pod, mostly female dolphins and their calves. Jay refers to JoJo as an ambassador, being comfortable near humans and encouraging his offspring to meet Jay and others. Jay has been able to capture some amazing footage of dolphin behaviors, including bubble blowing, fishing in the sand and making their signature whistles. She has even caught them holding flippers and accessorizing with seaweed. All of this footage is posted to her blog, and Jay can even name the dolphins caught on video. One of the most frequent visitors is Bo, a female that has borne calves Whizzer, Lemon Lips and, most recently, Scooter. Each dolphin that Jay has befriended can be recognized by a certain marking or notches in their fins: There's Whitey, with a white mark on its dorsal fin; Snipper, who has a cut off dorsal fin; and of course Lemon Lips has a tint of yellow on its mouth. JoJo himself is very recognizable with a multitude of scars from some nasty tourist encounters. Because of this, JoJo doesn't like to be touched, and Jay never touches the dolphins she swims with. It is a very rare occurrence when a calf will nudge Jay with its rostrum (also known as its nose). 
Jay and JoJo have a storied history, but this reunion is different from all their last. Recently, Jay was diagnosed with inoperable cancer and began to go through chemotherapy treatments and dialysis. Jay doesn't have a lot of energy these days, but nothing can stand in the way of seeing her friend. JoJo is getting old too; he's estimated to be about fifty or sixty years old. Still, the two are always excited to see each other.
See firsthand the bond between JoJo and Jay and other stories on "The Bond" on discovery+, released July 14.