West Warwick Native Paints His Childhood Through Cartoons
Paul Johnson, one of the Windsor Park Boys of West Warwick, recounts his memories through his self-published cartoon book.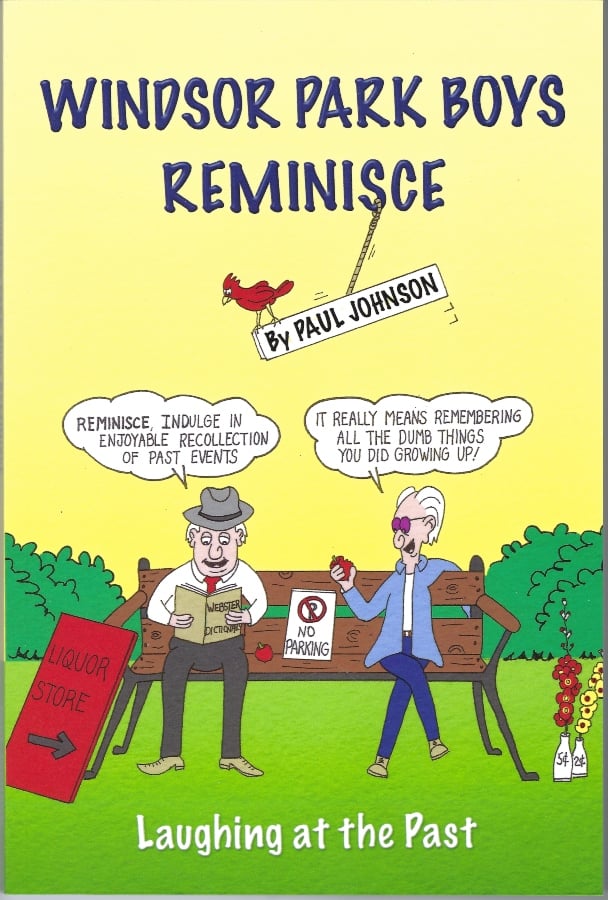 Our state may be tiny in size, but it is chock full of memories down to the block we grew up on. Paul Johnson, a native of West Warwick, recounts his childhood memories with friends through his book, Windsor Park Boys Reminisce: Laughing at the Past. Cartoon characters Henry and Larry, now in their later years, sit on a bench and recall and narrate the shenanigans of Johnson and his buddies as they lived in the Windsor Park neighborhood. We sat down to chat about the inspiration behind his book and how West Warwick natives can resonate within their own memories.
Rhode Island Monthly: What is the inspiration behind Windsor Park Boys Reminisce: Laughing at the Past?
Paul Johnson: What inspired me to write Windsor Park Boys Reminisce: Laughing at the Past were the numerous stories of mischief that my childhood friends shared with me.
RIM: Who are Henry and Larry based on?
PJ: Henry and Larry are the Windsor Park Boys of today, narrating the funny stories of a group of guys who grew up in Windsor Park. These characters are best friends who enjoy life and laughing at the past.
RIM: Why did you decide on a comic book route rather than illustration and printed text, or just a written memoir?
PJ: I enjoy telling a story with cartoons. As a kid I was inspired by Charles Schultz's comic strip Peanuts. It wasn't until I started working as a telecommunicator for the RI State Police that I had my first cartoon published cartoon published in their semiannual The Rhode Island Trooper magazine. I thought, well maybe, I could get my cartoons into print, writing a book.
RIM: Do you keep in contact with those from Windsor Park?
PJ: Yes, even though we (almost) grew up and pursued our own interests, we keep in touch. Most still live in RI; four live out of state, three have passed away.
RIM: What was your favorite part about growing up in Windsor Park?
PJ: I remember time going by a lot slower in the '50s, '60s and '70s. Our responsibilities were few, our laughs were abundant. Some of the best friendships and memories were made, bonding us forever. My ninety-four-year-old mom still lives in Windsor Park. It's still a nice place to grow up. For the Windsor Park Boys, it's brimming with memories. It's that favorite part of growing up in Windsor Park, the part that you can't take away.
RIM: What's the biggest takeaway for readers from this book?
PJ: Everyone makes mistakes. If you want to stay young, you reminisce about your mistakes and about the things that were funny growing up. My hope is that as the readers move through the various stories comprising my book, they become inspired to reflect on their own childhoods. I think it's going to get people to reminisce about the things that they did. Hopefully I can make them laugh a little. Life is too short not to laugh.
Johnson currently resides in Foster with his wife, Cindy. They have two children, Amanda and Alicia.
Windsor Park Boys Reminisce: Laughing at the Past can be ordered online through Barnes & Noble and Amazon, and is available on Barnes & Noble NOOK and Amazon Kindle e-readers.