Will Rhode Island's Hospitality Labor Force Bounce Back?
Extended unemployment benefits end on September 6, but experts say there's a greater reckoning at play.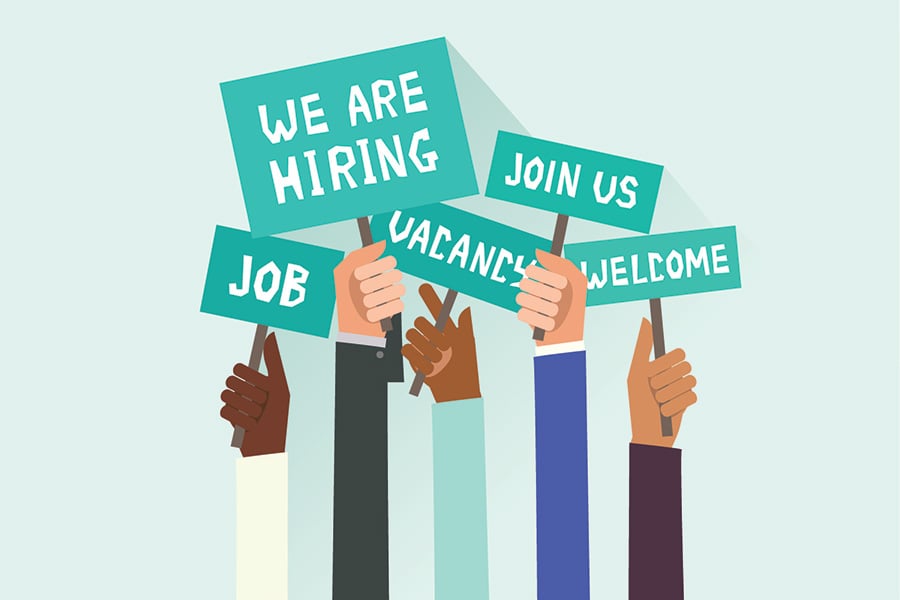 On the eve of the post-pandemic summer, Angelo's Palace Pizza re-introduces itself to the diners of Cumberland. New menu, new decor, new employees. COVID had winnowed owner Bill Kitsilis's front-of-the-house staff: workers whose flexibility departed with their child care or had health concerns or left the restaurant business altogether. He surveys his invitation-only soft opening with a keen focus on the flow of orders and servers. Amid the bustle of a dining room of families tucking into cheesy pies is one provisional, rather slow, member of the team.
Restaurant robot Servi silently lumbers from kitchen to table, bearing entrees and appetizers. Less R2-D2, more Roomba-like, the three-tiered column on wheels uses navigational technology similar to self-driving cars to swivel around and retreat from obstacles in its path.
This spring has been good for Bear Robotics, the Silicon Valley company that sells restaurant robots. Chris Lorance, the company's marketing manager, and field technician William Carlton had flown in to ensure Servi's first shift at Angelo's went smoothly. Interest has been high, and the pair have spent the last two months zipping cross-country as restaurants try out automated table service.
"The pandemic has been really bad for the restaurant industry," Lorance says. "They are having a hard time filling their slots, and a lot of restaurateurs see the value of our robotic server helper."
Kitsilis decided to lease Servi for $900 a month to see if that's true. When the pandemic hit, the Kitsilis family, who opened Angelo's Palace Pizza in 1978, had to pivot to survive. The restaurant immediately lost $150,000 in event bookings, and in-dining revenue was non-existent. With a large patio and a healthy takeout business, Kitsilis was able to keep most of his staff occupied. But his employee rolls dropped from the pre-pandemic height of eighty-five to fifty-five and, as of Memorial Day, he was still looking.
"We incentivized employees for referrals — $150 for a referral that stayed a month, $250 [for those who] stayed three months — and we gave raises to existing staff members and kitchen help we weren't forced to get rid of. If I'm short, this robot can run drinks, I won't have to add an extra person, and the waitstaff have an assistant."
As mask mandates and capacity restrictions ended this spring, employers summoned the creativity they displayed at the pandemic's start to seek workers instead of customers. Help wanted signs in windows, signing bonuses, higher wages. The Rhode Island Public Transit Authority, for example, which had stretched its already-thin ranks of drivers and mechanics during the pandemic, recruited with virtual job fairs and outreach to high school students.
"We're trying to capture those people and help them through the process," says CEO Scott Avedisian. "We want to attract a diverse workforce."
But workers didn't immediately rush back even though, by May's unemployment numbers, nearly six million Americans are jobless. With the national unemployment rate at 5.8 percent, and Rhode Island at 6.3 percent, the National Federation of Independent Businesses is perplexed that a record number of its members — 44 percent — report job openings they cannot fill.
A popular culprit is the federal unemployment assistance that saw the United States labor pool through the worst of the pandemic. The 2020 Coronavirus Aid, Relief and Economic Security Act provided a supplemental weekly $600 in regular unemployment benefits from late March though late July 2020. This March, the $1.9 trillion American Rescue Plan Act provided a supplemental $300 a week in unemployment benefits and assistance for the self-employed through September 6.
By June, twenty-five Republican governors vowed to end their participation in the program, to drive low-wage workers back into their traces. Rhode Island took the opposite tack. In May, the General Assembly passed a bill to encourage workers, updating the state's unemployment insurance program to allow people to work part-time and still collect the extra $300 in federal benefits. At the peak of the lockdowns, 125,030 Rhode Islanders were collecting unemployment benefits. A year later, it was around 67,000.
"Once those unemployment benefit programs end, a lot of families will be significantly affected," says Matthew Weldon, director of the state Department of Labor and Training. "There's no wind-down period, and if they haven't returned to work, it will be devastating to them and to our economy."
Recent research suggests that the sluggish incoming tide to the workplace is related to several factors: child care, including parents waiting for schools to resume full in-person classes; lingering concerns about infection; transportation issues; and decisions to pursue a different line of work. A May study by the Federal Reserve Bank found that only a small share of job seekers would choose to receive supplemental UI payments rather than accept job offers.
URI economist Leonard Lardaro says it's more complicated.
"Actually, we are improving much faster than anyone had really thought at this point," he says. "It's creating a rapid increase in demand and a pronounced shortage in the low-wage industries, which tells you something."
Lardaro describes two facets of worker compensation: pecuniary, or monetary, wages and non-pecuniary fringe benefits, including office climate and commute. "The non-pecuniary deteriorated, and it's still not where it was because there's lingering after-effects, and some workers want higher wages to compensate for that," he says.
Martina Graziano, fifty-five, of Wakefield, used this burst of labor bargaining power to leave her job at a chain restaurant for a union position in a grocery store with better wages and benefits.
"I know people are collecting the extra money, but I like to work," she says. "I was hoping that I would find another job and I didn't think it would be too hard."
It was so easy she was hired on the day she applied, and the restaurant kept her on part-time.
Heidi Shierholz, an economist with the Economic Policy Institute, argues there isn't a labor shortage outside of the hospitality and leisure industries. The classic sign — rising wages — is confined to that sector and, even with a boost in pay, leisure and hospitality have only risen to their pre-pandemic levels, she says. In a survey by One Fair Wage, more than half of respondents say they considered leaving their restaurant jobs due to low wages and tips.
Dale Venturini, president and CEO of the Rhode Island Hospitality Association, acknowledges that the pandemic hit tipped workers particularly hard, and "when you pay people not to work, even if they break even, there's a decision made," she says. "My crystal ball says that we will be making changes that will be permanent, but I don't know what that looks like in a year from now."
Already, the pandemic forced a reckoning in some quarters over the paucity of the minimum wage. In Rhode Island, for example, a full-time minimum wage worker would earn — at best —less than $24,000 a year.
"What's keeping people from going back to work is low wages and no benefits," says Working Families Party organizer Andrea Rojas. "We need to make child care more accessible, livable wages for all workers, and health care. If these things are guaranteed, people won't think twice about going back to work."
This spring, amid a stalled effort by Democrats and President Biden to raise the federal minimum to $15, state lawmakers passed legislation to boost the state minimum from today's $11.50 to $15 an hour by 2025. Providence Representative Marcia Ranglin-Vassell, an advocate, says lobbying her colleagues got easier last year.
"The COVID pandemic did a lot to open people's eyes to economic inequality," she says. "We have to make sure that people are not working full time and still living in poverty."
The Economic Policy Institute's Shierholz says there won't be any real realignment of the economy without massive policy changes, including raising the minimum wage and rate of unionization.
"There's a ton of evidence that employers of low- and middle-wage workers have had the power to suppress workers' wages, and that dynamic has been growing for decades," she says. "We can pay our lowest paid workers more. Instead, the minimum wage is 30 percent less than it was in 1968."
Bridget Kenahan, thirty-one, of East Providence, isn't going back to waiting tables. A trained graphic artist, Kenahan had a sideline making jewelry. In March 2020, when she was laid off from the upscale eatery where she'd worked for three years, Kenahan turned to selling her whimsical earrings online.
Three months later, as her unemployment was about to run out, the restaurant invited her to return. Did waitressing really offer job security or steady pay? A single parent, she'd have to take the less lucrative shifts. Vaccines weren't yet available and the health risk felt uncomfortably high. She decided to commit to her business. Within a year, Kenahan's Tinymade TikTok account had more than 40,000 followers.
"It was a no-brainer financially, and I'm physically safe," she says. "I'm so happy. It's all because of my daughter and my determination to raise her and support her. I'm working more than I was as a waitress, but I'm making more. Way more."