We Tried Eyebrow Laminating, the Newest Beauty Trend
Studio B offers the service, which is essentially a reverse-perm for brows.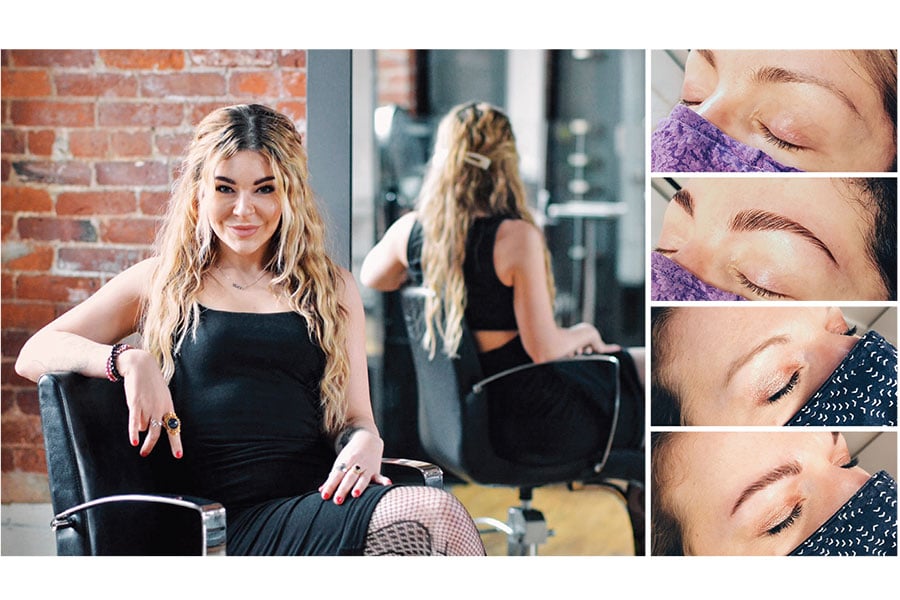 As we get older, sometimes our eyebrows start to vanish or fail to regrow from overplucking. I noticed in photos and on Zoom calls that my very blond, sun-bleached brows faded into my forehead. Unfortunately for me, fuller, darker eyebrows are in vogue right now, so I decided to look into various treatments to make them more prominent. I had heard about eyebrow microblading, which cuts your skin to place the pigment, but eyebrow lamination is a lot less invasive.
I consult with Kristi Scialla (aka @thebrowbeautician on Instagram) of Studio B Salon to learn more about eyebrow lamination and tinting before undergoing the process. "It's basically a reverse-perm for your brows," Scialla says. "It's going to smell like an old-school perm solution for a few minutes, and it helps relax the brow hair and make it lie straighter."
Brow lamination is a three-step process, with a fourth step if you choose to add tinting. The treatment started in Russia and made its way over to London and Paris, where models experimented with having fuller, brushed up eyebrows on the runways. The trend started to make its way to the United States, but then the pandemic hit, forcing salons to shut down. Once they reopened, the process was in demand again.
"It's a good alternative for people who aren't sure about microblading," Scialla says. "That's how I discovered it for myself. I wanted to do microblading because I was sick of filling in my brows everyday, but I was a little hesitant because microblading is more permanent." Scialla looked into lamination and underwent training through Brow Code out of Australia, and then tried it for herself.
"I absolutely loved it and it made a huge difference," she says. "I knew I needed to offer my clients this treatment because I believe in it so much."
Sold. I decide to give it a try. I recline in a chair at Studio B while Scialla completes the forty-five-minute treatment. I don't feel a thing as she brushes up my brows to prepare them for lamination, and then applies the eight-minute straightening solution to each brow. The next step is to apply a neutralizer to stop the process, which also stays on for eight minutes. Finally, tinting takes a minute or two, followed by the application of a nourishing keratin gel, which stays on for twenty-four hours.
The after-care is easy for the treatment that lasts about seven to eight weeks, maybe longer. For the first twenty-four hours, I avoid getting my brows wet, and wash my face with a washcloth around my brows. I avoid retinol around the area for forty-eight hours, and apply castor oil to my brows to keep them moisturized each night before bed. Styling involves brushing brows up with an eyebrow gel wand for a fuller look or leaving them sleek and classic.
The next day, I post a photo on Instagram to resounding applause from friends and family. And as I mask up and wander around town, I notice my eyes are more enhanced than ever. It's a good substitution for a bright lipstick, which no one can see anyway.
Scialla says she almost brought one woman to tears after completing the brow lamination process. The woman hadn't had brows in twenty years and couldn't believe the difference. "It's nice to be able to make someone feel good," Scialla says. "Especially now, that's all you can see on anyone, eyes and brows."
Follow @thebrowbeautician on Instagram. Pontiac Mills, 334 Knight St., Building #11, Warwick, 437-8688, studiob-salon.com