Character Study: This Home Puts a Fun Spin on Victorian Style
This nineteenth century Gothic Revival cottage exudes Victorian charm without an ounce of pretension.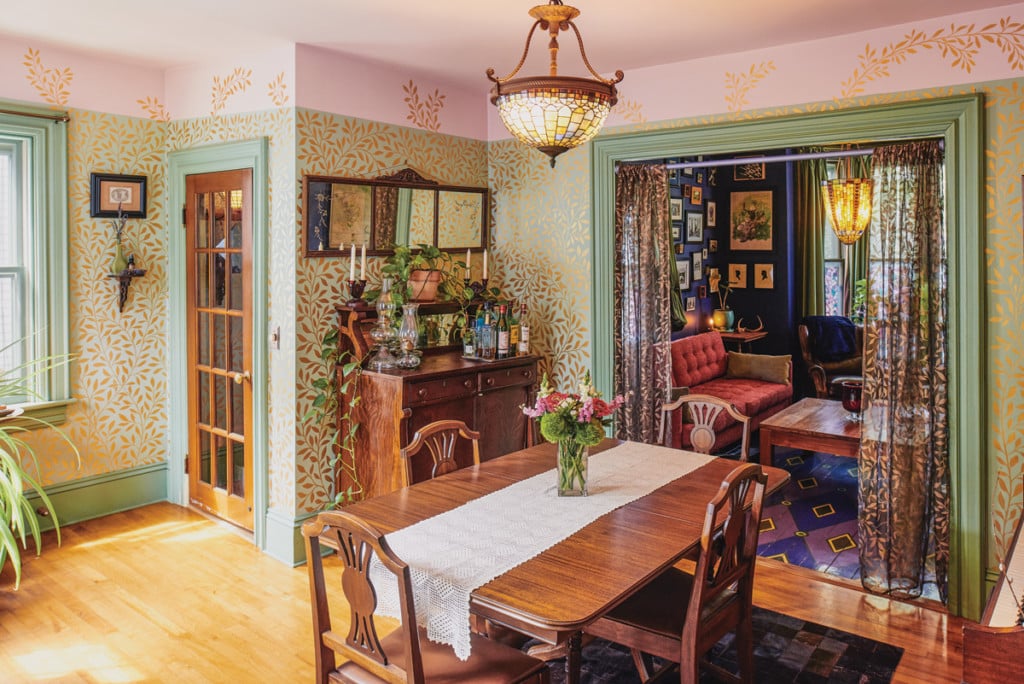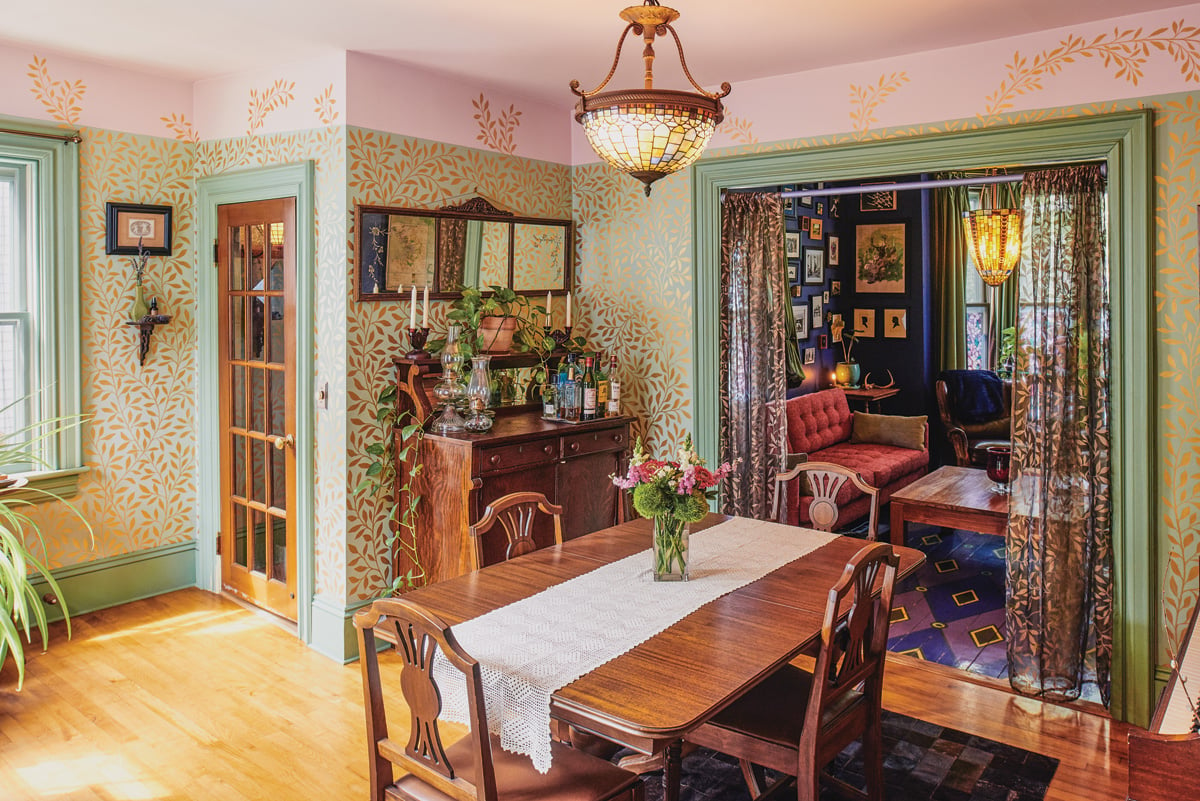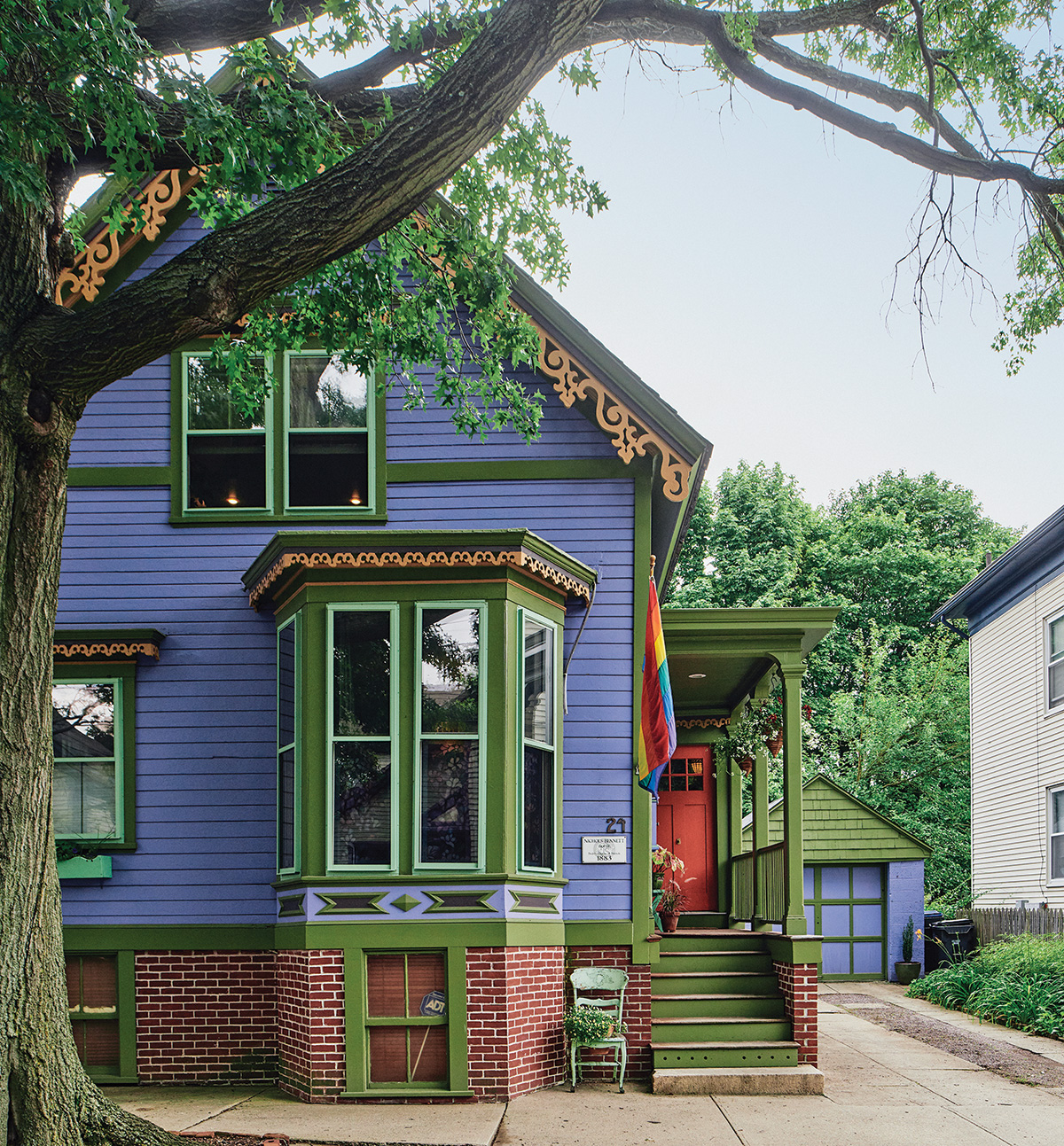 Historical Reference
Carved bargeboard, decorative window caps, an oversized gable-end bay window and a raised brick foundation give the Nichols-Bennett house all the traditional charm of a nineteenth century Victorian, but a spirited paint job — violet purple paired with greens, golden beige and vermillion accents — quashes any potential for stuffiness.
According to Providence Preservation Society records, the Gothic Revival cottage was built in 1883 and is named after its builder, Charles M. Nichols, and his first known tenant, toolmaker Charles E. Bennett. Nichols built the West Side house as a rental property, and the next hundred years worth of tenants and owners wore it down. In the mid-nineties, when it was but a shell of its former self, the Nichols-Bennett house was purchased by an artistic couple who spent the next ten years repairing and restoring its interior and exterior. It was this couple who gave the house its whimsical palette, which has endured through two subsequent owners.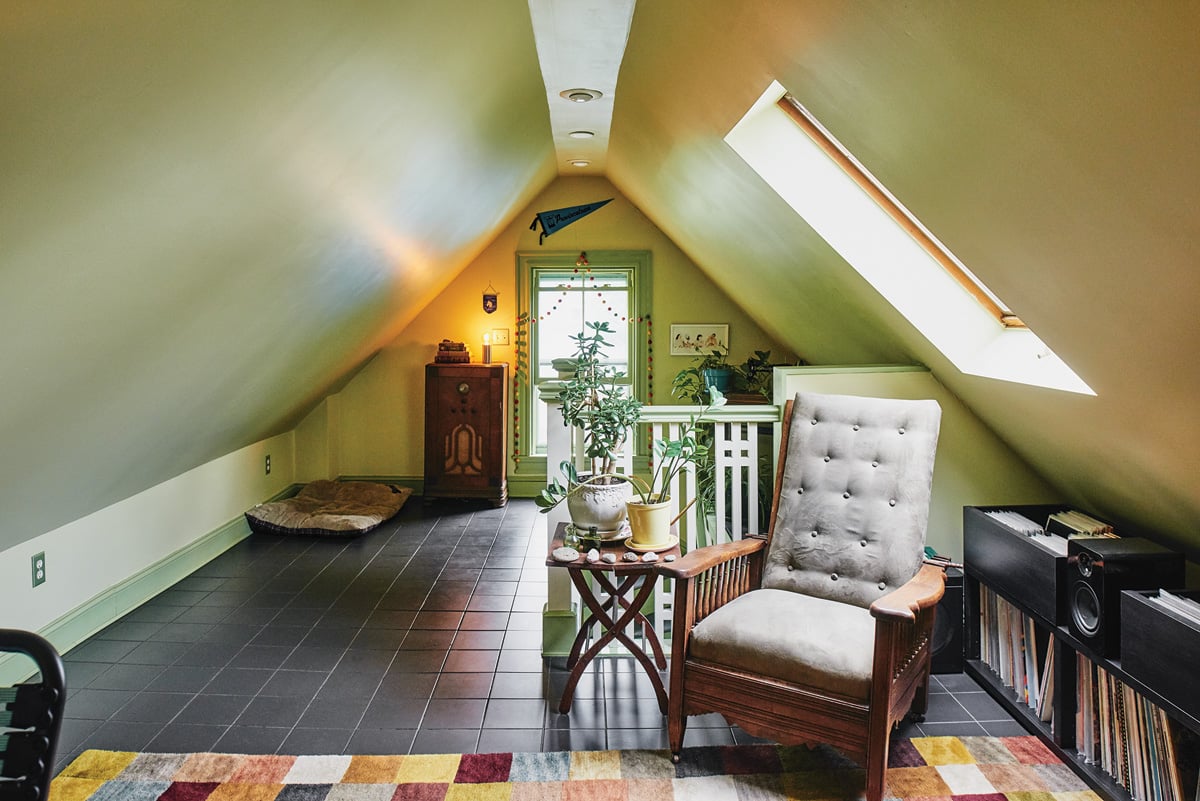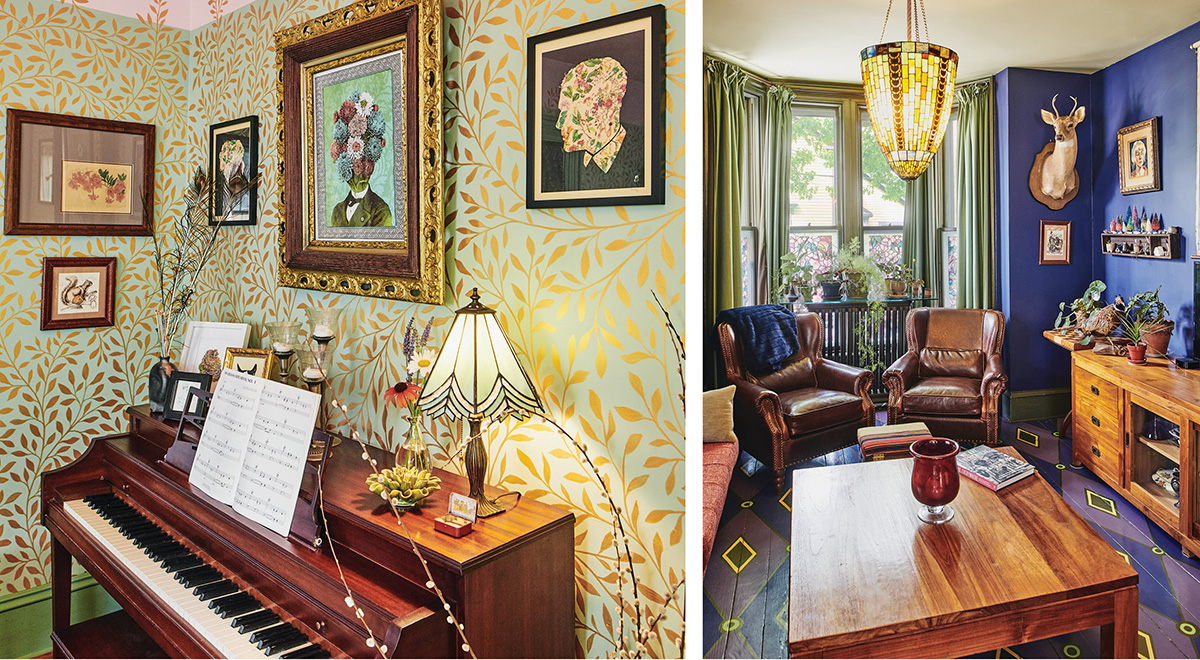 Taking the Baton
Joe Roch and Mick O'Dwyer had lived across the street from the funky purple house for years, and for years, admits Roch, they were "obsessed" with it. When Roch, a broker, caught wind in 2014 that the house was going on the market, he and Dwyer seized the opportunity, bought it and moved across the street.
"You can feel how much previous owners have loved living here, and Mick and I both very much feel as though we've been passed the baton," says Roch.
Remnants of the home's past owners are evident in meticulous interior paint treatments: hand-painted gold leaves on the dining room walls are so precise, they could be mistaken for wallpaper, and a purple and green geometric pattern dresses up original pine floors in the living room. The couple enhanced these inherited canvases with their own pieces: handmade furniture from Ireland, where they first met, mingles with antique scores and junk finds. Vintage postcards and art by local and Irish printmakers cover the walls. A stag head O'Dwyer purchased from the Rhode Island Antiques Mall as a Christmas present for Roch keeps watch in the living room.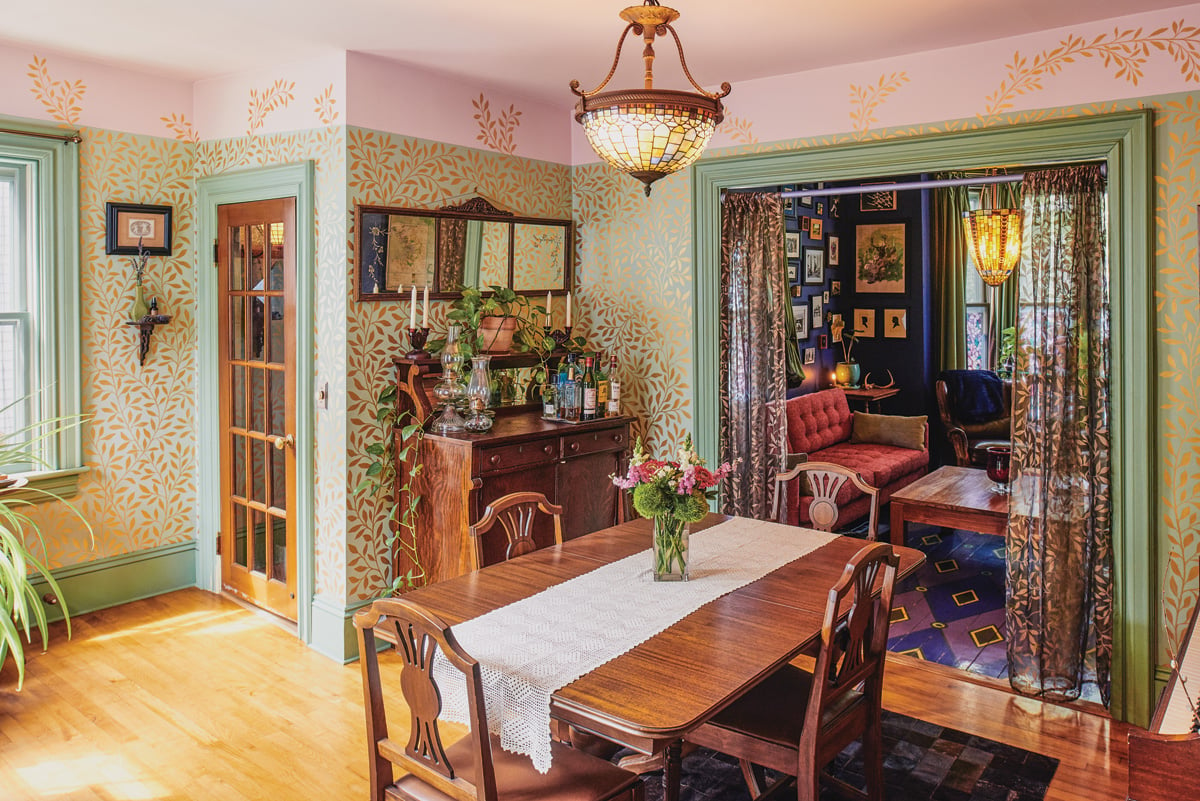 Nouveaux Victorian
The couple has long had an affinity for old treasures: they have an extensive record collection, an antique Singer sewing machine inlaid with Celtic designs and various pieces of lovingly worn furniture. Patina equals personality, after all. Roch and O'Dwyer's last home had a mid-century vibe, but the aesthetic didn't jibe within the walls of the Nichols-Bennett house. "You have to listen to the house and what the house wants," says Roch. "This is a typical Victorian cottage, and that's what we leaned into with the decor, kind of nouveaux Victorian."
While Prohibition may have come after the Victorian era, the speakeasy-inspired basement bar doesn't feel out of place. The walls, which had been bright red when the couple purchased the house, are now a rich hunter green. Three leather barstools with exposed nailheads and a separate table with two chairs provide seating for guests. Nearly every detail — from the soft lighting ("Dim lighting makes everything look better," says Roch) to the polished wood and the brick wall behind the bar — feed the impression that the space was once an illicit gin mill. The ceiling itself, which appears to be finished with copper tiles, is just an illusion: "They're plastic inserts you can buy for drop ceilings," he says. "You pop them in and paint them and the cross beams. It's a little smoke and mirrors."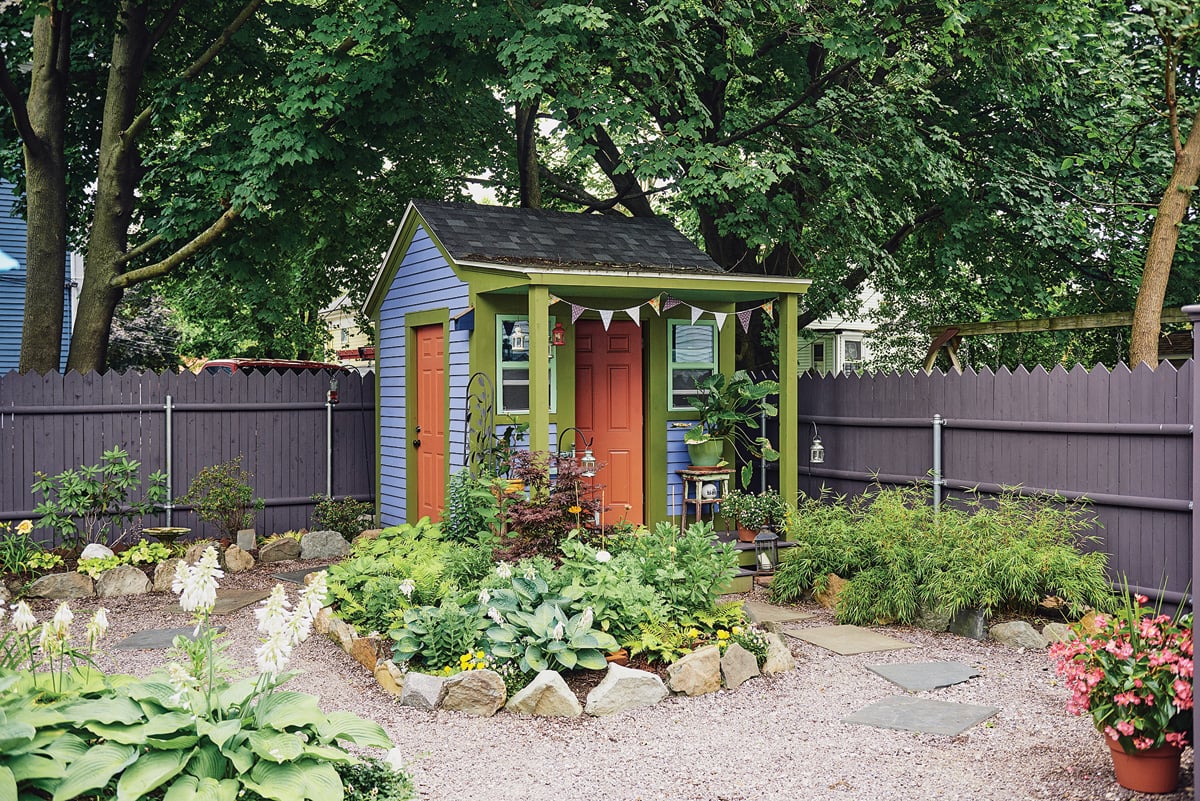 Patio Seating
"The backyard is where we've put our biggest stamp on the house," Roch says.
Five years ago, the large backyard was barren except for two enormous Norwegian maples. The couple who renovated the house in the nineties had a pack of rescue dogs, so brick and gravel were practical choices for them. Roch was used to grass. "We really created that space out of gravel and not much else."
Because the gravel was so deep, they opted to work with it rather than against it. By peppering the gravel with strategically placed beds, the gravel became a walkway such as one might find in an English country garden. The two overgrown maples were removed and replaced with two young trees that would grow in better proportion to the house and allow sunshine to drench the yard. A quaint garden shed was built and painted to mimic the house. There's even a secluded hot tub back there that can easily be overlooked unless it's specifically pointed out. Container pots, market lights and several seating areas complete the space.
Roch says that he and O'Dwyer are not done putting their imprint on the Nichols-Bennett house, but certainly whatever changes they make will be done with reverence. "We're very grateful for the chance to be this house's current caretakers."