Transforming a Down-Home Venue into a Dream Party Barn
Perennial entertainers get the down-home venue of their dreams.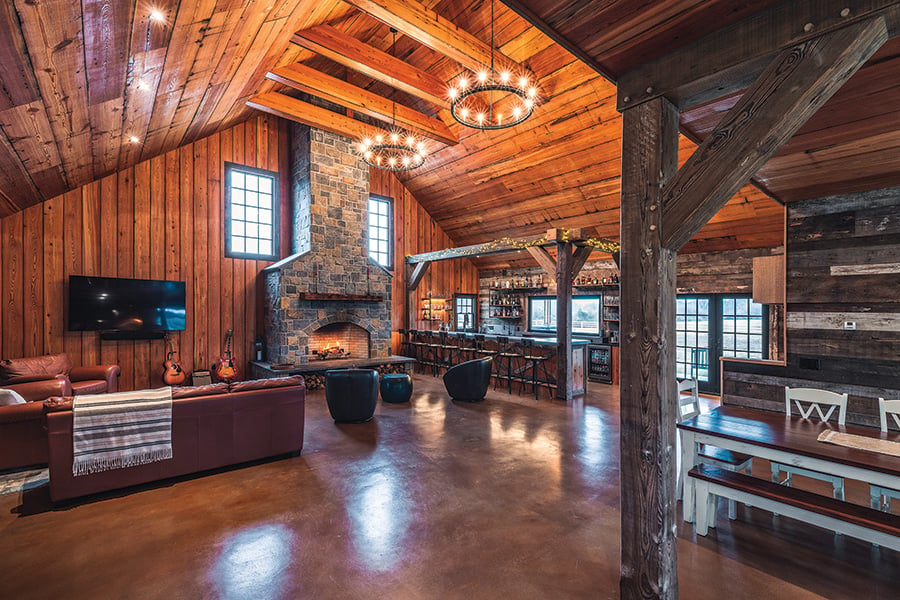 When you have forty-five people coming over for Thanksgiving, you need a place to put them all. Not the types to shy from a good time, these homeowners looked to an existing barn on their property for the solution to their hosting woes.
They weren't afraid to get their hands dirty, either. The homeowners began the interior demolition themselves while the team at Sweenor Builders got to work on the design. The only hitch? The project, which launched in earnest in February 2021, needed to wrap in time for the holidays.
Interior designer Kristen Martone pulled together mood boards inspired by rural life, from a rustic cottage in Maine to the Montana interiors in the Paramount Network hit, "Yellowstone."
"The building wraps itself around you because of the warm tones," says Martone. "It speaks very much of the Old West."
Aside from the rust-colored poured concrete flooring, the space is cloaked in reclaimed wood — a challenge for Sweenor's designers and carpenters, architect Mitch Votolato says, who are accustomed to precise cuts, corners and fits.
"We eventually learned, we've got to let that go," he says, "and the messier the better."
Votolato also tapped existing barn beams for reuse, including as a mantelpiece on the massive stone fireplace, which was designed to anchor the space, Votolato says.
"The bar is really the focus of the barn," he says, and all season long. In the warmer months, an eight-foot-wide window opens onto a covered patio and outdoor kitchen, complete with a custom set of swings. Party guests — including the whole Sweenor team at Christmastime — can tap eight beers from the Kegerator or choose from cocktails on the house iPad.
The homeowners were so pleased with the party barn, they asked Sweenor Builders to tackle interior renovations on their main house. As that project progresses, Martone says, the barn's finished loft will serve as a comfortable, quiet auxiliary space for the homeowners' daughter.
"And, now, the neighbors want a party barn," laughs Votolato. sweenorbuilders.com
Inside the Reno
Year built: 1894
Project timeline: About a year
Team: Sweenor Builders
Prior use: Eight-stall horse barn