Through October, Hearthside Explores Life After Death
The museum investigates nineteenth-century customs following death and the afterlife with fall exhibits and events.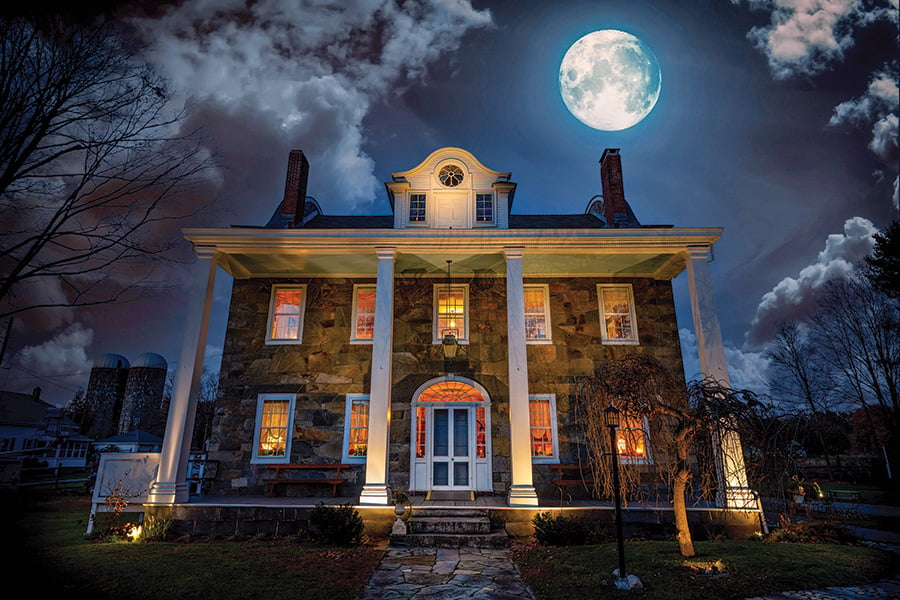 What happens after death? The Hearthside House in Lincoln hosts exhibits and events in October and November that discuss death, mourning and the afterlife in the nineteenth century. During the month of October, Hearthside resurrects the memory of past homeowner Simon E. Thornton with the exhibit "Gone But Not Forgotten," as well as guided tours focusing on Victorian mourning customs and superstitions. These tours lead up to the "History of the Paranormal" traveling exhibit from November 12 to 14, featuring TV personality and paranormal researcher Brian Cano. Attendees are invited to explore the historic house and learn about its spiritual secrets from a self-guided standpoint and participate in Cano's interactive investigations.
During Hearthside's 200 years, five owners have died at the home. The October tours will recreate the mourning of Thornton's death on May 2, 1873, which includes his wake as guests make their way through the house decorated in donated antiques. Visitors can experience the superstitions and traditions surrounding death, including covering mirrors in black, which families thought would ensure a smooth journey for the deceased.
"This isn't a Halloween event, but rather a serious, well-researched exhibit about how families dealt with loss during the late nineteenth century, with an extensive display of artifacts, and all of it presented by docents in their black mourning attire," explains Kathy Hartley, founder and president of Hearthside House Museum. "So while it really is educational, it can also be fun to learn the origins of many of today's funerary practices."
Through the exhibit, visitors may explore the next step in Victorian mourning: spiritualism. After a funeral, families might try to reconnect with their lost loved ones through seances and mediums.
"We've had many sensitive people come in here and, all of the sudden, they say they get a feeling," Hartley says. "People say it feels like they're surrounded by love."
In November, for the "History of the Paranormal" exhibit, TV personality Cano will guide attendees through the house during several paranormal investigations. A featured analyst on the Travel Channel's "Paranormal Caught on Camera" and a guest star on the History Channel's "The Curse of Oak Island," Cano will offer visitors insight into the work.
"Paranormal investigation is not something that just popped up in the last twenty years," Cano says. "This has been going on for decades, centuries even."
Cano will bring visitors through the ages of investigating, from Victorian spiritualism to ghost hunting on television. During the day, the house is open for those who are interested in seeing the exhibit, participating in paranormal discussion groups and meeting Cano; at night, Cano will host private investigation sessions.
On Friday, November 12, two sessions run for two hours each. On Saturday, November 13, a four-hour investigation runs until midnight for those interested in an in-depth experience. A bonus on Saturday night, Cano will be joined by Carl Johnson of "Ghost Hunters."
"Your body is the best piece of equipment you can have with you on any investigation, and I like to teach people to learn to trust that," he says.
Cano's goal is to take the traveling exhibit to all fifty states, with one showing per state.
"I'm so excited to come to the Hearthside House Museum," Cano says. "I really feel that this is going to make for a good investigation because of the things that happened there." hearthsidehouse.org