Three Ways to Embark on an Outdoor Adventure in Providence
We've got your summer city trip covered with bicycling safety tips and escape room and roller disco suggestions.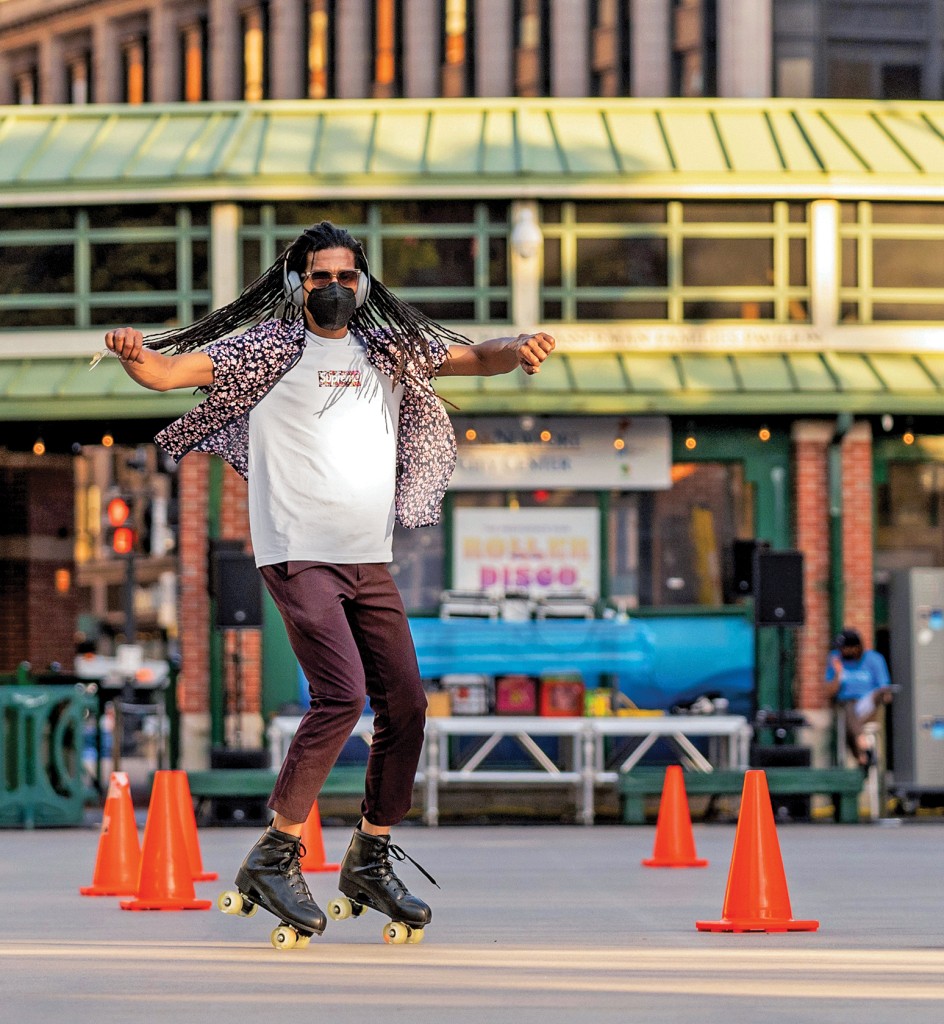 Decode the City
Diving into the mysteries of Providence with Escape Rhode Island. By Edelinda Baptista
"Hello." I squint at the notification on my phone before quickly swiping on it. The text is from Escape Rhode Island, describing where I will find the required materials to solve the Zachariah Conundrum, the state's first outdoor escape adventure. In that moment, nothing excites me more than the thought of jaunting down the streets of downtown Providence during golden hour to assist the late scientist, inventor and Providence native Zachariah Allen with his time travel machine.
I arrive at the venue with my partner-in-crime, Bruno, around 5:30 p.m. to unlock the white and black locker outside the door; no check-in required. Using the code listed in the text, I open the locker to reveal a black backpack, then inspect its contents: a locked metal storage clipboard, three wooden boxes and a folder with a map leading us to three locations where head-scratching puzzles await.
Dashing between Memorial Park, Fleur-De-Lys Studio and the Providence Athenæum, we sidestep obstacles like skateboarders and cars and ignore the passersby who stare, wondering about the two speed-walkers with the mysterious clipboard.
About two hours after we start, the sun dips below skyscrapers and bathes the clouds in pink hues. Our final destination, Prospect Terrace Park, provides a separate reward: a jaw-dropping sunset cascading over the Providence skyline. We receive congratulations from "Zachariah Allen" himself after typing in the final answer
on my phone, a satisfying end to a long journey.
After one final look at the sun's last breath, we venture back to Escape Rhode Island to return the backpack of decoded puzzles; another Providence mystery solved.
If you go:
➽ Get there earlier than your scheduled time slot to allow time for parking.
➽ Listen to Escape RI's advice about wearing weather-appropriate clothing, comfortable shoes and bringing water (my boots were not an ideal choice for the one-mile excursion).
➽ Read the instructions carefully — mistakes can cost time on your journey.
Outdoor games have a flat rate of $89, and teams can range in size from one to six players. Escape Rhode Island, 385 South Main St., Floor 2, Providence, 326-2222, escaperhodeisland.com
Pedal Power
Sometimes riding a bike is the easiest — and most enjoyable — way to get where you're going. To help keep you safe on your cityside joy rides, we asked Liza Burkin, lead organizer of the Providence Streets Coalition and an avid cyclist, for some tips and tricks. By Dana Laverty
Plan Your Route
Check Google Maps for bike directions. Burkin suggests reaching out to residents or local organizations beforehand — they'll know the quiet residential roads and which ones have dedicated urban lanes (protected bike lanes separated from automotive traffic).
Use Urban Lanes
Speaking of urban lanes, you'll find them dotted throughout Providence, including on South Water, Fountain, Olney,
Broad and Dean streets. Visit providenceri.gov for a complete list.
Know the Laws
Know the rules of the road before heading out. Burkin encourages riders to stay in
the street whenever possible. If you must ride on the sidewalk, pedestrians always have the right of way.
Be Visible
Don't swerve in and out of empty parking spots — it's unpredictable for motorists — and use a light if you're riding at night.
Communicate
Use hand signals to show where you're going and always try to make eye contact with drivers before a turn.
Boogie Nights
The BankNewport City Center brings back Roller Disco for the 2022 season. By Dana Laverty
Grab your best bell-bottoms and your funkiest halter tops: Roller Disco is groovin' on back to the BankNewport City Center in Providence this summer.
On Thursday and Friday nights through Oct. 29, from 5–10 p.m., you'll be able to jam out under flashing lights and a disco ball to the city's coolest deejays and live acts. The Trinity Beer Garden will provide snacks and bevvies, as will a handful of food trucks, at adjacent Biltmore Park.
Last year, about 200–300 people turned out for the Roller Disco nights, says Brant Gawrys, the rink's manager. The pandemic brought with it a big spike in roller-skating, he says, and he expects attendance to climb this summer. The rink is expanding roller-skating to select Saturdays as well, from noon-8 p.m. It will be more of a family-friendly atmosphere, Gawrys says, with each Saturday featuring music from a particular decade. (The series kicks off with '50s tunes.)
Admission is $7; $4 for ages twelve and younger and ages sixty-five and older. Inline and quad skate rentals are $6.54; helmet rental is $2; and locker rental is $3. providencerink.com