The town of Bristol is Hosting Safe, Socially Distant Christmas Fun
Attractions include a grand tree illumination, Santa's storefront and lots of holiday decorations.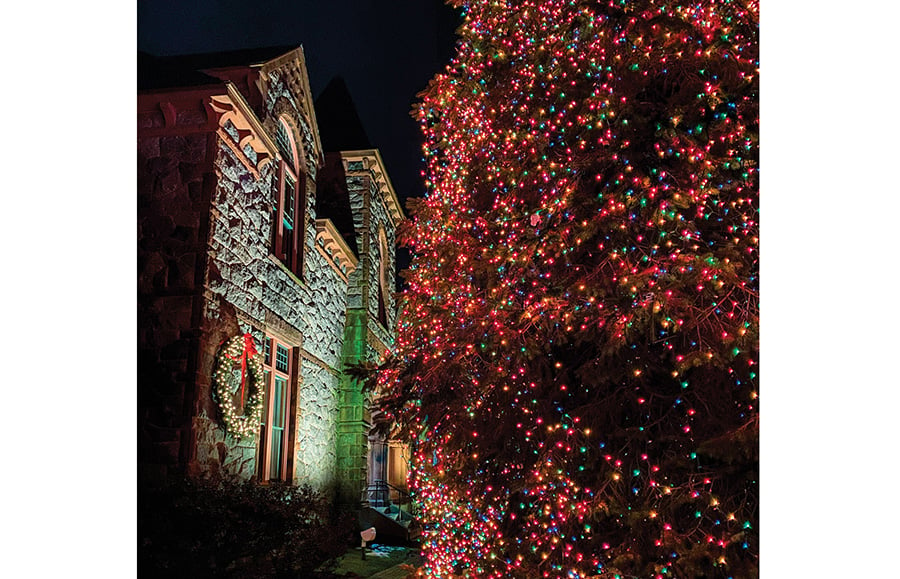 Santa has worked his holiday magic to turn the Bristol Christmas Festival into an outdoor, socially distant celebration, a virtual storytime and Grand Illumination. The festival's volunteer committee is busy transforming an empty downtown Bristol storefront into Santa's workshop so families can stroll by and safely see the jolly old elf at work inside making toys for good girls and boys. Most of the windows of the downtown Bristol shops will be decorated as well as nearby homes and historic buildings, and on certain days and nights, they are encouraging live displays inside the shops. "Businesses are all hurting so bad right now, so we wanted to help drive more business downtown," says Bristol Christmas Festival Committee chairman Michael J. Rielly. "We're going to decorate all the windows at no cost to the businesses." Storytime will be held virtually on December 12 at 6 p.m. on Facebook Live. Members of the Bristol Fire Department and Police Department will welcome several special guests online to read Christmas classics. Rielly is happy to use his position (he's also known as the area's best Santa Claus) to help spread hope during a trying time. "I feel like everyone is so bummed out, and it's our duty to bring some cheer back," he says, "and let people know it's going to be okay." Santa will be present in his workshop on Nov. 28, 10 a.m.–2 p.m.; Dec. 4, 5–9 p.m.; Dec. 11, 5–9 p.m.; Dec. 12, 2–6 p.m. and Dec. 19, 3–7 p.m. For the complete schedule of events, go to christmasbristolri.com.