The Show Must Go On: Rhode Island Performers Return to the Stage
After the pandemic tested morale, skill sets and bottom lines, many Rhode Island performing artists are back onstage for the holidays.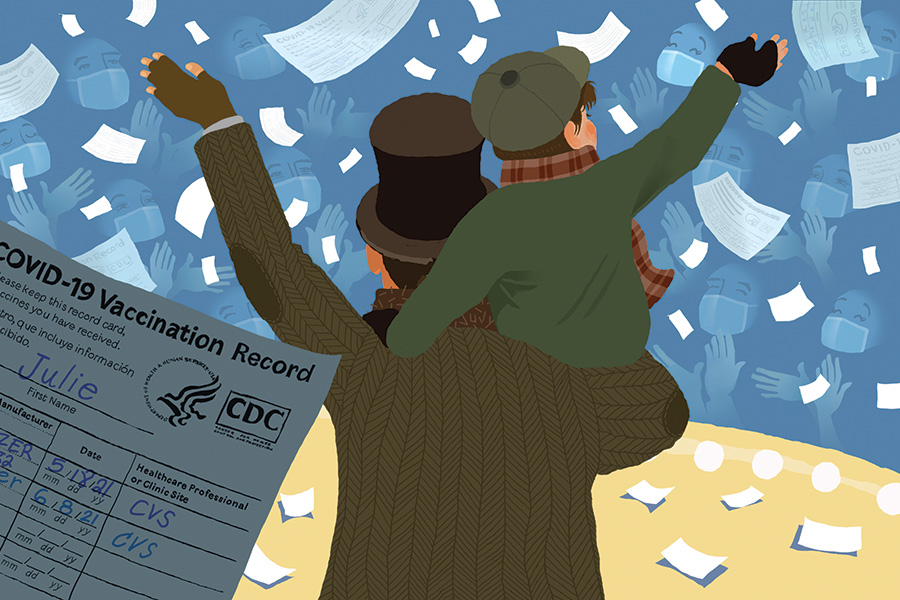 In a dark rehearsal room on Hope Street, choreographer Yury Yanowsky evokes snow. Some eighteen Festival Ballet dancers summon the properties of snowflakes tossed on currents of winter air to close act one of the Nutcracker Suite. It is only the first week of rehearsal, and the corps already looks impossibly beautiful, swirling and leaping around each other, arms and hands undulating fluidly from the humerus to the radius to the distal phalanges, as though they have no bones at all.
Yanowsky, clad in black, appraises his blocking and shoots a look at Director Kathleen Breen Combes, seated downstage.
"What do you think, boss?" he asks, smiling.
"It works," she says, pointing a finger leftward. "But I think that one angle's funny."
When Tchaikovsky's Nutcracker Suite debuted in 1892, it bombed. Today, the two-act ballet is a beloved holiday staple for North American dance companies. Neither Tchaikovsky's rich score, nor the classic story of a young girl's dreamland adventures with a nutcracker-turned-dashing-prince, changes but the choreography is as individual as the company performing it. This December, Festival Ballet unveils a fresh production with all-new sets, costumes and choreography. And, on this day with two months to go, there is a rising but cautious optimism that the company will perform it indoors to a maybe-full house. This prospect of normalcy feels fresh, too.
"I don't know how it's going to go," says Breen Combes. "When we put [Nutcracker] tickets on sale, they exploded. Ten days later, the Delta variant came out and our ticket sales came to a slamming halt, but now we're seeing them ticking back up, as people's confidence is coming back."
December 2020 will be remembered as the year that live performers demonstrated their understanding of that old theater saw: "The show must go on." Like other professionals who work in close proximity to others, the arts community embarked on a mad scramble to do something they've always done in a way they had never done. This holiday, some of the state's largest and most well-known cultural institutions — Festival Ballet, Island Moving Company in Newport, the Gamm Theatre in Warwick, Trinity Repertory Company, the Rhode Island Philharmonic Orchestra and the Chorus of Westerly — are back to business.
"I'm relieved to be able to get back into the theater," says Trinity Rep's Joe Wilson Jr., who is directing the company's forty-fourth production of A Christmas Carol. "It will be an emotional experience for us when we are in front of an audience for the first time. I am going to stand out of way of the work, and create something joyous and reflective that allows us to mourn our losses. But ultimately, this is a celebratory production that reminds us what the season is about: Renewing our commitment to our fellow man."
Last year was a lesson in fragility, says Jenny Thomas, spokesperson for the Association of Performing Arts Professionals, which represents 1,600 performers and live arts organizations.
"We had no conception that this could bring us to our knees as a nation and as an industry that runs on tight margins and long hours and requires community support," she says. "But by our nature we are resilient and adaptive. Some put everything on hold. Many, many went to livestreaming."
The technical challenges were substantial; there was a sudden need for sound engineers and videographers, recording equipment, drones. Performers had to adjust their craft accordingly. Lynsey Ford, who has played multiple roles in the Gamm's live radio broadcast of It's a Wonderful Life, tacked blankets to her apartment walls to turn it into a sound booth. The Chorus of Westerly, with about 100 synced singers, opted for a video for its YouTube channel.
"It's like having 150 puzzle pieces that you have to put together," says Ryan Saunders, executive director. "One person might hold the note a beat longer or someone might be out of tune. It requires a lot of patience; a three- to four-minute video takes hundreds of hours."
Trinity Rep shot A Christmas Carol on a pastiche of sets that included their stage, the streets of Providence, and the cast's homes. In the fall of 2020, a bitter fight broke out between SAG-AFTRA and
Actors' Equity Association, unions representing more than 200,000 theater professionals, over which group had jurisdiction over live productions' streaming performances. It wasn't settled until late November.
"We didn't even know if we could do it," says Wilson Jr. "It was a mess."
Festival Ballet planned to use its $100,000 Take It Outside grant to mount an outdoor production of The Nutcracker. The children were cut from the cast and the run-time was shortened. Heat lamps would warm the dancers and the audience, seated in socially distant pods. With payment fast approaching for the outdoor stage, Governor Gina Raimondo announced a three-week "pause" to reduce community transmission of COVID-19. The company decided to go virtual, but only had three days to find a stage. The Gamm kindly obliged.
"I don't think I ever want to hear the word 'pivot' again," Festival Ballet's Combes jokes.
The Rhode Island Philharmonic ditched its Handel's Messiah with a full orchestra and 100 choral singers, but it never abandoned live indoor concerts. With a 1,900-seat venue, it could host small events, with a chamber-sized group of musicians and no more than 150 patrons.
"To say that we were socially distanced is to put it mildly," says Executive Director David Beauchesne. "We were at 7 percent capacity, but we did not have to turn people away. It was a very strange experience, but better than not being able to perform at all. The musicians had never been happier to see such a small audience if it meant them performing live and getting that feedback."
The financial losses were staggering. The December holiday show is the Black Friday of the performing arts year. Holiday ticket sales typically account for 30 to 50 percent of annual revenue. Americans for the Arts reported that, as of July 2021, the nation's nonprofit arts and culture organizations lost $17.97 billion in revenue due to the pandemic, representing a loss of 557 million ticketed admissions. As a whole, the industry lost an estimated $42 billion in sales and 1.4 million jobs.
Many of the local holiday performances were free. The Gamm, which had been building a repeat audience for its live 1940s-style It's a Wonderful Life production, presented it on the Public's Radio.
"Our show did not sell any tickets," says Artistic Director Tony Estrella. "But our patrons did stay with us for all the pain of the year. There was an incredible amount of largess and support and that's what got us through."
The Island Moving Company, which created a delightful thirty-minute Nutcracker film shot all over Newport, sold streaming tickets, but also broadcast it three times on Rhode Island PBS.
"Through the pandemic year, our earned revenue was down over 35 percent," says Executive Director Peter Bramante. "But we took advantage of every grant, and funding from the Rhode Island State Council and support from our donors, so we could keep our dancers employed, and after a short hiatus, we were able to keep working. We were able to make up most of the difference."
In addition to various state and private foundation grants, the two federal pandemic relief bills, the CARES Act and the American Rescue Plan Act, awarded more than $27 million to Rhode Island Arts organizations and venues.
Ironically, even as they lost ticket sales, they extended their reach and perhaps created some new fans. For example, the Chorus of Westerly, which can accommodate no more than 1,500 people over three Christmas pops concerts, had 20,000 downloads. Trinity Rep's A Christmas Carol "had viewers from all fifty states and thirty-seven countries on six continents," says Director of Marketing and Communications Kate Brandt. "In total, we had almost 200,000 people — far more than we can do live."
Dance companies mounted a series of well-received, outdoor performances in the warmer weather.
"They automatically drew people in," says Festival dancer Anna Lisa Wilkins. "People walking down Hope Street watched and maybe said, 'Let's get a ticket.' That's very valuable and Festival is exploring doing more of that. It was a great marketing tool without them realizing it."
This month, indoor performances resume under a protocol announced in August by eight of the state's biggest venues and organizations. Patrons must show proof that they are fully vaccinated, or of a negative COVID-19 test. All patrons are required to fully mask up unless eating or drinking. In September, as some venues were training the house staff on enforcing new rules, the Rhode Island Philharmonic was the first out with an indoor performance before a masked and vaccinated or tested audience.
It went smoothly. For Richard and Linda Rendine, longtime patrons of the Philharmonic, wearing a mask and showing their cards were small prices to pay for the pleasure of listening to the full orchestra play Brahms "Symphony No. 4."
"It would be nice not to wear a mask, but that's not the way it is," Richard Rendine says. "The most important thing is to have that physical connection with the orchestra itself, and your neighbors in seats around you that you've come to know. We missed them. The music is part of a bigger picture and this pandemic dramatized how important the whole concert experience is."
Back at Festival Ballet, The Nutcracker's "Waltz of the Snowflakes" is a balance between symmetry and the random interactions of individual snowflakes.
Yanowsky is on his knees sketching it out on a piece of paper on the floor, surrounded by dancers bent over for a better look. They take their places, and flutes and violins pass the melody. Just under the soaring wordless chorus are the thuds of wooden toe-shoes — a counterpoint to the weightlessness their bodies convey. The company holds their stage faces throughout the six-minute piece, until they strike the coda's final pose. The dancers and their fellow holiday performers across the state will put in hundreds of hours like this before they return to December's stage.
"Big, big, big! Oh nice," says Yanowsky. "Okay, now that we are a little warm, let's do it again from the beginning."
Ellen Liberman is an award-winning journalist who has commented on politics and reported on government affairs for more than two decades.