(Not) At Your Service
How public-facing restaurant staff are faring in the high-stress, ever-evolving world of pandemic dining.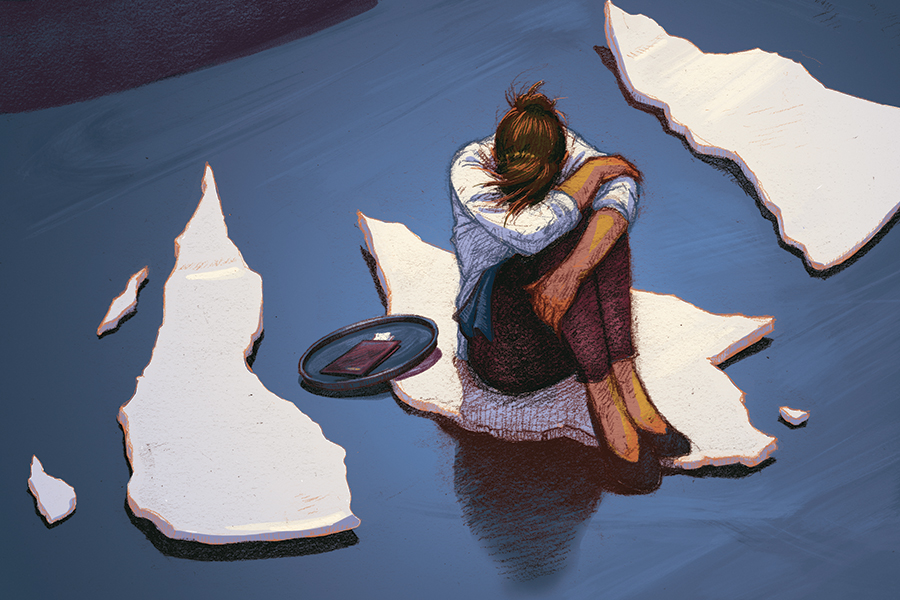 Trigger warning: the following story contains potentially disturbing mental-health-related content.
In late January, after a party of guests leaves Julians Restaurant in Providence, bar manager and server Kendra Plumley clears dirty dishes and collects a billfold left at one of only five indoor tables the staff still seats. At the end of the shift, when Plumley opens the black plastic credit card sleeve, she finds a glaring handwritten message: the word "Tip" is capitalized and underlined and the words "Stop making patrons wear masks at the table" are scrawled in the space where guests would normally leave 18 to 20 percent gratuity. It's just another night on the job in the restaurant industry.
"As a restaurant, we want to provide an enjoyable experience, but it has to comply within these safety precautions. We are fortunate at Julians. The people we work with are taking it seriously, the owners are taking it seriously, and the majority of the guests are appreciative of the care and effort that's being put into safety," Plumley says with a sigh. "But unfortunately, I have had a few interactions with people just being rude. This particular party walked into the restaurant without a mask on. That's unacceptable. I am just doing my job. I don't want to have to babysit you. I just want to bring you your food."
Loren Sloan was working with Plumley during that shift at Julians. As a server with borderline personality disorder who participates in therapy, Sloan says it's stressful to have to remind guests to wear their masks — particularly as vaccines are available, indoor dining capacity rules are more relaxed and people are eager to return to pre-pandemic life. At press time, hospitality workers were not yet eligible to receive the vaccine unless they get lucky through a connection or live in an eligible zip code or meet certain health guidelines.
Putting masks back on when a server approaches a table is part of many restaurants' policies for safe dining, including at Julians, which is conveyed to guests before they sit down.
"Some people get a little resentful. Sometimes you'll interact with a table and it feels like you are a parent, having to nag them to make sure they have their masks on. I will be as polite as possible. I will be happy and charming about it," Sloan says. "We want you to have an enjoyable experience, and we want to be able to do that while maintaining our safety standards. By doing so, we preserve that experience for everyone else."
Hospitality workers say they are challenged more than ever — even as they receive less in return. At press time, restaurants are operating with fewer staff members and limited outdoor and reduced indoor capacity for dining, which leads to less income for both staff and restaurant owners. All the while, they say they are treated poorly for enforcing rules such as mask wearing and social distancing while potentially being exposed to the virus by unmasked patrons. All of this tension has taken a toll on the mental health of hospitality workers, who already had stressful jobs before the pandemic in an industry that is prone to long hours, lower pay, substance use disorder and sexual harassment.
At this point in the pandemic, nearly one in six restaurants, or about 100,000 restaurants, are closed either permanently or long-term in the United States, according to a survey released by the National Restaurant Association. Locally, the Rhode Island Hospitality Association surveyed the state's hospitality business owners and found that 21 percent of respondents had experienced more than a 70 percent loss in revenue in July 2020 versus July 2019. For those that continued to stay open through the fall and winter, every week marked another temporary restaurant closure due to a staff member testing positive for COVID-19, during which all potentially exposed staff had to be tested and receive negative results for the restaurant to reopen (that is, if the business followed Department of Health guidelines).
In a new report from One Fair Wage, nearly one-half or 44 percent of hospitality workers who responded reported that at least one or more of their co-workers in their restaurant had contracted COVID-19. As risks increased, 80 percent of respondents reported their tips plummeted; tips declined more when they attempted to enforce COVID-19 safety protocols.
Dr. Sarah B. Andrea, a social epidemiologist at Rhode Island Hospital, conducts research to identify workplace and policy-level strategies to improve the health of hospitality and food service workers.
"When it comes to folks working in food service jobs, they already had a whole host of chronic stressors related to working in the industry that are just being amplified in this context — if they are lucky enough to still have a job at all," she says. "Folks are dealing with reduced hours, which means less income coming in. Even before the pandemic happened, it was legal to pay tipped workers $3.89 per hour. There are a lot of employers who will pay them more, but that's not required, so they are very reliant on tips from customers to pay their bills. This puts them in a very tricky situation because tips are very unpredictable; they are inequitable."
Some restaurants are opting out of indoor dining altogether and just offer outdoor dining or takeout only, but this also poses a challenge for tipped workers.
"There's a connotation with takeout, where people won't tip on takeout or tip a lot less than they would for in-person dining," Andrea says, adding that she tips 30 percent on takeout. "The bottom line is, hospitality staff are not getting the tips they need."
At press time, Reopening RI's COVID-19 guidelines cap indoor dining at 75 percent capacity with two households per table indoors and three households for outdoor dining. Guests are required to wear masks when not seated at a table and maintain six feet of distance between other patrons. Yet servers, who are always masked, approach tables where unmasked patrons are dining and handle their dirty dishes and cups while enforcing regulations for guests while in the restaurant.
The whole situation pushed Rhody Roots co-owner Cassandra Brimmer over the edge. She says she's constantly worried about how her staff is going to make rent and take care of their families with reduced income from capacity limits and reduced customer enthusiasm for dining out in the first place.
"Not only have we made the changes that have been mandated inside the restaurant, but we're also in charge of enforcing things and we're not getting paid for that," Brimmer says. "We have had to police people. Being in this industry is already difficult because people already view you as subservient, so when you have to add something on top of that and tell them what to do, even though it's not your idea, all while trying to save your business, it's really difficult."
Brimmer says she hit rock bottom last May after adapting to the evolving Rhode Island Department of Health restaurant regulations. She and her family suffered financial difficulties due to turning to takeout only, and this, coupled with her diagnosed bipolar II disorder and preexisting trauma, took its toll. Her husband, Lou Cruz, took over all restaurant operations along with the restaurant's manager, Jamie Rego, while she sought mental health treatment through Butler Hospital. They kept the place running so Brimmer could get the help she needed.
"I couldn't go into the restaurant. I literally can't handle any stress. If anyone were to call and complain, I don't know what I would do — cry," she says.