The Last of the Rhode Island Swamp Yankees
The Whaley family has farmed their land near the sea in South Kingstown since the 1800s.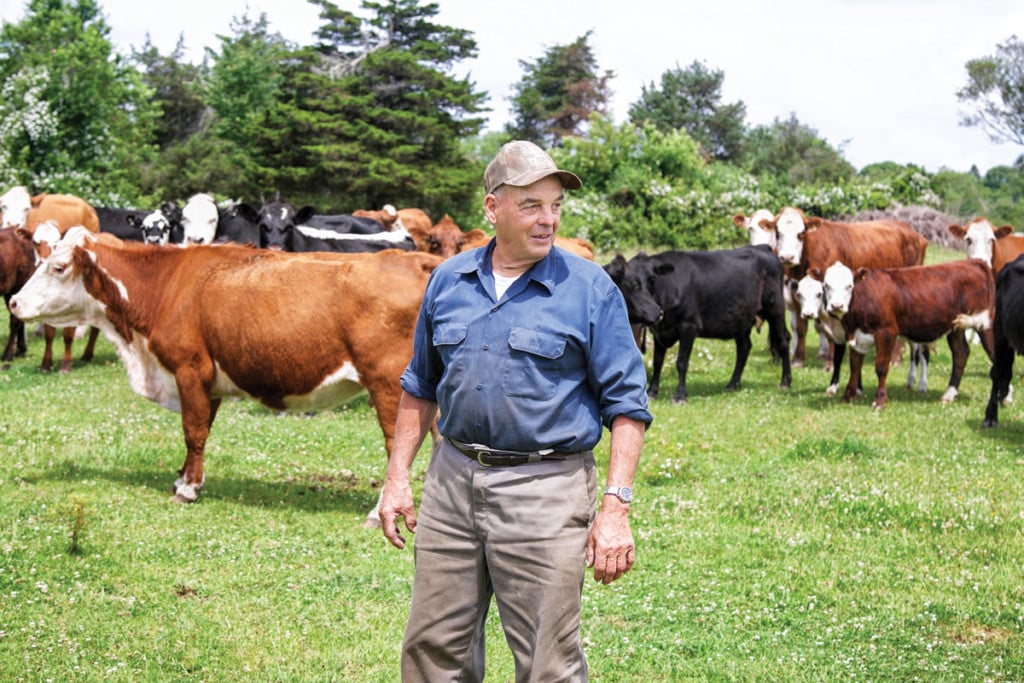 Karen used to make the johnnycakes on an antique wood cook stove where George's mother prepared them so long ago. They'd take forever, but Karen would do it. These days, the wood stove serves as a lounging spot for the housecats. Karen uses an electric range in her galley kitchen now, but it still takes forty-five minutes to get the skillet temperature and consistency right. The first batch or two goes to the dog, who's "fatter than the hogs we just killed," Karen says.
"No matter what I do, I still have to go in and cook his damn johnnycakes," she says with a laugh. George's mother used to cook them ahead of time but he didn't like the taste when they sat around. "Now, they're put on his plate as soon as they come off the griddle, three or four at a time."
George won't eat much more than johnnycakes, meat and vegetables raised on his farm, except for the rare McDonald's hamburger, which he doesn't consider meat at all.
"Most women I know simply would've killed the man," Karen adds. "But he was so good-looking. I was a fool."
Dairy cows are to beef cattle as flint corn is to sweet corn. The latter still makes money for the Whaleys, who harvest it in late summer and stock it at a little farm stand at the end of their drive, along with some produce from their vegetable garden.
Karen harvests all the sweet corn by hand and the work pays off. Grilled up and buttered, her corn is as bright and delicious as a warm summer's day. Karen's mother operates the farm stand, with help from some nieces and nephews on busy weekends. Before Labor Day, they sell every ear Karen can get picked.
"After Labor Day, I can't give it away. But the corn is the best after Labor Day," she says, almost conspiratorially.
Lately, customers have been asking if the sweet corn seeds they plant on the farm are genetically modified. Up until a few years back, George was using pesticides to keep worms at bay. He had the spraying down pat. But they've since added in a GMO product that doesn't require the worm killer and now customers think they're selling Frankenstein food.
"He likes it because the insecticide for the sweet corn is deadly," she says. "And if he doesn't have to do it, good. That's my opinion, but I don't know too much."
She's being modest. Karen's known as "the most well-read bumpkin around" and, when she's not tending to her dairy cows or maintaining the farm's six pickups — a Ford and five Dodges, the newest a 1979 she bought on eBay, sight unseen, from a seller in Virginia — she can be found with a nose in the Wall Street Journal.
She'll use the Internet from time to time, mostly to Google dead actors with George after the day's work is done. But she's yet to find a computer that will milk her cows, run her tractors and deal with her husband. She doesn't put too much stock in technology and doesn't use a cell phone. There's no need for one when you know where your husband is, like clockwork, every minute of the day.
"How weird we must sound to you, but I see society so engrossed in their phones. They're missing out," she says.
Karen likes to connect in other ways. Each fall, the Whaleys host a free end-of-season pumpkin extravaganza for friends and neighbors. Volunteers come for three days to prep and carve 200 pumpkins grown on the farm and Karen keeps all her helpers watered and fed.
"I know a lot of do-ers," she says.
Each evening, visitors and dairy cows mingle by bonfires. Coyotes howl in the night and jack-o-lanterns illuminate a flock of ducks floating in a small pond by the drive.
But after the extravaganza, it's back to business on the farm. Fields need mowing. Cattle need feeding. The flint corn harvest is imminent. The crib must be emptied of last year's crop. New ears must be inspected and stowed.
George, for his part, doesn't consider any of this real work.
"I'm retired now," he says with a glint in his eyes, the same shade of blue as his work shirt at the end of the day, covered in field dust.
Karen is more pragmatic. The money from the development rights was a windfall for them; otherwise, she doesn't know what they would've done. She can't see how traditional family farms — not quite hobbyists, but not huge operations, either — survive the long haul in a society that depends on cheap food.
But she'll keep on minding the dairy and maintaining her trucks and cooking johnnycakes. Whaley Farm is a passion project in the purest sense of the phrase, this old land akin to the farmer she's loved her whole life. The work may sometimes feel futile, but she'll never stop because, she says, "It's all about him. Without him, what do I got?"