The Last of the Rhode Island Swamp Yankees
The Whaley family has farmed their land near the sea in South Kingstown since the 1800s.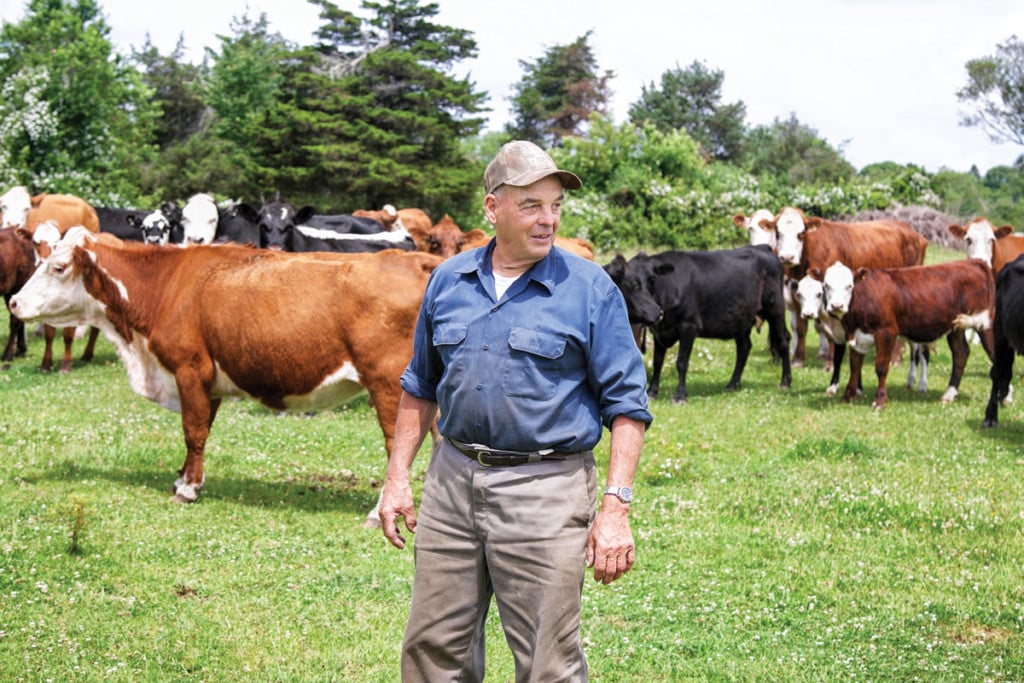 Winter before last, George Whaley was trying to die.
The seventy-seven-year-old farmer has seen it all: diabetes, stents, bypasses. This time, it was infections of an unknown sort.
"Plus, he's a horrible patient, the likes of which you've never seen," says his wife, Karen Whaley, as she scrapes dung from cement cow stalls with an old metal shovel. She's a strong, robust farmer's wife who traded in the iconic apron and skirts for a thin pink T-shirt and gray cotton pants, her amber-colored hair worn loose in a flurry to her shoulders. Under no uncertain terms will she pose for a photograph, but she's glad to indulge visitors in some farmyard conversation on this drizzly afternoon in late summer.
Karen's dozen dairy cows just finished lunch in the barn, which George built with his own hands when he was a young man growing up on the farm. One cow is thankful for the meal and nuzzles Karen's arm with affection. A sweet but homely barn cat named Goldie — a prolific mother, who spawned many of the farm's twenty-three felines — rubs her on the other side.
Some years were better than others on Whaley Farm, a forty-one-acre parcel on Jerry Brown Road in South Kingstown. But none were worse than 2017. George got sick, then Karen had to let most of their dairy cows dry up; it cost more to produce the milk than they could earn selling it, per federal milk marketing orders that favor dairy corporations. Karen couldn't stand to let the cows go, so she keeps them as pets.
The dairy won't bounce back, but George — despite protestations from his wife — did not stay off his tractor for long.
"He thinks he should work fifteen hours a day," says Karen. "I'm trying to slow him down, but it's his work ethic."
It's also in his blood. George's ancestors bought the farm, which dates back to 1600, in the 1850s; prior to that, they worked the land as tenant farmers. The first Whaley didn't have kids so the land passed on to his nephews, one of whom was George's father. Then George, the youngest of four children, took over.
Karen, twenty-five years George's junior, grew up just over the hill.
"He was so handsome," she says of her husband. She couldn't resist. They married and had two children. Those were the golden years, when late-summer pumpkin sales were enough to put their son through college.
Back then, they operated the dairy, raised beef cows and hogs and sold hay. They also grew sweet corn and flint corn for wholesale customers and passersby at the farm's roadside stand.
Their daughter married a doctor and lives on Long Island; their son, who worked as a lawyer, burned out and moved back home after George got sick. Neither wants to maintain the farm when their parents are gone, Karen says as she leads the cows into the drear. For her part, Karen can't imagine running it the same way after George goes. Rain spits from the sky, but she doesn't mind.
"I'm part duck," she jokes.
She nods toward a three-story contemporary across the field, one in a fleet of summer homes that complain about the Whaleys to local law enforcement. This particular house had an issue with the manure pile. It's a farm, Karen says. There will be manure. But she acknowledges the area has changed a lot since George's childhood, when there were more farmers than beachgoers. Their land, tilled and reaped for four centuries, is coveted and vulnerable.
George knows this well. After he recovered from his illness, he finalized the sale of the development rights of the farm to the South Kingstown Land Trust, which raised $860,000 from grants and individual donors to secure the conservation easement on the property. The Whaleys still own the land but, after they're gone, the acreage must remain agricultural in purpose. It will never be diced up into summer houses.
Karen corrals her cows to a fenced-in area where they'll graze for the day. She swings open a creaking gate for George, who's about to tractor up some feed to his cattle on the easterly side of the farm. Feeder cattle, which they take to Middlesex, Connecticut, for slaughter, can bring in $400 to $600 each.
With a weary, practiced physicality, George hoists himself onto his tractor. He surveys his domain and, with a few gravelly words and a wave of his hand, puts it simply: "You hate to see the farm turn into house lots, like with everything else around here."
He starts up his John Deere and growls away. Karen watches George until he's nearly out of sight, then she heads up to the house — a small, dim cottage that hasn't changed much since George's childhood — to start on supper.
"He's had so many health issues, so he wanted to make sure it was done before he died," she says.
"I told my husband he's the last one," she adds, referencing the string of South Kingstown farmers who died over the last year. "These Yankees are dropping fast."
Every day, Karen stands over her stove and cooks up George's johnnycakes, griddled corn pancakes served with gravy and meat raised on the farm. George's supper is made from Rhode Island white cap flint corn, a grain he grows on an acre of farmland, harvests, dries in a corn crib and grinds up in his own mill. George processes the meal, and Karen turns it into one. He prefers it East Bay-style, a thinner cake made with milk, rather than the South County way prepared with water.
"For me, personally, it's unnecessary busy work," she says of the flint corn crop. "I'm getting tired. It's his thing, but the market's gone. We had some wholesale customers, but they died. The writing's on the wall."
The "hard as flint" corn, also known as Indian corn, was domesticated from a wild grass by indigenous tribes, who then taught colonists how to cultivate it. Heirloom flint corn is equal parts finicky and tough. It's susceptible to cross-pollination and cannot be grown near other corn crops. It also has a low yield, a fact that was made painfully obvious during a farm survey in the 1950s. The publication of the survey motivated many regional farmers to switch from flint corn to high-yield dent corn. Tastes followed suit.
What was once the state's most popular corn crop is only grown on small scales today by the Narragansett tribe, a handful of farmers and the University of Rhode Island. But George won't give it up. His family has always grown and eaten flint corn, and so will he.
George used to have his johnnycakes twice a day. Now, with his health issues, he's down to one serving. Still, he eats more than he sells.
"We've got a crib full and we've got to empty it just to put the new crop in," says Karen. "One year, we picked it all and put it in the garage just for the mice to eat it."
George uses a picker to harvest the crop in fall, then the Whaleys go over it by hand before it's stored in the crib. A single moldy kernel can wipe out a whole harvest. The stuff has to be spotless.