The Haircuts and Heritage Project Motivates City Youth with Mentorship in a Safe Place
Founder Kobi Dennis is leading the charge and introducing kids to mentors in the barber's chair.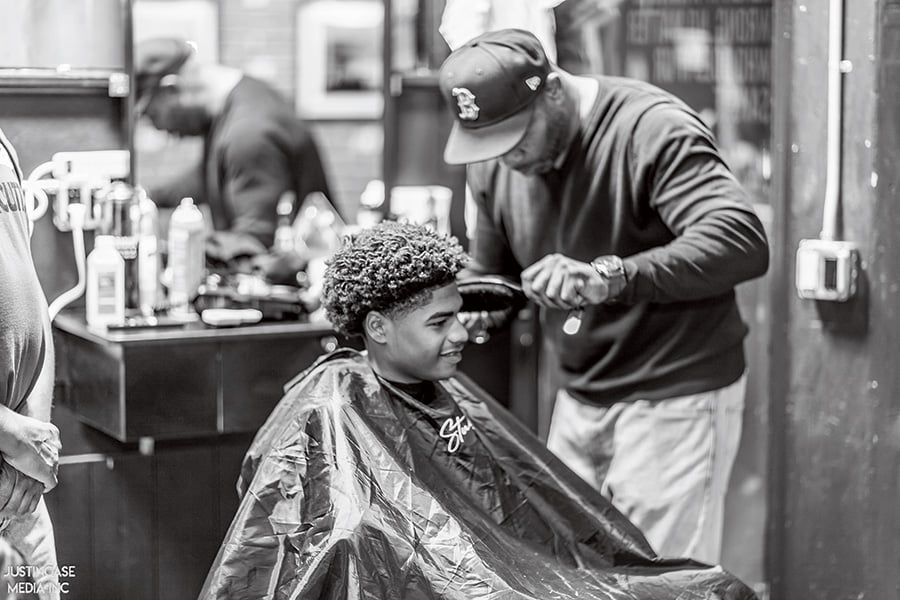 Kobi Dennis is introducing city youth to mentors based on their ambitions and goals, and he's found a creative place to do it: in the barber's chair.
The program is called the Haircuts and Heritage Project and it pairs referred students from partnering middle and high schools and by word of mouth in Pawtucket, Central Falls and Providence with a speaker of color who can inspire the youth.
The pairings meet at Dennis's new hub at 28 Summer Street in Pawtucket, where kids get a free haircut. "I am focusing on African American youth and the BIPOC community, and I know just how important a haircut is in that setting in those cultures," Dennis says. "The haircut is the epicenter for conversation and problem-solving. It's the first 'therapist' most folks in the urban setting are in contact with unofficially."
Dennis is using this familiar seat to help motivate youth. "The fact is our BIPOC youth just need someone to talk to in a safe space," says Dennis, "and that conversation with the entrepreneur, musician, spoken word artist, black police chief, politician or another professional can be a gamechanger."
Dennis, who is currently the chief operating officer for the Greater Providence YMCA, has been involved in mentoring youth for nearly thirty years through nonprofits, equity programs and community initiatives. He's an activist and local leader who helped revive the Night Vision Midnight Basketball League and spearheaded the nonprofit mentorship program, Princes2Kings, among other things.
"My job was to mentor these young folks, boys of color from ages twelve to seventeen, and get them from high school to a better life," he says. "I was successfully able to turn fifty boys from princes to kings."
He started the new program to help foster connections. "That's what it's about, building relationships, getting these kids on the right path, getting them a job or to higher education or the military," he says. The idea for the Haircuts and Heritage Project collaboration has been in the works for two years in partnership with the Keep Forward Movement (KFM). The program is also made possible with financial support from the Papitto Opportunity Connection (POC) Foundation, which is focusing on supporting and financing BIPOC-owned businesses and programs.
The hub will also host art exhibits, a library, gallery, health and wellness resources and cultural materials and educational resources.
Mentors are paid for their time, but the haircuts for youth are free. "When you break down the numbers, an average low-income parent makes $20,000 to $30,000 a year and they have to pay so much money a year in haircuts for kids," Dennis says. "That's just not equitable. I wanted to help out families in a different way." morethanacutri.com