The Evolution of the Providence Journal
A new editor is shaking things up at the ProJo. Can the paper be saved?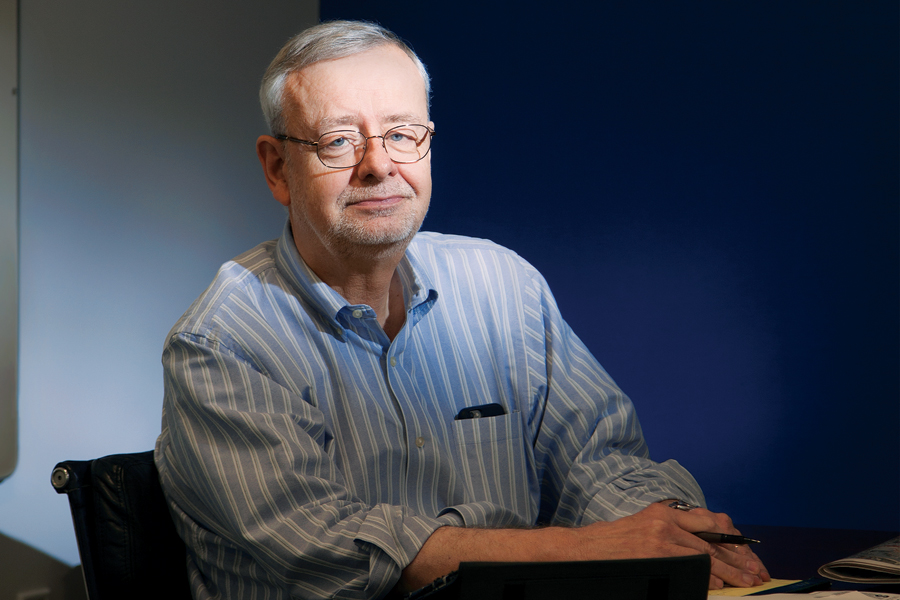 In 1980, the Providence Journal Company published a 494-page hardcover titled The Providence Journal: 150 Years. In some ways, the book was a straightforward institutional autobiography. One chapter described how the paper reported on the fall of the Alamo, the rise of Abraham Lincoln and the 1861 attacks on Fort Sumter that sparked the Civil War. Another recalled how Stephen O. Metcalf, president of the company from 1904 to 1941, preferred to pay his employees in cash.
But 150 Years was also a monument to the paper's extraordinary success. This was a paper that, as the book noted, published through Biblical weather events (the Hurricane of 1938, the Blizzard of 1978); a paper that had established a network of satellite offices from Westerly to Woonsocket so reporters were "never more than twenty minutes away from any news event"; a paper that had won three Pulitzer Prizes — most recently (at that time) in 1974, for Jack White's reporting on President Richard Nixon's underpayment of income taxes. The back of the book featured a six-page list of the Journal's citations and awards. The foreword boasted, "It is probable that no newspaper in this country can point to 150 years of dominance in a community such as the Providence Journal has attained within the city-state of Providence and Rhode Island."
Three-and-a-half decades later, in July of 2014, the country's "oldest continuously publishing daily newspaper" observed another birthday, its 185th, under much different circumstances. The paper was no longer family-owned; it had been sold with other assets in 1997 for $1.5 billion to the Dallas-based A.H. Belo Corporation, which also owned the Dallas Morning News. Fifteen-plus years of absentee ownership, plus the advent of the Internet, had been difficult. The paper's bureaus had all closed. A 2013 Columbia Journalism Review article noted how the Journal's revenue and circulation had fallen faster than the (already bleak) national newspaper average. The once-enormous news staff had dwindled after repeated rounds of buyouts and layoffs. In one 2013 interview, John Hill, the head of the union that represents Journal staff, said, "There's not a lot left to cut. Morale is terrible."
And so, instead of a glitzy birthday bash, the paper shared an image of the paper's first edition from July 21, 1829, via social media, and published a short accompanying article headlined, "Happy Birthday to Us! Providence Journal Turns 185." Then the next day, in a striking bit of timing, the paper announced that it had been sold for $46 million.
The buyer was a publicly traded New York-based newspaper conglomerate called GateHouse Media, which described its strategy online as "to acquire and operate traditional local media businesses and transform them from print-centric operations to dynamic multimedia operations" and "leverage our existing platform to operate these businesses more efficiently." In its report on the sale, the Journal noted GateHouse owned "451 community publications [and] 367 related websites."
The transaction brought a flurry of change to Fountain Street. GateHouse went forward with layoffs of twenty-two more employees, including veteran columnist Bob Kerr. ("After forty-three years-plus, I was out of there in about ten minutes," he told Rhode Island Public Radio.) The company named an interim publisher to replace the retiring Howard Sutton and then, six months later, hired a permanent replacement, Janet Hasson. Meanwhile, the Journal informed readers that some of its copy-editing and page-design positions would "be transferred to a center GateHouse currently operates in Austin, Texas, for many of its newspapers." A picket-line protest of the move by Journal employees outside 75 Fountain Street did not reverse the decision.
And then there was the question of the executive editor. For decades, Journal editors had risen through the ranks to the paper's top news position. This had been the case with the Journal's first female executive editor, Karen Bordeleau, who took the role in 2013, and it had been true of her predecessors stretching back to the 1980s. But when Bordeleau retired less than a year into the GateHouse era, the company announced it was hiring an outsider: a sixty-five-year-old veteran newspaperman named Dave Butler. His first day on the job was November 9, 2015.
Butler's hire not only completed GateHouse's overhaul of the paper's executive team, it marked a milestone for Rhode Island's paper of record. The Journal, the most fiercely local of our local institutions, a business older than the Rhode Island State Police and the University of Rhode Island, was now entirely owned and run at the executive level by non-Rhode Islanders. The CEO of GateHouse, Kirk Davis, lives and works in Massachusetts. The new publisher, Hasson, is a transplant from White Plains, New York. Before that, she worked in Michigan and Washington state.
Dave Butler had spent eight years editing the San Jose Mercury News in San Jose, California. Before that, in a career spanning five decades, he zigzagged the country, working in Illinois, Florida, Kentucky, Florida (again), Colorado, Connecticut, California and Michigan. "There are really two paths in the newspaper business," he says. "You either go someplace and stay there essentially forever. Or you move around and you move up in the business." He's the embodiment of Option Two. When people ask him where he's from, he says, "I'm from where I am right now."
And, right now, he's the editor of Rhode Island's oldest, largest and most important news organization. And, while it may be uncomfortable, it is not entirely unreasonable to ask: Is it possible he could be the last?
Butler works out of a modest corner office on the second floor of the Journal's iconic red brick, arched-window headquarters on Fountain Street. The windows in the office face west, toward the downtown building where he rents an apartment. The walls are mostly bare except for a framed, yellowed edition of the Evening Bulletin — the Journal's bygone sister paper, which merged with the Journal in 1995 — that belonged to his predecessor. Outside of the office is the Journal's hushed, open-floor newsroom where reporters tap away on keyboards. A big-screen monitor hangs over a conference table, streaming real-time data about the performance of Journal stories on the web.
Butler started his career in 1972 as a reporter at the Southern Illinoisan in Carbondale, Illinois, after graduating from Southern Illinois University. And, in many ways, his career reflects the arc of the newspaper industry. The '70s were a good time to go into the business. Papers were often owned by families who operated them like public trusts; there was no Internet to steal away classifieds and car ads. Reporters had just completed the biggest journalistic coup in American history — the Washington Post's takedown of President Richard Nixon — which Hollywood immortalized with the 1976 film, All the President's Men, starring Robert Redford and Dustin Hoffman.
Within a few years, Butler rose to the position of metropolitan editor in Carbondale. And he would climb further in rank as he trekked around the country, from assistant city editor at the Sun-Sentinel and Fort Lauderdale News, in South Florida, to assistant managing editor of the Rocky Mountain News, in Denver, to editor of the New Haven Register, in Connecticut, to editor and executive vice president for news at the L.A. Daily News, to editor and publisher of the Detroit News.
Talk to people from his career and a couple of themes emerge. One, Butler is a guy who lives for newspapers. Mike Hill, a reporter in Louisiana who worked under Butler at the Owensboro Messenger-Inquirer, in western Kentucky, in the 1980s still raves about his leadership. "Even back then people noticed that he was pushing the best in journalism…he set the tone there," Hill says. Under Butler's leadership, the paper was named one of the top under 50,000-circulation papers in the country by the Associated Press. "He raised the bar to the point where, if you wanted to please him, you're going to have to work damn hard."
But if Butler is a newspaper purist, he's also a realist. "We live in a moment when large institutions control a lot of commerce," Butler says. Home Depot has taken the place of the local hardware shop, Macy's has replaced the local department store; newspapers are a part of this reality. We can regret that all we want, but it's the fact of life, he says. "Newspapers have a special protection under the First Amendment, but they're a business and they have to survive."
GateHouse CEO Kirk Davis says, "I think Dave's always struck a nice balance of representing his newspaper and his staff well, and also trying to give the best counsel he could to corporate leadership."
This awareness of the two imperatives of the business — serving the public, while also making money — helps explain how, by 2013, Butler rose to a high-profile dual role as the executive editor of the San Jose Mercury-News, who also oversaw seventy-five newspapers and a $112 million budget for the newspaper's hedge fund-owned parent company, Digital First Media. By then, Butler's old paper, The Rocky Mountain News, no longer existed. And across the country, the vital signs of newspapers — revenue, circulation, staffing — were in freefall.
An existential panic pervaded the industry, and a 2015 memo Butler sent to Digital First Media staffers (and leaked to the popular journalism blog, jimromenesko.com, where it was published) reflected the times. "There is no clear and easy path for our industry," he wrote. "But we know that journalistic values must be maintained. We also know that the web operates differently from print and we have to cope with a changing world and find the appropriate balance. Print will continue to shrink and digital will continue to grow. The bottom line may well be this: Change and change faster."
And change he did. In the summer of 2015, Butler announced his retirement from the Mercury News, even if he knew he couldn't stay retired. ("I don't have any hobbies to speak of. Journalism is my hobby," he says.) Around that time, during a phone call with the newly-hired-in-Providence Hasson, with whom he had worked in Detroit in 2005 and 2006, the Journal began to sound like an intriguing opportunity. (A sensible one, too. Butler's wife, Kate, works for the Associated Press, out of New York City, and her family is based in southern Massachusetts.) When he looked at the Journal and its website, he says, "I thought that there was more potential there than I was seeing reflected." The paper announced his hiring on October 14.
What that Journal article introducing its new editor didn't mention, but what is perhaps Butler's defining trait, is his no-nonsense temperament. By most accounts, he is the embodiment of the old-school newspaper editor stereotype: gruff, gravelly voiced and not particularly touchy-feely. "He can be abrasive. He can be tough. He can piss you off mightily. But he's not going away," says retired Mercury News reporter Pete Carey. "If you want to keep working you just move past the arguments." That attitude seems to apply to staff and sources, alike. During one editorial board meeting at the Mercury News, Butler's intense questioning brought a female law enforcement official to tears.
(This style has left some colleagues more enamored than others. One reporter who used to work with Butler, and asked not to be named, says he had "terrible people skills" and recalls a startling rudeness in emails and certain newsroom interactions. Aspects of this description were corroborated across numerous interviews with reporters who have worked with him.)
GateHouse CEO Davis, who worked with Butler at the New Haven Register in the 1980s says, with a chuckle, "He's nothing if not brutally honest…. If Dave thinks we're doing something wrong, he's not shy about telling me that."
Butler says people often use the word "intense" to describe him.
"I'm a pretty persistent guy who wants to see answers to questions," he says. "I'm not a big yeller and screamer. Although I sort of went berserk this morning about something."
In January, after two-and-a-half months on the job, Butler published a letter to Journal readers to share "improvements planned for 2016 to build on the Journal's nationally recognized tradition of excellence." Most of the eleven changes he laid out were underwhelming "Combine the Sunday Homes and Consumer sections into one section." "Move Mark Patinkin's column to the Rhode Island page, usually A4, to make it easier to find." "Resume publishing a regular feature focusing on old photos from the Journal's archives, each Sunday." "The popular comic Pickles was added to the Sunday Comics section on Jan. 17."
The subtext arguably revealed more than the letter, itself: In an era of corporate conglomerate ownership, the most significant choices seem to be beyond an executive editor's control. A couple of the bullet points did address the paper's core journalistic mission: "Add more local news to the Sunday newspaper" and "Reinvigorate the Journal's longtime practice of investigative reporting and being a strong watchdog for the public." But without any promises to add more reporters — the remedy a newspaper needs, more than any other, to improve its product — it was unclear how these goals would actually be met.
In fact, the most significant change wasn't mentioned in the note at all: the way Butler injected a new energy, and an increased tabloid sensibility, into the paper's front page. Previously Journal readers saw giant, bold-faced headlines reserved for events like presidential election results and declarations of war. But, under Butler's steering, big, bold, red-alert headers have announced "Sexting" (for a December 2015 piece on explicit sexual text messages sent by teens); "MONSTROUS" (for an August story on wildfires in California); and "PRIVATE HELL" (for the release of a report on sexual abuse at the prestigious Middletown boarding school St. George's). In May, when Providence City Council Majority Leader Kevin Jackson was arrested for allegedly pocketing public funds intended for the youth track team he coached, the Journal ran a large courtroom photo of a sheepish, handcuffed Jackson under the headline, "STEALING FROM KIDS?"
The paper has taken design risks, too. In July, when the State Police announced it would file no charges and release no documents after its years long investigation into the 38 Studios debacle, the Journal ran a large empty box on page one to illustrate the anticlimax. In September, for an article on a 1,275-foot painting being restored and displayed at the New Bedford Whaling Museum, the paper ran an image of the mural, flipped vertically, that extended almost the entire height of the front page. Butler has a simple rationale behind this approach: a paper with attitude is a better reflection of a state with attitude. "I mean, this is a quirky place in a lot of ways," he says.
In fact, it was the paper's front page that sparked the most dramatic moment of Butler's time in Providence. In May, after a lightly attended State House hearing intended to probe the controversial legislative grant program, the Journal ran a venomous front-page Sunday editorial calling it "a dog-and-pony exhibition, an insult to the intelligence of most Rhode Islanders, a fraud, a farce." The piece ended by listing the office phone numbers for House Speaker Nicholas Mattiello and Senate President Teresa Paiva-Weed and asking, "How many more legislators have to go to jail, and how many more job creators have to be scared away, before state leaders accept the need for change?"
In response, a seething Mattiello took to the rostrum for a rare, impassioned speech noting this was the first Journal front-page editorial since the September 11, 2001, attacks, calling it "unfair," and saying he was "embarrassed" for the paper. Before receiving a standing ovation from lawmakers, the speaker added, "And I would hope that, as we proceed, the Journal will go back to putting forth a product that the citizens can be proud of."
This speech, too, made the next day's front page, and State House reporter Kathy Gregg's article on the fracas revealed Butler uncharacteristically — for a Journal editor, at least — joining the fray. "I was glad to see the speaker admit that, and I quote, 'the grants are a political mess,' " Butler said in the article. "What confuses me is how he's going to determine what to do, because at the hearings virtually no questions were asked and several committee members didn't show up. What kind of hearing or audit is that?"
He continued, "I might remind the Assembly that the recent episode began when the house finance committee chairman resigned his seat following reports of a widening investigation. This was not something the media made up. Nor is the fact that some thirty lawmakers have had to resubmit their ethics forms because of mistakes they made." GateHouse's corporate office was quick to highlight the episode in a PR-department story called "Newspapers still matter — Providence Journal's fiery front-page editorial is proof."
The ProJo's new newsroom on the second floor of the Fountain Street building.
But was it actually proof that the Journal has entered a genuinely feistier watchdog era? Or was it a sign of an enfeebled, self-conscious paper looking for new — and low-cost — ways to stay relevant? Perhaps a bit of both. At the very least, it left Journal readers with the impression that there is a new kind of editor in town. And it wasn't just the front page; the paper under Butler has shown renewed interest in the kind of in-depth local news that the bureaus once provided, with recent deep dives on the North Providence police department and the downfall of embattled Bristol State Representative Raymond Gallison.
Unfortunately, the days of expansion for expansion's sake on Fountain Street seem to be over. If you look a bit more closely at the paper, you see that the uptick in cities-and-towns coverage happened while other parts of the paper underwent less-heralded nips and tucks. Over the summer, a features reporter and features editor were laid off, along with veteran editorial board member, M.J. Andersen, a move that brought the board's ranks down to three. (It had five members as recently as 2014.)
And while Butler's January letter announced that the paper would launch "a third page of Commentary to the Sunday newspaper — to offer a broader range of opinions," it didn't mention that, on some weekdays, all opinion material (op-eds, editorials, letters to the editor and political cartoons) would be limited to a single page, instead of the usual two. In June, businessman and former gubernatorial candidate Ken Block tweeted, "I've got to say I seriously dislike the new @projo half-size opinion page today."
It's worth noting that Journal employees were not permitted to speak to Rhode Island Monthly for this article. More than a dozen staffers were contacted, and all of them offered a version of the same response: We're not allowed to speak on-record. At least one noted the irony that, though they ask people to speak to the press for a living, they're obliged to stay mum when a reporter knocks on their door.
This leaves a major gap in a story about the state of the Journal; you simply can't fully understand a newspaper if you don't hear from the rank-and-file reporters, photographers and editors. Dave Butler may be conducting the orchestra, but he's not making the music.
Many questions remain unanswered. How does Kathy Gregg feel about her reassignment away from the State House beat she's worked for decades — a move that was met with dismay from many readers? How has Butler's brusque leadership style played out in Providence? How does the news staff feel about the fact that opinion-page editor Ed Achorn now sits in on morning news meetings? Do staffers think things would be different if the group of local investors, including developer Buff Chace (who wound up co-purchasing the Journal building from A.H. Belo after the GateHouse sale) and Warwick Beacon publisher John Howell, who vied for ownership of the paper in 2014, had prevailed instead of GateHouse?
For her part, publisher Janet Hasson says the Journal's news brand is "stronger than ever." And, on the business side, "GateHouse would not have purchased it and would not continue to own it and continue to invest in it if it was not healthy." But communications from the Providence Newspaper Guild paint a less rosy picture. In May, the Guild sent an email highlighting a spike in inaccuracies after the move of certain layout functions to the Texas design center.
And, overall, the email did not make the newsroom sound like a happy, healthy place. "While GateHouse boasts it's sitting on $360 million in cash to buy more newspapers, and reserves the right to replace us with part-timers and temps, the hardworking ProJo staff has not been given a raise in eight years and hasn't had a contract in one-and-a-half years," it read. "We are down to thirty-seven reporters and columnists, including our sports writers. That's one journalist for every 28,548 Rhode Islanders. How can we give necessary watchdog journalism with these numbers?"
One staffer, who spoke on the condition of anonymity, says that, after all the paper has been through in recent years, the newsroom is a "sad, sad place," adding, "It doesn't feel like the Journal anymore."
For decades, the Journal has taken justified pride in covering the biggest stories affecting Rhode Island. It flexed these muscles in January with wall-to-wall coverage of the death of Buddy Cianci. And in recent years, it has cranked out series on the struggles facing the middle class, mental health in Rhode Island, the opioid addiction and overdose epidemic, the financial costs of urban gun violence, and the way technology is affecting our lives, among other topics. These stories have shown the paper at its best: smart, comprehensive, enterprising, engaging, vivid, meticulously reported. In August, the paper's "Race in RI" series received a Salute to Excellence award from the National Association of Black Journalists.
And yet there is one major story about the Ocean State in recent decades that the Journal has missed: that of its own decline. True, you'll find pieces in the archives of the Journal: announcements of retirements and corporate transactions, the occasional short article about layoffs or an employee protest. But you have to go elsewhere to get the scope and texture of what's happening.
You've got to add up all of the rounds of layoffs, buyouts and departures that have taken place in 2016, 2015, 2014, 2013, 2012, 2009, 2008 and previous years. Rhode Island Public Radio reporter Ian Donnis, who has written many of those stories for RIPR and the Providence Phoenix, says, "You could certainly staff a fantastic newspaper or news organization with the people who have left the ProJo over the years." One of his Phoenix articles from 2001 reported that fifty-seven news workers had left in the previous two years, alone — so many that some close observers of the paper had dubbed it an "exodus."
Posts on social media add color to the raw numbers. In 2013, columnist Ed Fitzpatrick tweeted a photo of a farewell-party cake that, in a message scrawled in icing, added up the combined Journal institutional memory of four employees leaving that day: 143 years. On the day Bob Kerr was summarily laid off in 2014, staffer Sheila Lennon tweeted a photo of his abandoned desk, still piled high with books and mementos, with the message, "Bob Kerr's empty #projo desk this pm after GateHouse layoff."
And it isn't just people; it's also pieces of the Journal's empire that have been chipped away during the last two decades. The Evening Bulletin. The Sunday magazine. The local bureaus, including two across the border in Attleboro and Fall River. The Washington, D.C., bureau. The Pulitzer Prize-winning investigative unit. The reporter-intern program. The daily business section. The locally written film reviews. Most recently, after A.H. Belo (which maintained ownership of the 75 Fountain Street building after the GateHouse sale) sold the building to developers, the first-floor newsroom, which reliably glowed with fluorescent light at all hours of the day, went dark. Now, when you drive by, you see an emptied-out construction zone. One reporter compares the new newsroom upstairs to an insurance office.
The magnitude of the loss is disconcerting — and the fact that newspapers are suffering similarly across the country doesn't make it any less painful. You can hear sadness in the voices of former staffers who discuss the paper. "It was a newspaper of record of Rhode Island," says former editor Carol Young, who started at the Warren bureau in the early 1960s and left as deputy executive editor in 2010. "Every birth, every high school graduation, every college graduate got their name in the paper automatically. Every house sale, every liquor license issued. There was a period where it was all part of our record." Bob Kerr adds, simply, "We covered everything. We were everywhere. And we're not anymore."
And yet, at the same time, the paper is not dead. Far from it.
This is a newspaper that still wields the largest newsroom in the state, staffed with capable, hardworking veteran reporters and numerous promising recent hires; a newspaper that still wins Rhode Island Press Association awards by the dozen (forty-nine in 2016); a newspaper with full-time staffers stationed at the State House to comb through every bill and budget; a newspaper that recently fought with the City of Pawtucket over the police department's dubiously grounded non-release of records relating to a murder-suicide; a newspaper that still provides an endless stream of (often uncredited) daily fodder for talk radio hosts, evening news broadcasts, local bloggers and social media users. Look at, say, Kate Bramson's detailed breakdown of the cumulative taxpayer costs of 38 Studios, or Kathy Gregg's report on the Cranston state rep race between House Speaker Nicholas Mattiello and Republican challenger Stephen Frias, and you'll find journalism of a depth and nuance that no other local outlet can provide so regularly. In October, the New England Newspaper and Press Association named the Journal its New England Newspaper of the Year. (Ed Achorn won an additional, separate award for the front-page legislative grant editorial from May.)
These two truths are almost irreconcilable: the seemingly ubiquitous and invincible Providence Journal that once dominated the state doesn't really exist anymore; but there still exists a smaller, scrappier paper that produces lots of vital, high-quality work every day. Any honest observer must acknowledge both.
And Dave Butler is perched right in the middle. As the executive editor of the Providence Journal in 2016, he occupies an uncomfortable position between the paper's glorious past and its uncertain future; between out-of-state executives demanding increased efficiency for shareholders and overworked, underpaid reporters demanding answers for taxpayers. He has to watch as a paper that TIME once called "the journalistic conscience of New England" publishes another farewell column from a seasoned writer. (Recent months brought two such columns from political columnist Ed Fitzpatrick and sports columnist Jim Donaldson, respectively. Longtime arts writer Channing Gray also left the paper, but will contribute in a part-time capacity, Butler says.) He has to go on WPRI's "Newsmakers" in December 2015 and assure its hosts, Tim White (the son of the late Journal reporter Jack White, who won that Pulitzer in 1974) and Ted Nesi (who has closely covered drops in Journal revenue and circulation), "We absolutely plan to continue publishing seven days a week."
In June, the Journal hosted a new, 1,600-person awards banquet for all-state high school athletes at the Rhode Island Convention Center — a real-life celebration of the awards that have appeared in the paper for decades. Tickets were $50; the featured guest was celebrity New England Patriots tight end Rob Gronkowski. Three months later, the paper hosted another first-time event: a Providence Journal's Critic's Choice expo at Rhodes on the Pawtuxet featuring food editor Gail Ciampa, more than 450 guests and more than sixty vendors, including Narragansett's Coast Guard House, Pawtucket's Foolproof Brewing Company and Cranston's Twin Oaks. Again, tickets were $50. A month later, the paper hosted an expo for "all things important to seniors and baby boomers" at the Convention Center, with a special appearance by Regis Philbin. This event had free admission, but the vendors — in categories ranging from travel to financial planning to assisted living — paid the paper for the chance to exhibit their wares and services.
The events are an example of the ways the company is diversifying its revenue streams at a time when it can no longer rely solely on advertising, executives say. Talk to Hasson and Davis and they'll point to the company's other revenue sources: its Providence-based printing and distribution operation, which cranks out more than thirty papers, including the New York Times and Wall Street Journal; a newly launched food, event and lifestyle site RhodeIsland.com "powered by the Providence Journal"; and a digital marketing company called Propel. "These are all things that help fund journalism," GateHouse CEO Kirk Davis says.
This is the business side of GateHouse's Providence Journal. And Ian Donnis argues that it makes sense to view the whole paper as a new, separate entity. "If you want to look at the Journal through a broad historical perspective, I think there have been three main eras," he says. First, there was the lengthy stretch from its inception in 1829 to its sale in 1997, an era that saw the paper transform from "a nativist newspaper hostile to immigrants to a jewel of local journalism, well-considered among its peers nationally, that did phenomenal reporting on organized crime and politics," Donnis says. Then came the A.H. Belo years, from 1997 to 2014, when the paper was weakened by the Internet, rocked by labor unrest and often overlooked by far-off owners. Now, under GateHouse, we have Providence Journal 3.0.
While this version of the paper may seem watered-down and less personal to some readers, for Dave Butler, the new Journal offers a return to the basic elements of his craft. Unlike his previous job overseeing dozens of papers in San Jose, "I have to do no corporate dancing here," he says. And he seems genuinely tickled by the opportunity. When we discuss the Mattiello-front-page scuffle, he pops out of his seat, grabs a nearby copy of the paper reporting on the incident, holds it up and says, "It doesn't get any better than this…. He was pissing on us for standing up for the people of Rhode Island!" Despite all of the challenges newspapers face, they can still make a difference, he says.
So how long will he stay?
Kirk Davis says he counts Butler among an elite few trusted advisers from the many papers GateHouse owns, and Hasson says he can stay as long as he wants. And Butler's own answer is vintage Butler. "People ask me this all the time," he says, "and it's like, get over it. I'm here!"
And if a day comes when he isn't here, he isn't particularly worried about a succession plan. "I could drop dead tomorrow and Janet could name a replacement in this newsroom who is in sync with what I'm doing." There are "more than a couple" people on staff up to the task, he says.
So while the veterans lament a paper that, according to former Journal investigative reporter Bruce DeSilva, is "circling the drain," the paper keeps churning out stories, day after day, printing and circulating to about 70,000 weekday subscribers and 92,000 Sunday subscribers, according to a 2015 circulation audit. (The web content reaches 1.4 million unique visitors per month, paper executives say.)
Recent months brought an in-depth series about marijuana, plus a bevy of stories around the election. Every day, the paper still publishes a stack of news reports, editorials, event previews, arts reviews, political scoops, wedding announcements, sports write-ups. From the saga of Aquidneck Island's "Cliff the Coyote" to the campaign-finance struggles of Providence City Council President Luis Aponte, the paper still beats with the pulse of life of Rhode Island.
"Will we be delivering newspapers thirty years from now? Probably not," Hasson says. But the paper will still be delivering in ten years, she says. "Because the baby boomers still want a print product in their hand. There are still people who enjoy leaning back, drinking a cup of coffee and reading the Sunday paper."
Butler, one of those boomers, is bullish about paper, too. "The Journal is alive and raising hell and is going to continue to do that." He concedes that it doesn't raise nearly as much hell as it once did. "But we still raise a lot," he says. "And a lot is better than none."
Rhode Islanders have a choice, he says. They can support the paper — subscribe in print, pay for access online and on mobile devices — and the paper will continue to fight on their behalf. Or "they can not support us and bitch about us and we'll go away," he says.
About that that second scenario, he adds, "Life won't be better here if we're not around."