The Dish: Bootblack Brand Syrups Make Mixing Cocktails Easy
The complex simple syrups can be mixed with spirits and soda to create drinks with delicious flavor profiles.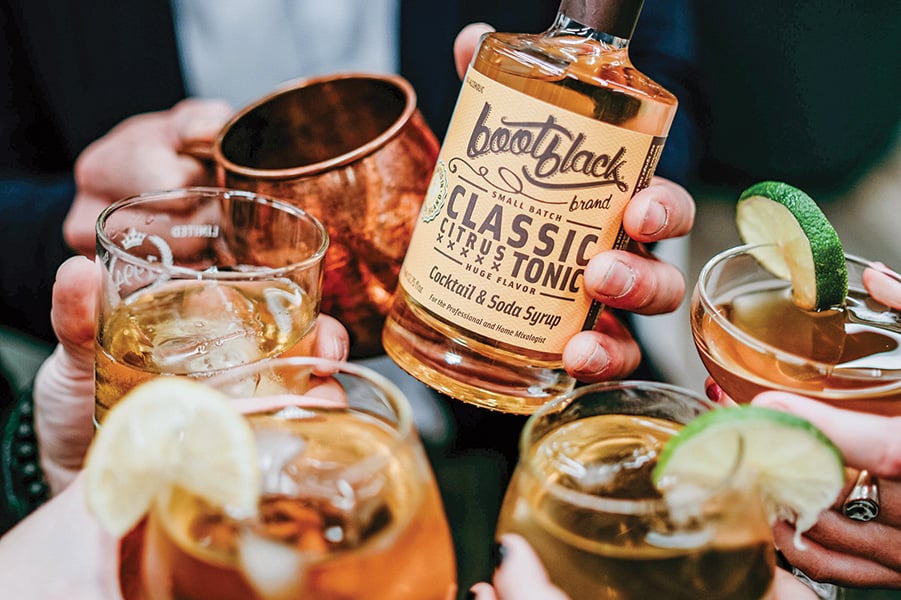 Like many great businesses, the idea for Bootblack Brand small batch cocktail and soda syrups was born on a bar stool with good friends. Founder Paul Kubiski sipped cocktails at various bars and realized how hard it is for people to mix up great cocktails at home. His brand of complex simple syrups, which includes flavors for Modern and Traditional Old Fashioneds, Ginger Cardamom Lime, Cranberry Jalapeño, Spiced Honey Hot Toddy and Classic Citrus Tonic, can be mixed with spirits, soda and other ingredients to create drinks with delicious flavor profiles.
"It's as easy as one, two, three to create a balanced cocktail," Kubiski says. "We don't always have four bottles of ingredients at home, so you can take one part syrup, two parts spirits and three parts seltzer, soda or juice and it makes it easier to have a great cocktail at home."
Before Bootblack Brand launched, Kubiski had experimented with homemade ginger syrup, testing it out on family and friends in cocktails. "One day, a friend said, 'You need to sell this.' I was crazy enough to try it," he says.
He learned about Hope and Main's business incubator program and enrolled while also running a design studio, Firebox Creative, with his wife, Jackie Duhamel, for sixteen years. Hope and Main helped Kubiski obtain licensing and coached the first-timer in food safety requirements, including ServSafe certification. In fact, the business name Bootblack comes not only from his father who shined shoes as a kid, but also from the term bootblack, which means a person without formal training in their occupation.
"It's pretty intimidating to go from making this in a pot on my stove to making twenty gallons of it, and ensuring you're compliant to make a shelf-stable product," Kubiski says. However, Hope and Main put him at ease and boosted his confidence in distribution. Three years later, the business now has its own commercial kitchen in Pawtucket's Lorraine Mills.
To make Bootblack Brand Ginger Cardamom Lime syrup, Kubiski infuses fresh ginger and botanicals into the simple syrup, while the Cranberry Jalapeño Lime syrup uses real cranberries from Wareham along with fresh chopped jalapeños and fresh tarragon. The mixtures infuse for several hours, then they are bottled onsite.
Kubiski also completed the Social Enterprise Greenhouse program several years ago, where he learned more about the networking and educational sides of business. SEG paired him up with two coaches, including John Farber of HEYMB Food Enterprises and Gil MacLean, owner of Bottles Fine Wine and co-creator of Stirrings, the all-natural cocktail mixer brand.
Bootblack Brand syrups are available in more than eighty locations, including Wines and More, the Savory Grape, Stock, Dave's Marketplace, Bottles Fine Wine, Nikki's Liquors, Grapes and Grains, Brickyard Spirits and more. The cocktail syrups are also available nationally through the website and wholesale with online distributors faire.com and helloabound.com.
You can even use the syrups for culinary shortcuts, like glazing salmon or pork with real flavor. bootblackbrand.com
Recipes:
How to use the Cranberry Jalapeño Lime syrup:
Smokey Summer
In a rocks glass over 1 large ice cube add:
1 oz. Cranberry Jalapeño Lime syrup
2 oz. tequila
.5 oz. mezcal
.5 oz. lime juice
2 dashes of grapefruit bitters
Stir, add splash of grapefruit juice. Garnish with a salted lime wheel.
How to use the Ginger Cardamom Lime syrup:
Three Compadres
In a rocks glass over 1 large ice cube add:
.5 oz. Ginger Cardamom Lime syrup
2 oz. rye
5 oz. Fernet-branca
Dash of orange bitters
Dash of angostura bitters
Stir and garnish with a lemon peel.
*Replace rye with espresso for a low-ABV cocktail.
How to use the Modern Old-Fashioned syrup:
Courtland Highball
In a mixing glass over ice cubes add:
.75 oz. Modern Old-Fashioned syrup
2 oz. whiskey
3 dashes of orange bitters
Stir well, strain into a glass with ice and top with sparkling coconut water and another dash of orange bitters.
*Omit whiskey for a refreshing grownup soda.
How to use the Classic Citrus Tonic syrup:
Porchview
In a cocktail shaker add:
1 oz. Classic Citrus Tonic syrup
2 oz. vodka
1 oz. grapefruit juice
.5 oz. Pamplemousse liquor
Add ice, shake well, strain into a glass with ice and top with seltzer. Garnish with a grapefruit wedge. 