The Centredale Revival Company is the "Cheers" of RI
This North Providence spot wins local fans with a convivial vibe and eclectic comfort food menu.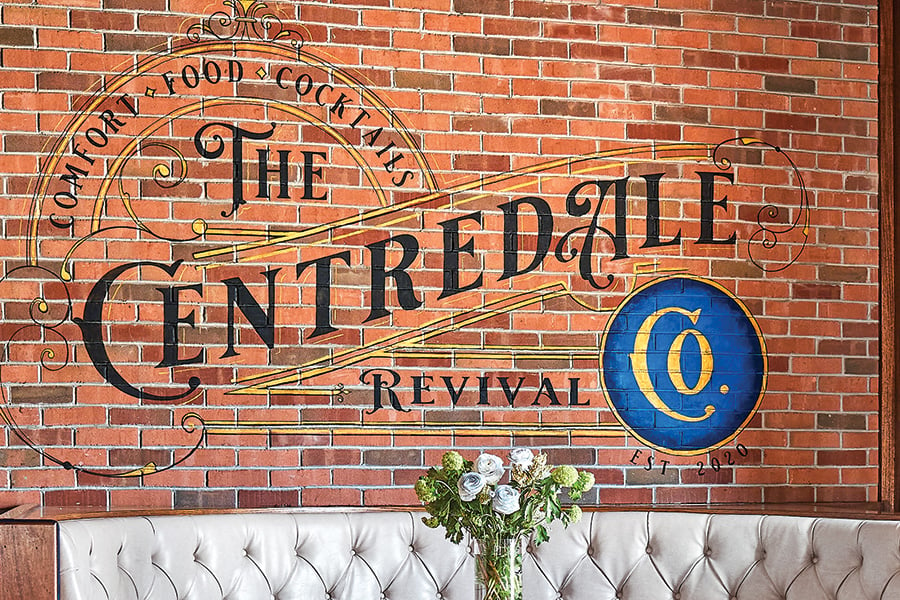 The Centredale Revival Company — perched in the center of the North Providence roundabout — is just what its name says: concerned with revitalizing the art of social engagement. Near the crossroads of Johnston and N.P., it barely needs to call attention to itself; locals, eager for a watering hole to call their own, have filled the stately space since opening day. Sam Malone and Diane Chambers regularly bicker from the overhead TV — a backdrop that might be aspirational if Centredale hadn't already surpassed "Cheers" in neighborhood familiarity. Servers wave diners in from across the room but customers in Bruins caps also greet each other as old friends and family, shouting out next week's plans as they finish up their meals.
On the flip side, it's a misnomer to call this place a pub, though the brass bar is big and certainly serves as the sun for this burgeoning galaxy. For, as manifest as the convivial bar mentality is, the decor says otherwise: Two brick walls border expanses of midnight-blue brocade wallpaper and white tufted banquettes, all illuminated by several epic chandeliers. The effect falls somewhere between Victorian drawing room and backyard barbecue, otherwise known as the sweet spot for weekday dining. Flip-flops have as much of a presence as heels do and families are as accounted for as couples.
If word of mouth weren't enough, Centredale's focus on live music only heightens the draw. Singers routinely settle at the mic throughout the weekend, though the playlist varies on the meal. Dinner gets a steady stream of the classics: Van Morrison, Bill Withers, Jackson Brown and a dose of Wilson Pickett to get the crowd singing along. But show up on a Sunday morning and you'll be met with a medley of hangover help, from Harry Styles's "Watermelon Sugar" to Blackstreet's "No Diggity," played acoustically and with '90s nostalgia. This is, after all, a place that serves water in Bulleit bourbon bottles because, if we've earned anything this year, it's the right to drink early and often.
Yet even a Saturday night that ekes into Sunday morning won't keep the kitchen from its roots. Centredale is a multifaceted revival and one of these commitments is to celebrate New England food, specifically the dishes that Rhode Islanders can call our own. Dinner is a shout-out to Federal Hill by way of crispy meatballs served with marinara and ricotta ($10.50) and a frisbee-sized chicken parmesan ($16). It also tips its hat specifically to Caserta's, serving a Sicilian-style pizza topped with everything from San Marzano tomatoes to prosciutto and goat cheese to Caesar salad ($14). But, popular as Italian food is, it's not the entirety of the state's defining dishes, nor of the memories that the kitchen sets out to recover. Stanley's smashed burgers get an ode, though this brisket chuck blend version is dressed up in hot peppers and secret sauce ($15), and traditional Rhody weiners come highly decorated in the form of a wagyu dog topped with relish and fried onions ($12). Even Woonsocket's beloved steak and cheese sandwiches make an appearance, served on a mayo-griddled bun stuffed with sliced Delmonico and melted cheese ($15). For those whose geographic reach extends past the state line, the menu settles comfortably into remakes of Old England dishes: shepherd's pie, and a sizable slab of freshly battered fish and chips ($16).
Desserts are just as redolent as the savory menu, each offering an invitation to relive an amalgam of childhood dinners and college after-parties. Everything sounds reassuring — bread pudding, trifle, carrot cake — but indulgence runs deep at Centredale and most plates are either double-portioned or feature a multi-tiered approach that piles candy on top of chocolate on top of cake. (Cue the thirty-something, heavily bearded man who pushes away his bruleed butter cake claiming to have tapped out, only to resume the sugar marathon when his final drink arrives. This is a group that's in it 'til the end.)
It's this same ode to decadence that rules Sunday mornings, when the locals arrive with just slightly less bravado in their post-Saturday step. Cold brew coffee flows freely but the hair of the dog rule brings out plenty of bloody marys and a collection of drinks that will keep a person at the bar all day. You might be able to keep the Centredale Charger ($12) — basically an iced latte loaded with booze — a secret from prohibitionists, but the Bucket of Bubbles, a bottle of prosecco with a parade of fruit purees ($46), is only for those who wear heavy drinking like a team jersey.
The good times come on a plate as well, so if Sunday's goal is to keep Monday morning at bay, this is the place to do it. As the guitar strums, plates saunter out covered in cheese or dripping in frosting. It's American to the core: over the top and reassuring in its self-indulgence. Vegans can get their avocado toast here; heathens can get it topped with a rasher of bacon. But most diners have their plates piled high with hedonism: steak sandwiches stuffed with fried eggs, smashed potatoes served like nachos ($12), and an array of eggs benedict crammed with pulled pork, prosciutto or maple sausage. The kids, perched on high top tables, gape wide-eyed at their stack of fruity-pebble pancakes ($9) or a cast iron skillet of cinnamon roll segments covered in cream cheese frosting. Even a bowl of fruit shows up in a goblet covered in whipped cream and cinnamon crumb topping ($12) — a single-serving pie, ineffectively disguising itself as something innocent. Showmanship is alive and well.
By design alone, Centredale embodies a supper club, but spend a meal here and it's obvious this is the ultimate everybody-knows-your-name hangout. Most diners don't even glance at the menu before ordering their regular and most tables imbibe as much as they eat. If you're swayed by the decor, then you'll schedule a night out well in advance. But if you're a regular, every night is a potential memory maker. Order the Closing Time — a shot of Fireball, a can of Busch Lite and a bag of Andy Capp fries — and you'll know you're in for the best kind of trouble.