The 2021 Tech10 Awards
Meet Rhode Island's top techies, as voted by their peers, in collaboration with the Tech Collective. Plus, winners of the Next Tech Generation.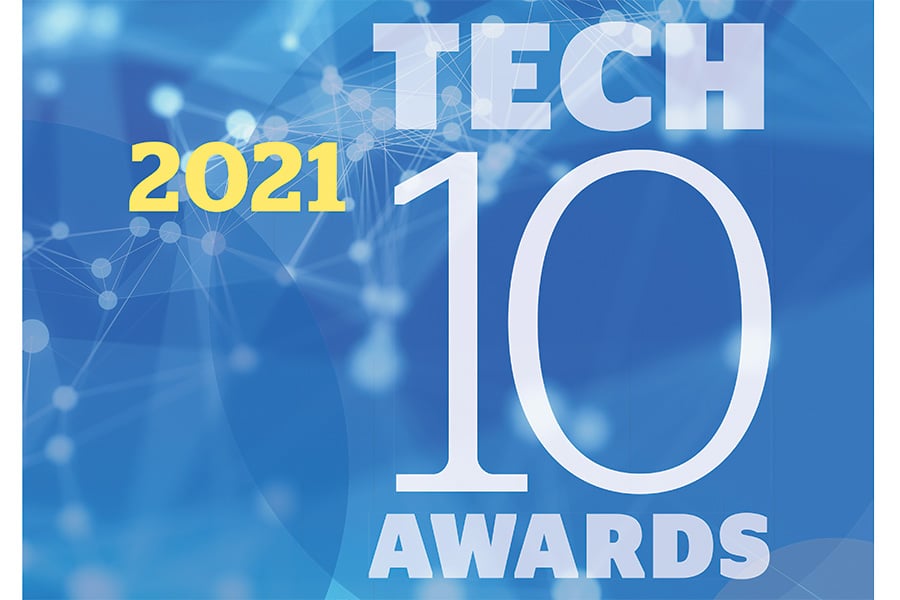 In this constantly evolving society, the people in the information technology field, or IT as we call it, are learning new skills and keeping up with the latest trends. Rhode Island Monthly and Tech Collective have partnered up to highlight the amazing work of these tech innovators, as well as the Next Tech Generation winners, the future of the industry.
The Honorees
Brian Morley
Founder of Emerge Works
Christopher Wilczewski
Founder of Functional 3D
Donna Childs
Founder of Prisere LLC
Henry Hodge
Founder, President and Chief Executive Officer of HCH Enterprises, LLC
James Tavares
Lead Software Engineer at KVH Industries, Inc.
Jon Domen
Senior Network Architect at OSHEAN, Inc.
Kim Hayes
Senior Vice President of Operations at AmWINS Group Benefits
Lori Giuttari and Scott Indermaur
Co-owners of Visual Thrive
Thorne Sparkman
Managing Director of the Slater Technology Fund
Tyler Falcone
Director of Information Systems and Processing Services at AIPSO
Next Tech Generation
Eleni Cooper and Margaret Coen
Student at Syracuse University/Student at Mount Holyoke College
Jared Teixeira
Laptop Central Supervisor at Bryant University
Kevin Rosa
Founder of CurrentLab
Liam Theis
Data Analyst at AAA Northeast
Tony Sutton
Senior Technology Services Specialist at the Washington Trust Company
Wilkin Sanchez and Victor Espiritu
Co-founders of RIGHT and Technologist
In a couple of words, explain your job title and what it entails.
"I'm the founder of Emerge Works, a consulting firm focused on creating a meaningful impact in the health and technology space. We create impact through boosting purpose-driven individuals and organizations, and aim to amplify our partners' voice, presence and effectiveness in the marketplace. I liken myself to Gandolf from The Hobbit; I'm tenacious, sometimes meddlesome, and leveraging my toolkit and experienced network to aid my client through their journey into the market." –Brian Morley
"I'm the founder of Functional 3D, a 3D capture services company supporting a wide range of industries like historical preservation, visual effects, architecture, construction and manufacturing." –Christopher Wilczewski
"I'm an entrepreneur and the founder of Prisere LLC. Most of the world lacks risk mapping and risk modeling tools essential to insure resilience. And where such tools exist, emerging risks and a changing climate are rendering them obsolete. Prisere LLC aims to fill that gap by building capacity for climate and disaster resilience with improved risk technology." –Donna Childs
"I am the founder and chief executive officer for HCH Enterprises, LLC, in charge of management and oversight of company operations." –Henry Hodge
"As lead software engineer, I'm responsible for guiding a team in the design and development of software for embedded systems. We write the code that brings the hardware to life." –James Tavares
"I'm a senior network architect with OSHEAN. In my role, I meet with our members to discuss what they need in pursuit of their mission and come up with solutions OSHEAN can put in place to help them achieve those goals. I'm also responsible for looking at OSHEAN's foundational service platform and driving strategic direction." –Jon Domen
"I am the senior vice president of operations for AmWINS Group benefits, a leading global specialty insurance distributor focused on delivering creative solutions to our clients' complex insurance challenges. I have responsibility for our customer care and operations analysts teams along with our developments teams, delivering on our products and services including building out our IT roadmap." –Kim Hayes
"We are the co-owners of Visual Thrive, a media and marketing organization focused on business growth and strategy, serving businesses of all shapes and sizes. We manage and deliver all aspects of a company's narrative to clients across the nation. Our company produces high quality media, marketing and communications developed upon the foundation of strategic vision and brand alignment. –Lori Giuttari and Scott Indermaur
"I'm the managing director of the Slater Technology Fund, an early-stage seed fund. I am responsible for seeking out opportunities to invest in local technology companies and helping the founders grow their companies." –Thorne Sparkman
"My official title is director of computer operations. I oversee an amazing twenty-three-person team that manages all IT infrastructure, operations and network security for our organization and for a handful of related insurance industry organizations." –Tyler Falcone
What or who inspired you to get into the tech industry?
"I'm inspired to collaborate with people who are passionate to make a difference in this world and care for people in need. Technology has proven to be a powerful conductor and amplifier of innovation, enabling my partners and their business to realize their full potential and change the standard of care for the people they serve." –Brian Morley
"My father. We had a limited budget growing up, so we always tried to build or repair things ourselves. No matter what it was — a car, boat, plumbing or electrical — he was never afraid to work on it. I remember him fixing my grandparents' microwave, ending up with a few screws left over, and it ran for years after that. The curiosity about how things worked and the confidence to try has been a foundation for me in and outside of the technology space." –Christopher Wilczewski
"My dad has a PhD in physics, and he was a significant influence on me. He was a research scientist at what was known as the Naval Underwater Systems Center, the Newport Navy Base. As a student, I took all the math and science Advanced Placement courses my high school offered. I was a science major in college, completing a bachelor of science in molecular biophysics and biochemistry and then a master of business administration with a concentration in information technology." –Donna Childs
"Since I was a child, I've wanted to work with robotics and electronics." –Henry Hodge
"The genesis moment for me came in elementary school, when my much older brother brought home an old Commodore 64. I was instantly mesmerized by the blue flashing cursor, and the incredible power behind it. I was hooked on programming from the moment I made that machine print my name to the screen 100 times using a for-loop. The rest, they say, is history." –James Tavares
"I was fascinated with technology from a young age. However, prior to information technology, I worked with my grandfather on cars as well as other building projects. He taught me many different things from car repair to electrical work and woodworking. Of all my memories of that time, I remember something he told me that I have always carried with me: 'There is no greater pride than the pride you feel from taking something of no use to anyone and making it of use.' I remember that in everything I do." –Jon Domen
"I was fortunate to start my career working for Micro Warehouse back in the early '90s. At the time they were the largest distributor of computer products and services worldwide and I had several mentors who gave me a passion for technology. We were able to work with all the latest technology and that experience propelled me into the technology industry." –Kim Hayes
"Our technology capabilities are born from a dedication to serving our clients to the best of our abilities, using the most updated digital platforms possible. In March 2020, we were working nonstop for our clients as business operations began changing rapidly. As website developers and experts in communications, we were inspired to create a platform so that all businesses could communicate with their customers. ShopLocalRhodeIsland.com was pushed out in one very long weekend! –Lori Giuttari and Scott Indermaur
"Although I'm an investor now, my heroes have always been the entrepreneurs who have the experience to understand their corner of the world, the acumen to reimagine it, and the bravery and magnetism to bring their vision to life. The first entrepreneurs I met were doing web-based technologies in New York in the early '90s." –Thorne Sparkman
"My parents bought me a Commadore 64 (as in 64K of memory!) computer when I was in high school. I loved writing BASIC code on it, but somehow, I lost interest when I went to college. After graduating with a bachelor's degree in mathematics, I originally inquired about an entry level actuarial position at AIPSO. Because I had a little bit of a background in application development, the HR person I spoke with steered me toward our programming department and I was instantly hooked." –Tyler Falcone
Do you have any tech-related or non-tech related hobbies to de-stress?
"I'm a curious and crafty person, so I find hobbies that scratch those itches. Technology (YouTube for example) has created a platform for like-minded people to share these crafts and keep them alive. Depending on the day, you might find me farming, foraging, fermenting or woodworking. If you were to make a Venn diagram describing my areas of interest, the three intersecting circles would be Bill Nye the Science Guy meets Alton Brown and Bob Vila." –Brian Morley
"Spending time with my four-year-old son and introducing the world to him. He understands a 3D printer better than one that prints on paper; he has a 3D printed copy of his first snowman. I also like to design and print custom organizational items to assist in the never-ending battle of finding space for a new toy!" –Christopher Wilczewski
"Cooking; I am a professionally trained chef. I completed four certificate programs at what was the French Culinary Institute when I lived in New York. I trained in basic culinary techniques, artisanal bread baking and food and wine pairings with a master sommelier, completing all the work that professional chefs do, except costing meals." –Donna Childs
"Watching sci-fi and playing golf. I try to stay away from doing anything technical when offline. I would like to toy around with virtual reality and robotics; however, I haven't found the time since I'm renovating our home." –Henry Hodge
"As an engineer, I love building things. In my off time, I gravitate toward activities that give me a sense of accomplishment of building things in real life. Whether it's building pinewood derby cars with my kids, a pool deck for the house or splitting and stacking wood, I love to see the fruits of my labor." –James Tavares
"My family, especially my kids, are probably my biggest activity outside of work. My son plays several sports and my daughter is into dance and gymnastics. I love hiking and being in nature, so we hike the woods near home in Cumberland. I'm a bit of a history addict and love to look at places and understand their history. It's always interesting to follow old stone walls and see where properties used to be that are now woods." –Jon Domen
"Family time is my most cherished and valued time. So anytime I can spend with my family is my favorite way to destress. We love to travel, have experiences like axe throwing, running races, playing cards or video games, watching movies, doing puzzles, etc. Football is big in our house so watching the Patriots and now the Buccaneers has been a great way to kick off the season." –Kim Hayes
"Most of my hobbies include house projects or gardening. I prefer to unplug when I can, however one of my favorite pastimes is reading on my Kindle, so I guess technology is definitely in play! –Lori Giuttari
"I really enjoy researching places to go, and how to best use all the cool camping gear and gadgets that are there. I'm a big Kickstarter fan. My latest hobby is making modifications to my new Airstream and figuring out where my next trip will be." –Scott Indermaur
"I'm a big fly fisherman, and I play guitar as much as possible." –Thorne Sparkman
"In our spare time, one of my sons and I do some application development work for a relative's business. And I still play on a softball team that I've been a part of since college. My wife and I walk a lot and love to hike when we get the chance. We are moving rapidly toward an empty nest, so I'm currently taking suggestions for new hobbies!" –Tyler Falcone
---
What do you think the future of technology looks like in your field?
"Technology will play a huge part in my creation process. It'll allow us to focus our time on the important stuff and not tedious tasks that it helps us with now. I'm excited to see innovation that makes screen and page designing more interesting." –Eleni Cooper
"STEM has always grabbed my interest and, in a dominantly male field, it's something I strive to change. As a student at a historically women's college, I'm excited to be a part of technology's future, to see where it leads me in my education, career and everyday life." –Margaret Coen
"Using technology to increase flexibility and adaptability will be at the forefront of higher education. Hybrid learning allows institutions to reach a more diverse population of students. Cybersecurity attacks are more common in higher ed; more focus on information security will be a cornerstone of strategic planning." –Jared Teixeira
"I'm working towards a future where ocean data is far more open, accessible and useful. CurrentLab is building a detailed virtual ocean by combining dozens of disparate ocean datasets and supercomputer simulations. Hyper-local forecasts of currents and algal blooms can be as straightforward as the morning weather forecast." –Kevin Rosa
"The future of advanced analytics is automation and speed. We'll see products that automate the data pipeline, with reporting and decision-making processes that don't require a tech professional. Large companies have moved to storage in the cloud and even small companies are doing it." –Liam Theis
"The integration of the cloud for personal and industry use is a growing trend, enabling us to do our jobs more efficiently. We'll see it in devices like our cell phones, in the form of collaborative tools and service-based technology." –Tony Sutton
"Technology will especially have an impact on the Hispanic community, empowering them to get into more tech roles. Hispanic business owners can use these benefits to get exponential growth in their business. As Hispanic immigrants and tech specialists, we're responsible for moving the community forward." –Victor Espiritu
"As a leader in the Hispanic community, we should work on closing the technology skills gap. I see Hispanics who want to participate in this industry in a way that makes sense for their brand. A human-centric approach will always be beneficial, especially to those who are underrepresented." –Wilkin Sanchez
---
Lifetime Achievement Award
Kathleen Malin, Rhode Island Foundation
This year's Tech Ten Lifetime Achievement Award honors chief technology officer and vice president of operations Kathleen Malin, who handles all aspects of technology as well as operations and facilities at the Rhode Island Foundation. She's worked as a network administrator and technology director at public and private schools in Rhode Island and New York and has taught technology for twenty years. Malin earned an undergraduate degree from Immaculata University in Pennsylvania, as well as a master's degree in nonprofit management and a master of business administration in 2014 from New England College in New Hampshire. She educates people on technical topics such as IT security, social media and increasing nonprofit capacity with technology. Besides serving on the technology committees of Family Service of Rhode Island and Rhode Island Public Radio, Malin has won countless awards including a Leading Women of Distinction Award from the Girl Scouts of Southern New England in 2019, was named Outstanding Mentor at the Providence Business News Business Women Awards in 2018 and received the Cumberland Land Trust Endowment Founder's Circle Award in 2015.