Style and Sensibility
Northeast Design Build works directly with homeowners to realize their dream spaces.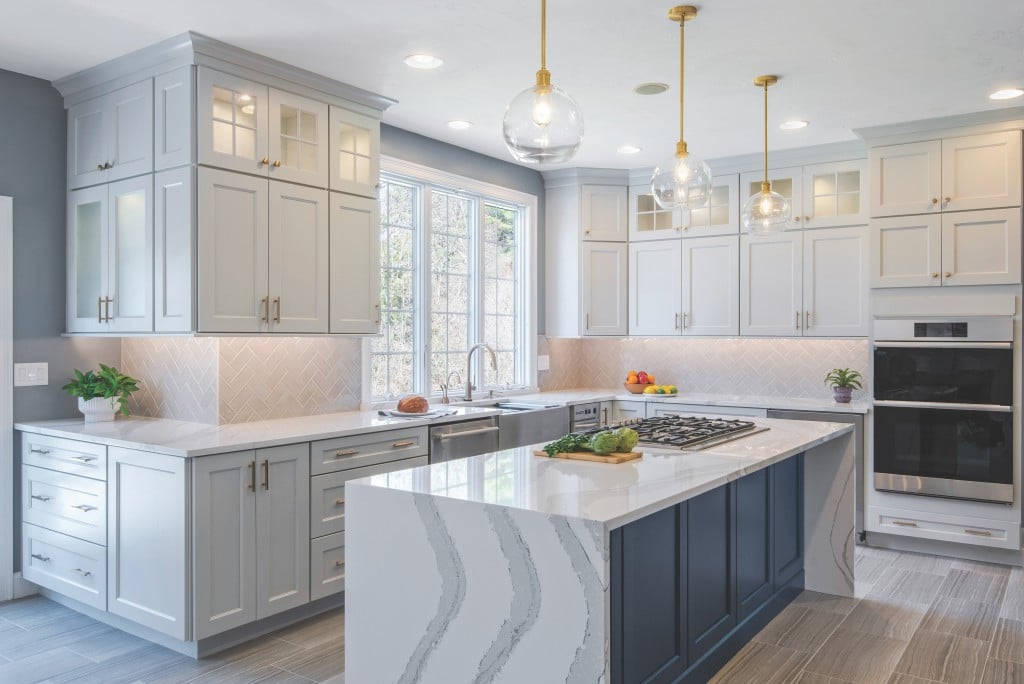 With outdated elements like two-toned woods and dark accents, the owners of this lovely home in Norton, Massachusetts knew it was in need of some intervention. And so, they turned to Northeast Design Build, a highly esteemed full-service design build company based in Johnston, Rhode Island.
"They came to us looking to update the kitchen," says Renee Croome, one of Northeast Design Build's project and design specialists. "They weren't sure what they wanted at first, so we showed them different samples, made suggestions and came up with the new design together."
The first order of business: establishing a lighter palette and feel. The Northeast Design Build team brightened the space with Diamond cabinetry in shade 'Icy Avalanche' along the perimeter, complete with harmonizing gold accents. One of the homeowners, who is a big cook, was very involved in planning the storage logistics, ensuring that she would have enough room for various ingredients and cookware. The kitchen's high ceilings called for stacked wall cabinets, but the addition of glass-paned doors and interior lights up top allows you to see their contents with a quick glance. The update also included a number of brand-new appliances, such as a stainless-steel farm sink with a spigot that dispenses both hot and cold filtered water. On the center island, beautiful Diamond cabinetry in color 'Maritime' support a Cambria Skara Brae quartz countertop—the trendy waterfall design was a specific request made by the homeowners.
Meanwhile, right around the corner from the kitchen, the powder room also underwent a makeover.
"She was looking to create a space for her guests that was a little more special than the rest of the home's bathrooms," says Croome.
The Northeast Design Build team granted her wish by installing Dove Gray porcelain tile by MSI in a herringbone pattern for the backsplash and a vanity with a quartz countertop contrasted by refined espresso cabinetry. They also went on to refinish all of the first level's hardwood floors along with the stairs, and even replaced the home's front door.
In addition to their innate ability to deliver projects on-time and on-budget, another benefit of working with Northeast Design Build is their use of Buildertrend, a project management software and app that facilitates easy and direct communication between the builder and client.
"It's perfect for those who are living elsewhere while we complete the remodel. They can log in to their own portal and receive real-time schedule and progress updates every day," Croome explains. "They can also send in questions or ask for photos. We are very responsive."
The app further fulfills the mission owner Michael Sarah has maintained since starting the business in 2011 of delivering personalized service from start to finish.
Northeast Design Build
2949 Hartford Ave., Johnston, 401-934-1074, nekitchenandflooring.com