Set Your Spring Drives to This Rhody-Themed Playlist
Local music aficionado, Lou Papineau, shares his top five Ocean State songs, plus a full playlist on Spotify.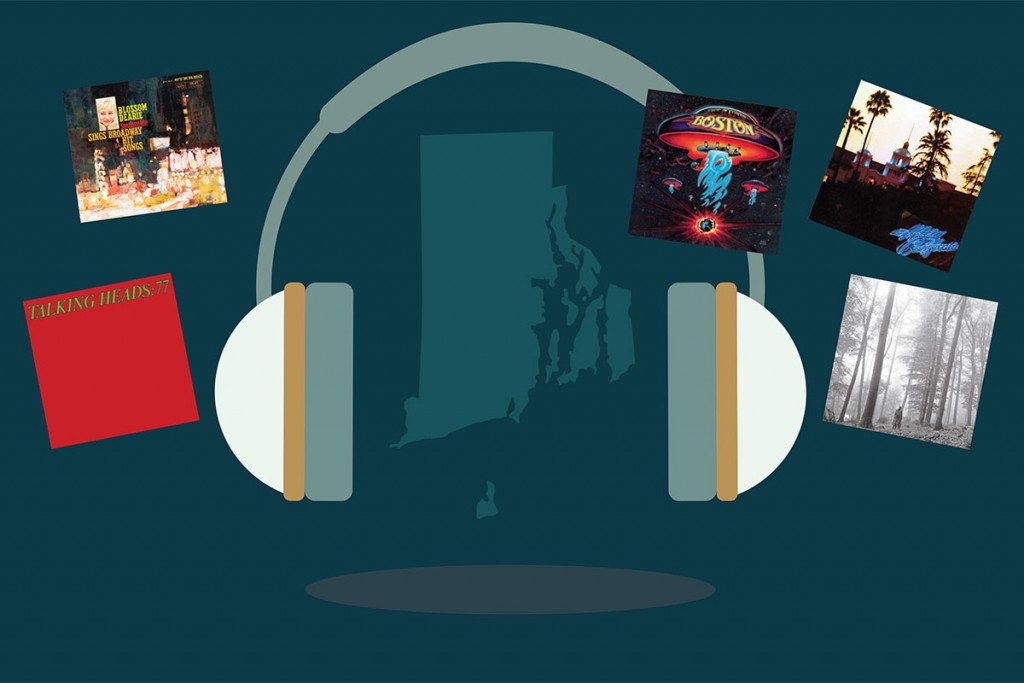 Rhode Island is tiny, but it has an outsized presence in popular music. We've selected five of the most prominent songs that namecheck the Ocean State and one that was penned in the capital city. To hear these tracks, plus other odes by the Monkees, Mountain Goats and the Muppets — and hits by Rhode Island's most successful acts, including the Cowsills, Jeffrey Osborne, John Cafferty and the Beaver Brown Band and Billy Gilman — search for the "RI Monthly Rhody Playlist" on Spotify.
"Rhode Island Is Famous For You"
This whimsical ditty was part of the 1948 musical Inside USA; it tongue-twistingly tours twenty states and ends with the declaration, "Coats come from Dakota but why should you be blue?/For you — you come from Rhode Island/Little ol' Rhode Island/And little ol' Rhode Island is famous for you." The best versions are by jazz singer Blossom Dearie (1960) and avant-folkie (and Brown alum) Erin McKeown (2006). It was the theme song of Buddy Cianci's radio show, and he performed it with Broadway actor Robert Goulet at his inauguration at PPAC in 1995.
"Psycho Killer," Talking Heads
The off-kilter new wave classic was written by then-students David Byrne, Chris Frantz and Tina Weymouth at RISD's Carr House in 1973 and first performed at the school's St. Valentine's Day Masquerade Ball in 1974. It appeared on the future Rock and Roll Hall of Famers' debut album in 1977.
"Rock and Roll Band," Boston
This track kicks off side two of the band's 1976 debut album (which has sold twenty-five million copies worldwide). The third verse says, "Playin' for a week in Rhode Island/A man came to the stage one night/He smoked a big cigar, drove a
Cadillac car/And said, 'Boys, I think this band's outta sight.' " But Boston mastermind Tom Scholz notes that it was "pure
fantasy" since the group had never played live before the song was written. The quintet did perform at the late, lamented Rocky Point Park in Warwick, in the summer of '76 – admission was
$1 and two Twizzler wrappers!
"The Last Resort," Eagles
The final track on Hotel California opens with these evocative lines: "She came from Providence, one in Rhode Island / Where the Old World shadows hang heavy in the air." The album has sold more than thirty-two million copies since its release in 1976.
"The Last Great American Dynasty," Taylor Swift
This highlight from Swift's 2020 Folklore album tells the tale of Rebekah Harkness, who was married to the heir to the Standard Oil fortune. In 2013, the mega-selling artist bought the quirky socialite's sprawling Watch Hill mansion (for $17 million), known as the Holiday House, thirty-one years after Harkness's death. A key verse: "Holiday House sat quietly on that beach/Free of women with madness, their men and bad habits/And then it was bought by me." Swift told Entertainment Weekly, "I wanted to know everything I could [about Harkness], as more parallels developed between our lives: being the lady in the house on the hill who everybody gossips about."