RI's Crisloid Puts Beauty Back into Board Games
Forget cheap plastic bits and bobbles. These handmade, hand-painted sets are worthy of a permanent place on the game table.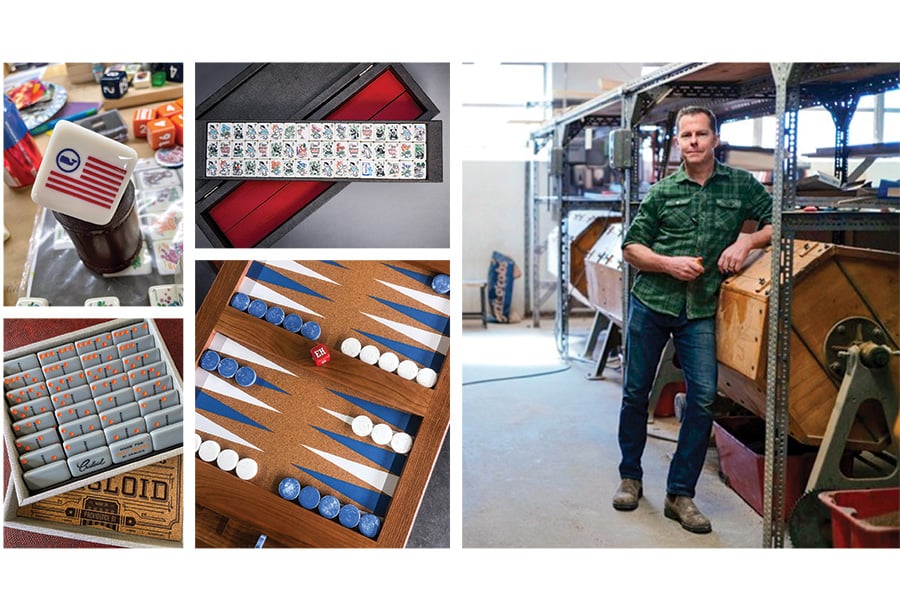 An unassuming factory in the basement of a building on Porter Street in Providence is a surprising source for handcrafted classic games that have won acclaim around the world. The Crisloid company manufactures domino, cribbage, backgammon and mahjong sets for discriminating players from Newport to Australia.
When the Milwaukee Bucks made it to the NBA finals (and won) this year, its owners — backgammon fans — ordered forty-five custom backgammon sets from Crisloid for players and staff. When New York magazine picked its best backgammon sets in 2019, Crisloid's Classic Blue Champion Tabletop was named best overall set.
And in 2018 the New York Times featured Crisloid's "Trach/Bach" mahjong set, a whimsical collaboration between photographer Robert Trachtenberg and illustrator Tom Bachtell.
"The classics will always stay in style…people know that Crisloid products will last for generations," says owner Jeff Caruso. (Prices range from $150 for backgammon sets to $2,500 for the Newport Master Table and $1,000 to $1,750 for mahjong sets.)
Crisloid's roots go back to the 1940s, when Alphonse and Lucky Lodato, Caruso's great uncles, started A and L Manufacturing in Brooklyn. In 1970, Chris Ruizzo of Rhode Island bought the company and moved it to Providence, selling game components to the likes of Hasbro, Parker Bros., Mattel and more.
But the game business was changing, with overseas competition and the arrival of the web, and selling game components in volume to wholesalers wasn't working anymore. Caruso joined the company in 1998, purchased it in 2008, and decided on a radical new strategy: selling high-end products directly to consumers.
Unfortunately, 2008 was the year the stock market crashed, and Crisloid went through some tough times, including bankruptcy. "I never stopped answering the phones, never stopped working," Caruso says.
He recreated the business, building a website and establishing a reputation for quality. Crisloid now has twelve employees, plans to have fourteen by the end of the year and twenty by this time next year. "The biggest challenge is scaling up production, which is very difficult when everything is made by hand," he says. "You can't do this without a really good team."
Caruso says most of Crisloid's games are sold through its website to individuals, although some go to clubs or corporations. There was a time when you could purchase games right at the factory, but currently there are none available, with a six-week lead time on orders. (Caruso hopes to get that down to a week.)
Still, sometimes fans will stop by to tour the factory. "We've had people come from Australia, Ireland and the Caribbean. Giving a tour is one of the proudest things I do as a business owner," Caruso says.
Crisloid's next major product is a new mahjong set by in-house designer Marci Szurley. "I think it's our finest effort to date," Caruso says.
"This is a great job," Szurley says, while painstakingly painting mahjong tiles. "I don't really have a title. It's a small business, so we all do so many different things all the time." crisloid.com