Rhode Island's Very Big, Very Weird Year in Birding
A strange season in the highly specific world of competitive birding.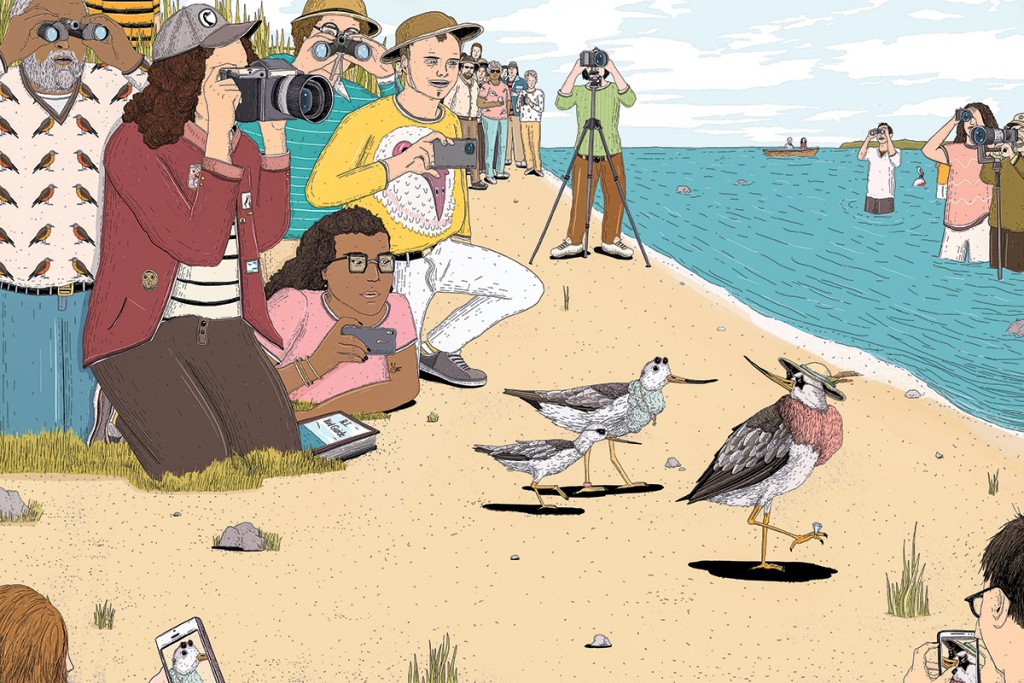 A rare and esteemed guest arrived in Watch Hill in late June, drawing gawkers and bloggers with cameras in hand, hoping to catch a glimpse.
Taylor Swift, you might guess.
No, not this time.
It was a Terek sandpiper, a species of shorebird known for its distinctive long upcurved bill that typically summers in a large breeding area stretching from Finland to Siberia before migrating to east Africa, southern Asia and Australia for the winter. It's rarely spotted in the Americas. According to the American Birding Association (ABA), it's been known to make an appearance in the outer reaches of Alaska's Aleutian Islands, but this was its first recorded trip to Rhode Island — and only its fourth ever to the East Coast. (The last was Massachusetts in 1990.)
We'll never know how or why this well-traveled visitor, slightly smaller than a robin, landed at Napatree Point, the southwestern-most spot in Rhode Island. But its arrival was big news in certain circles. The ABA issued a rare bird alert (#ABArba), local environmental news outlet ecoRI.org covered it, a Connecticut blogger documented his "drop everything" boat ride to chase it, and visitors came from as far as Ohio just for the chance to see it — which was, of course, not guaranteed. There's no way to keep a bird in place for long, and indeed, the Terek frustrated its eager admirers by retreating several times into the vegetation of Napatree or the even more cloistered confines of Sandy Point, a small island that was once an extension of Napatree. "There are lots of unhappy out-of-state birders," one local reported a few days later.
This is what birders (not bird-watchers, thank you very much) refer to as a "mega-rarity." It would have to be to draw so many adoring fans to such a difficult location; the roughly one-and-a-half-mile trudge along Napatree is among Rhode Island birders' favorite complaints — as is the strict two-hour parking limit in Watch Hill, another obstacle to seeing the Terek.
The bird was first spotted by Jan St. Jean, something of a legend among local birders, who frequently ends the year at the top of the Rhode Island rankings (more on that later). "She's relentless," says Carlos Pedro, another one of the state's top birders.
He was one of the first people Jan contacted to help identify what at first glance was a mysterious but very interesting visitor. Once they determined what it was, alarm bells went off throughout the local (and later, national) birding community. "Jan was saying, 'I have to get back to my car or I'm going to get a ticket,' " recalls Carlos, who was birding in Charlestown at the time. "I said, 'We'll pay the ticket for you. You stay on that bird!' "
While the vast majority of Rhode Islanders were unaware that such an honored guest was in our presence, and probably wouldn't have cared if they had known, this was a seismic event for birders. Taylor Swift could have been skinny-dipping at East Beach with Viola Davis and James Franco while Chrissy Teigen live-tweeted it, and they would have driven right past to fight for one of those precious few parking spots along Bay Street. "Think it's worth going back tomorrow?" one birder asked on a text thread. "Once in a lifetime opportunity," Carlos Pedro responded matter-of-factly.
It was a very big day in a big year for birding in Rhode Island. (Those are loaded terms for birders: "Big Day" refers to both a semi-official annual event during May migration and any special, daylong excursion to see as many birds as possible; "Big Year" is a single-minded, twelve-month chase for the most serious birders and the title of a well-known book and movie about birding.) The Terek sandpiper was followed by a red-necked stint, a little stint and a ruff — none "mega-rare," but all unusual enough to draw birders from out of state. Plus, there was a strange instance in May when a bevy of birds flocked to Newport's Miantonomi Park, creating an impromptu Big Day; Carlos Pedro says it was the most species he ever saw in a single day in Rhode Island.
I could not have picked a stranger or more unpredictable time to get acquainted with the Rhode Island birding community.
My entry point came through another story I wrote for this very publication ("Searching for the Middle of Nowhere in Rhode Island," April 2020), one that involved nature explorations. My guide on one such foray, a thirty-something designer and nature enthusiast who lives in Providence named Greg Nemes, gave me an impromptu lesson in birding as we walked the fabled West Greenwich "desert." He spoke enthusiastically about the birds, but the people were what fascinated me. His casual references to some of the "best birders" in Rhode Island, those who typically top the rankings, sounded like the makings of a Christopher Guest movie. I had to know more about these competitive birders.
Greg is passionate about introducing new and younger (by which I mean anywhere south of sixty-five) people to birding and graciously agreed to be the Virgil to my Dante as we descended the circles of avian obsession. The pandemic interrupted our journey early in the season and, combined with some unusually wintry weather in early May, largely clipped the wings on local participation in the Global Big Day, typically the high point of spring migration. But as the weather warmed and the state reopened, unusual visitors began arriving and some new names emerged among the leaderboard of Rhode Island's competitive birding circuit. At the same time, birding was getting some surprising national press.
Yes, it was a fortuitous season for a casual observer like me to track some rare specimens in the field and observe their behavior — and see some birds, too.
In the midst of a very strange year for every aspect of modern life, birding is having a bit of a moment. The quiet, normally solitary hobby that for many evokes images of retirees with binoculars and sensible footwear (except for Carlos Pedro, who usually wears flip-flops), was affected by the same twin upheavals that have redefined nearly every aspect of American society: racism and the coronavirus.
It unexpectedly vaulted into national headlines for all the wrong reasons in late May, when Christian Cooper, a black man birding in Central Park, was accosted by a white woman in a racially charged encounter that went viral. Days later, a group of STEM professionals and students launched the first nationwide Black Birders Week in response.
Even before that, birding was making headlines in the seemingly endless stream of magazine and newspaper trend pieces on old-fashioned activities that are experiencing a renaissance amid the pandemic. (Sourdough bread-baking, anyone?) In May alone, the Los Angeles Times, Washington Post and New York Times all spilled ink over the surge of interest in birds and birding. Downloads of Merlin Bird ID, the bird-identifying mobile app developed by the Cornell University Lab of Ornithology, more than doubled compared to the same time period the year before and uploads of photos to eBird, the Cornell Lab's massive global crowd-sourcing platform, shot up by 45 percent. On May 9, the Global Big Day set a record for the most sightings reported to eBird in a single day with more than two million. (Apparently the rather sparse activity in Rhode Island that day didn't throw off the curve for the rest of the globe.)
Birding — and news about birds — also entered my life in a very persistent way around the same time. One of the first things Greg did to help was add me to a text thread with a group of local birders who share sightings of rare and unusual species. It took only a couple of days to realize I was going to need to turn off notifications for that thread.
The alerts usually start around sunrise. Dozens of cell phones throughout Rhode Island, mine included, ping with reports of Mississippi kites and American bitterns and — wait, are you sure it was a Baird's sandpiper? (More on that later, too.) Through text chains and messaging apps like GroupMe, updates are issued throughout the day, often continuing well into the evening.
Reports are shared in private Facebook groups, too; lists of sightings dutifully logged on eBird; photos, if possible, circulated and analyzed; printed field guides and Merlin referenced; IDs made and verified. If necessary, experts at the Audubon Society, ABA or eBird are consulted. It's an intelligence network that would be the envy of any back-room political operative on Smith Hill.
Access to this network is crucial for birders aiming to graduate from a casual hobby to more serious "listing," keeping a tally of all species one sees in a given area (i.e. Rhode Island or, for the truly hardcore, the continental United States) in a given year and competing with others for the highest total. Yes, competitive birding is a thing — sort of. Serious Rhode Island listers typically aspire to break 300 in a calendar year (for reference, there have been 403 species logged on eBird in Rhode Island all-time); getting there typically requires a little help from one's friends.
Barbara Seith, a relatively new birder who documents her explorations in a blog (westerlybirder.com), was mystified by the success rate of more experienced birders until she made a friend at the Audubon Society who initiated her into the secret society. "The biggest thing he gave me was an invite to the 'RI Rare Birds' GroupMe group," she explains. "Before that I could see on eBird a consistent group of people who all saw the new and rare birds on the first day they were spotted. I kept trying to figure how they knew. Now I was on the inside."
When an alert comes in to that group, birders around the state spring into action, grabbing binoculars, scopes and cameras, changing plans, making unexpected treks from one corner to another, jostling for the handful of parking spots at Watch Hill or the breachway, wading through mud or waist-deep water, all for perhaps a few fleeting moments of glory, maybe photo documentation on a good day, a crucial addition to that year's list on an even better day, and for a privileged few — mostly retirees — the chance to climb the annual rankings.
Most will insist this last part is the least important. Yes, listing can be serious business, but despite my own cynical desire to uncover some dark side of birding, full of cutthroat competitors and suspect sightings, the competition is just not that intense. The annual rankings are logged and tabulated through eBird, but overall it's an informal contest. There's no prize and it's completely on the honor system. Birders need not provide photo evidence, though it's certainly encouraged and many do. But at the end of the day, if you say you saw the bird, everyone is going to give you the benefit of the doubt.
That may seem naive to the average golfer, but most birders will insist that listing is really about the birds, not the rankings. Plus, there's no pro circuit to which the best can aspire.
"One thing I think is super cool about birding is that it's amateur only," says Greg Nemes, ranked fourth in the state with 276 species as of press time, an impressive feat for a mid-career millennial competing mostly with retired baby boomers. "There are no professional birders. There are
ornithologists, but what they do for work is not going out and just looking at birds."
Ultimately, the competition is more about personal satisfaction than bragging rights. "Even if you win, you only get to enjoy it for a minute," shrugs Sue Palmer, a relatively recent arrival to both retirement and birding. Easy for her to say: At press time, she's in first place with 282. But she's not just downplaying the thrill of victory; it's literally a moment in a calendar-year contest. The winner boasting 300-plus birds at 11:59 p.m. on December 31 will be back at zero a minute later along with everyone else.
If anything, the "competitors" are more apt to boost each other. Take, for example, Sue Palmer and the Baird's sandpiper. It's a late-summer migrant that looks, at least to my untrained eye, like half a dozen other shorebirds. But for a few weeks in August, it was Sue Palmer's white whale. She estimates she spent forty to sixty hours chasing it.
The generous spirit of birders is such that eventually, Carlos Pedro, who also needed the Baird's for his list, and Jan St. Jean, who already had it (and who are both typically jostling for the top two spots in the rankings) offered to spend a day helping Sue find it.
They started around 8 a.m., scanning the turf farms and ponds of Richmond. They made the dreaded Napatree walk around noon, then retraced their steps through Richmond. By 4 p.m., still empty-handed, Sue gave up.
Then, at 4:39, she received a text from Jan, who spotted a Baird's sandpiper at the mudflats by the Charlestown Breachway. (As Carlos said, she's relentless.)
"I pack up my camera, drive down to the breachway and wade across the channel to get to Jan. The bird cannot be located. She apologizes numerous times, but, oh well, you can't make birds stay where you want them. We look for a good hour before she has to go home. Keep in mind she didn't have to stay because she already had this bird. We're walking back across the channel and she gets excited and says, 'There it is,' " Sue laughs, hinting that what Jan actually said was perhaps a bit saltier. "And sure enough it was."
The kicker: Up until that moment, they were both tied at 281. Jan helped Sue jump ahead of her into first place.
Lack of competition, however, should not be interpreted as lack of intensity. Some of these people would follow a "nemesis bird" (a species that has eluded numerous attempts to see it) to the gates of hell. Sure, there are birders like Barbara Seith, who drags her beach chair out to Quonnie Breachway on a near-daily basis just to spend time with the birds, enjoying what she calls the "meditative feeling." But then there are those like Carlos Pedro, who estimates that he will easily cover sixty to seventy miles on foot in a given week and occasionally charters a deep-sea fishing boat, voyaging 100 miles into open ocean just to see birds that never come ashore.
As Sue points out, "Birders are the only people who will go on a whale-watching trip and hope they don't see a whale. If you don't see a whale, they refund your ticket — and we're just out there to see the birds."