Rhode Island Comic Con: A Crash Course
A self-proclaimed nerd offers her Comic Con survival guide for newbies.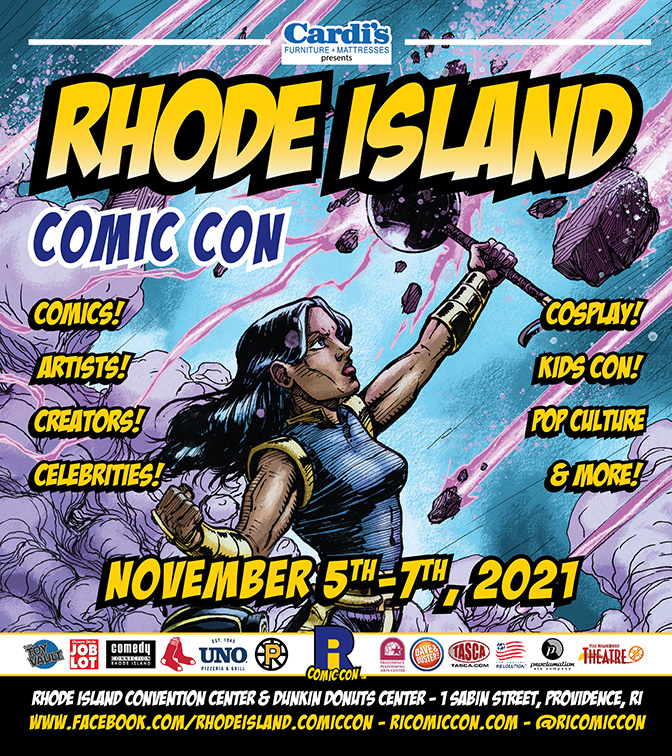 This weekend, Providence will be overrun with thousands of comic book enthusiasts, film buffs, television addicts and gamers, a.k.a. fanboys and fangirls (this blogger included), thanks to Rhode Island Comic Con (RICC).
The state's unconventional convention is coming back to the Rhode Island Convention Center and the Dunkin Donuts Center from November 5th to the 7th after a COVID-induced year hiatus. This year's con will not only see the return of celebrity guests and vendors, but also a cosplay contest, an electromagnetic pinball tournament and afterparties. If this is your first foray into the world of in-person fandom, then let me be first to tell you: Comic Con is not for the faint of heart. Even if you're only planning to attend just one day out of the three, a little preparation will go a long way. But fret not: This self-proclaimed nerd has a few Comic Con attendances under her belt and is willing to share her top ten tips in a handy survival guide.
1. Check RI Comic Con's website/mobile app/social media accounts regularly.
You've hopefully already checked the events tab before purchasing your tickets, as some celebrity appearances and events are only scheduled for certain days throughout the weekend, but don't clear the page from your browser history. Times may be subject to change up until the day or even hour of.  In fact, RICC's digital and social platforms can answer any of your questions (not sure if the replica swords that complete your "Deadpool" aesthetic are allowed? Check the FAQ page. Worried about COVID? Check the health and safety protocols—yes, masks will be required) as well as keep you up to date on the latest in canceled appearances, panel time delays, event room changes and more.
2. Arrive early.
If you're planning to attend a specific panel, arriving ten minutes before starting time often won't cut it. There will be hundreds of like-minded visitors in attendance, so give yourself at least a half-an hour head start (or if it's Kevin Smith's panel, more like an hour).
3. Dress up! 
And I don't mean in a swanky suit or a fancy dress. In this case, it's called cosplay, a contraction of the words "costume" and "play," and it's an artform. Sure, some people will double dip from their Halloween costumes, but the super-dedicated will pour hours into hand-sewing their very own Sally get up from The Nightmare before Christmas or perfecting the gaunt, crazed look of their Joker makeup. Don't have the time, money or energy to go all out? You can still blend in with a Harry Potter, Game of Thrones or Marvel T-shirt. (But if ever there was a year to go with a full-body ensemble, it would be now as, again, masks are required at all times during the event).
If Halloween was any indication, I'm thinking the contestants and guards from Netflix's Squid Games will be the most popular cosplays this year. I'm setting myself the challenge of getting photos with at least one of each. Check back next Monday for our best of RICC cosplay roundup to see if I succeed!
4. That being said, wear sensible shoes.
Even if your cosplay calls for otherwise. Or, at the very least, bring a backup pair. Yes, I know Harley Quinn wore killer (literally) heels throughout the entirety of Suicide Squad, but you better believe Margot Robbie got to sit/take those things off in between takes. You, on the other hand, most likely won't have the luxury of sitting much outside of the panels. The convention centers are huge, so there's a lot of walking around from booth to booth, ballroom to ballroom, and lots of other people will also be in the same boat, aching feet and all, so floor space to pop a squat will be scarce.
5. Prioritize your time.
Photo ops and autographs will be available for cash purchase at the convention. So, what's more important to you: easily shareable evidence that you met a celebrity or actual face time with said celebrity? A photo op is great if you want a professional, high-quality photo, but prepare for a very quick interaction. On the flipside, autograph signings offer a little more of a one-on-one opportunity. If you don't have anything for your favorite celeb to sign, RICC can supply you with a picture of said celeb for a small fee. Click here for a full list of this year's guests.
But one of the best parts of RICC are the panels, which are already included in your admission ticket price. The panels allow you to see more than one celebrity at once, and there's usually a chance to ask fan questions towards the end of the allotted hour. See the 2021 panel schedule here.
6. Bring water.
Between wearing a costume, being surrounded by that many people in one space, lots of walking and long wait times, hydration is always a good idea.
7. But don't shy away from the booze. 
RICC often partners with a local brewery to create a con-specific brew, so be on the lookout for it at the concession stands as well as the after parties on Friday and Saturday evenings (two more activities I'd highly recommend). Cheers!
8. Ditch the bags.
Bringing a purse or backpack will mean bag checks, which will mean longer waiting time to get in to the facilities. I know I just told you to bring water, but if you're mostly bringing in smaller items, think about keeping them in hand or in pockets until you're inside and can use the plastic bags you will acquire from buying things. Which is a nice segue to…
9. Prepare to spend money.
"Yea, right," you say, "I already spent enough on the admission ticket and various photo ops and/or signings!" But don't say I didn't warn you when you catch yourself on the arena floor swiping your credit card for that awesome Tardis coffee mug or adorable Khaleesi Funko Pop doll.
10. And my last bit of advice that really just applies to anyone who is planning to leave the house, ever: Bring a phone charger.
It's a long day. Too much precious battery power is spent documenting everything on Instagram. (Cue the shameless plug: Follow us at @rimonthly to see what we get up to at the con.)
So, go forth, my dear Padawans, and enjoy your very first Comic Con adventure (tickets are still available here)! If you do it right, I can almost guarantee it won't be your last.