Radio Head: R.J. Heim's Under-the-Radar Pastime
The TV weatherman shares his passion for music on "Music Through the Tunnel of Time."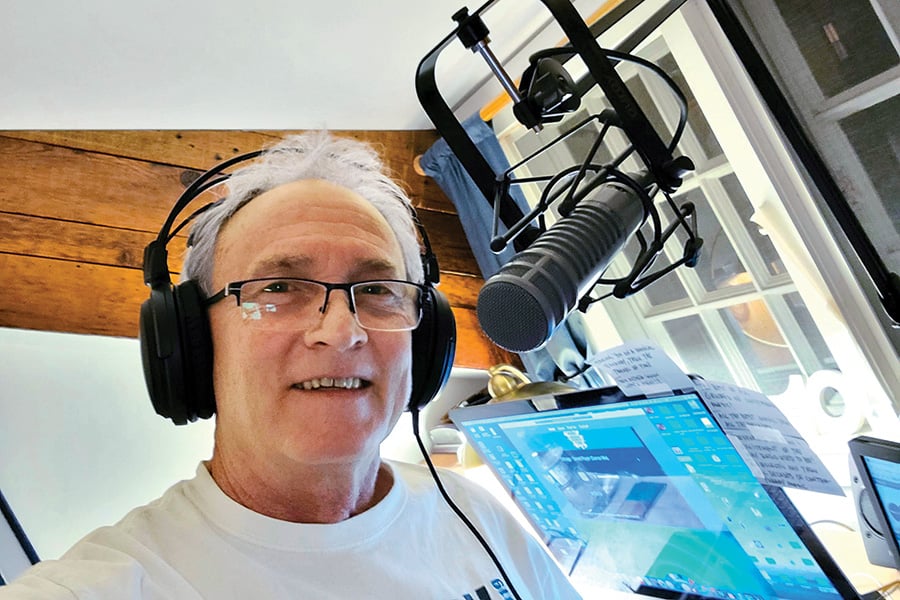 The strains of upbeat jazz and disco pump from a gray clapboard house on Providence's East Side from morning until evening. R.J. Heim calls it his little palace. When Heim moved into the dilapidated space three years ago, he did a floor-to-ceiling renovation, repurposing the original fir beams and converting one into a rough-hewn mantle where he stashes his Emmy Awards for outstanding New England weathercaster.
Though the house maintains its original spirit, the Colonial-era residents wouldn't recognize the speakers tucked into every room, including the bathroom. The dial on each wall, which can raise the sound to the level of a dance club, is also a novel addition.
As he swivels the volume down to sleep, music courses through Heim's sound system via "Music Through the Tunnel of Time," an online radio station he launched nine months ago in a mesh of computers, switches and speakers, crammed into his office across from the washer and dryer.
For twenty-eight years, Heim has been a local fixture, manning the green screen as weekend weather forecaster on Channel 10. The other three days of his work week, he films stories as a one-man band feature reporter.
Yet before all else, Heim calls himself a radio person.
He pinpoints when music first blew his mind. He was four or five, in the back seat of his parents' 1959 Plymouth, listening to the Four Seasons and Frankie Valli's unforgettable falsetto. The sound grabbed him, and from then he listened to the radio all the time, moving on to cassettes after his parents bought him a tape player. However, it was the top forty radio stations, the best of all genres across all eras, that most inspired him.
Young R.J. — or Robert John, or Bobby as he was called then — was also obsessed with weather reporting.
"Growing up in the Mid-Atlantic, we'd go down to the Jersey Shore," he says. "There would be winter storms or hurricanes coming fast, thunder and lightning, and I was always fascinated by what can happen outside the doors."
As a kid in the Philadelphia area, Heim was smack in the middle of the Philly and New York media markets, and knew exactly when each weather broadcast was on so he could tune in to both. The two strands of his love for media — weather and music radio — were knotted perfectly when Jim O'Brien came along. O'Brien was a disc jockey on WFIL radio in Philadelphia who later also became the weekend weatherman on WFIL TV.
"I knew right then and there — I'm like, 'I want to be him,' " Heim says of his third-grade self.
After paying his way through college at Temple University with his own deejay business, Heim auditioned for his first job in TV at Channel 51 in Reading, Pennsylvania. He'd never been in front of a green screen before but, he remembers, "they fired up the studio lights and I did my best Jim O'Brien impersonation in front of the maps." The performance got him hired, working as a weatherman and reporter two hours a day at minimum wage.
Heim's first twenty years in broadcasting were anything but stable. TV stations cut budgets and new owners bought them out, firing young broadcasters like him. He took jobs at four stations, first in Pennsylvania, then two in South Florida, then one back in Pennsylvania.
Heim, who's gay, thinks that the lack of a strong gay community when he was younger helped cement his sense of independence and pushed him to be an overachiever throughout his career.
"It's me against the world, trying to prove that I'm worth it," he says. "I've always felt compelled to create as part of who I am."
That independent streak stuck with him. Radio was a way to make ends meet, and he deejayed at several radio stations over his TV career. A friend suggested his initials, R.J., would be snappy enough to say on air.
Today, that's how thousands of Rhode Islanders know him. He's signed a contract for three more years at WJAR and isn't ruling out keeping his foot in television on a part-time basis afterwards, but shaping his radio station is his priority, along with screenplay and teleplay production.
"I always have to be working on something creatively for me to feel like I'm alive," he says. "When I'm not creating, it's like I've put a cap on a firehose."
He spent around $15,000 on the equipment, licensing and other gear for his home-based radio station, right before the pandemic hit. As the world spun out of control, he poured himself into the project, spending much of his time outside of work developing the playlists and fine-tuning the sound. His longterm goal is to build a big enough audience to start making money selling ads.
Guitar chords of the Alan parsons Project hum from the speaker on the floor next to his desk. Like a captain at the helm, Heim wields two computer monitors from his swivel chair perch, preparing to go live.
As the small right hand screen counts down to the end of the song, he propels the station from automatic to manual mode, flipping a switch on the external mixer, a panel of colored dials that provide infinite tweaks to the sound. He leaps up from his chair and cranks down the volume control on the wall. Silence. Back at the desk in an instant, he dons chunky headphones and swings the sleek gray microphone hanging on a metal arm close.
"I'm R.J. Heim, the man behind the music, and thanks for tuning in to the twenty-four/seven, commercial-free radio station," he says, his voice low and melodic. "Tell your friends about it. It's a lot of fun. The best part of it is, you never know what song is coming up next."
He rushes back to the dial on the wall and raises the volume. Ten seconds later, his own voice reverberates throughout the room. He grins ear to ear. He added the reverb effect as homage to the big broadcast stations and personalities of the past.
"An old school broadcaster that still smokes," he says as he lights a cigarette he's rolled (organic, he points out) and takes a drag. The slow piano of Norah Jones's "Don't Know Why" accompanies the smoke as it floats out the window into the night.
Within the 6,000-plus tracks and growing that Heim has added to "Music Through the Tunnel of Time" are hundreds of stories and memories from his deejay days.
When the Alan Parsons Project climbed the radio top charts in 1984, Heim was a part-time TV reporter, part-time deejay, playing the group's hits from sweltering South Florida radio stations. Last summer, he finally saw them live.
He pauses, just him and the music of Alan Parsons.
"It's magic."
The magic of a web radio station doesn't mean the audience appears like a rabbit out of a hat, however. Heim launched the station on New Year's Eve 2020, with 100 of his friends and Facebook followers tuning in. In the months since, around a dozen people tune in every day, most from the United States but some from as far as Malaysia and Australia. He subscribes to two web radio platforms — Live Online Radio and Listen Online Radio — which is where new listeners find him.
He knows he is far from building it into a semblance of the top forty radio stations of the past — music powerhouses that played contemporary hits of all genres. Still, that is his goal.
Those top forty stations no longer exist as they once did. The federal Telecommunications Act of 1996 allowed a single company to own multiple radio stations in the same market, and stations were merged and gobbled up like a Pac-Man game. In the process, the deejays lost their creative license.
"It took the beauty and the freedom," he says. "You can't talk more than ten seconds. Research shows you're just going to play this song and that song and this song."
He views "Music Through the Tunnel of Time" as one of the ultimate creative freedoms.
"When you hear a song, you don't have to wait for the music director to approve it," he says with a laugh. "That's the beauty of having your own radio station."
He built the station on his institutional knowledge of music. To find more songs, he listens to wherever new and old music can be found: college radio, independent radio, the Grammys. The computer to the right holds the music, categorized into folders by decades. The station then plays a mix of the songs in one-hour playlists, which he devises.
" 'Music Through the Tunnel of Time': that is R.J. in musical form," says a friend.
The station is all but fused to his body; he takes it everywhere, toting his cylindrical Bluetooth speaker on his regular eight-mile walks across Providence, playing the station out loud as he travels. The three days he's doing his reporter gig, it rides with him, the speaker playing from the passenger seat. Typically, he covers environmental stories and ones that have heart. And anything to do with music. These are R.J.'s stories.
On a gray spring day in East Greenwich, he pulls up to the Greenwich Odeum, a local music venue, to report on their COVID reopening progress. He positions his tripod on the sidewalk for his stand-up shot — a clip of him talking in front of the theater because, and he screws up his face with a wry look, "half of it is selling R.J."
He smooths his hair, straightens his NBC 10 fleece, and presses record, sauntering towards the camera and gesturing at the theater as he speaks into his clip-on microphone. He both shoots and edits his own footage, a one-man operation. He has seven hours to turn around a story for the 6:15 news spot. On days with no hitches, he's done in time for the 5 o'clock news.
Today, the only hitch is that his radio station shut off while he was playing it for another theater director he'd just interviewed. Since he barely has time to grab a sandwich to-go while reporting, he can't run home to fix it. Luckily, he had five hours of music ready to play from a server in Seattle in case of power outages. But the sound, he grumbles, isn't as smooth.
No time to think about that now. Dan Speca, the director of the Odeum, arrives for the interview Heim requested. He has done a number of stories with Dan and the Odeum in the past, such as interviewing Kevin Bacon and his brother when his band came to town.
An hour later, back at the station in Cranston, he's writing his story in the car, two pages longhand on a yellow legal pad.
The speaker sits on the seat next to him, the voice of Evelyn King or Johnny Rivers acting as his co-authors.
"It's the way my brain's wired," he explains. "I thrive when I'm inspired in the background by good music."
Whether on the road reporting or in the studio crafting the weather forecast, he always listens to music while working. Only now, that music is his own station. "I want this station playing in restaurants, I want it playing in laundromats, fast-food places, for people who are working in the background," he says.
According to Heim, this was the way top forty radio used to be, and the way it's not allowed to be anymore. This time, though, he isn't taking orders from a media conglomerate or even a music director. The only restrictions on this station are the limits of his creativity.
By 10 p.m. that night, he is home, "Music through the Tunnel of Time" back up and running. His palace thrums softly from outside, bathed in the glow of the street lamps. Inside, somewhere, a speaker pulses with the soundtrack to R.J. Heim's life.