Q-and-A with Local Romance Novelist Audrey McClelland
The Rhode Island mom of five and national lifestyle influencer is making her mark on the romance genre with an independently published paperback series.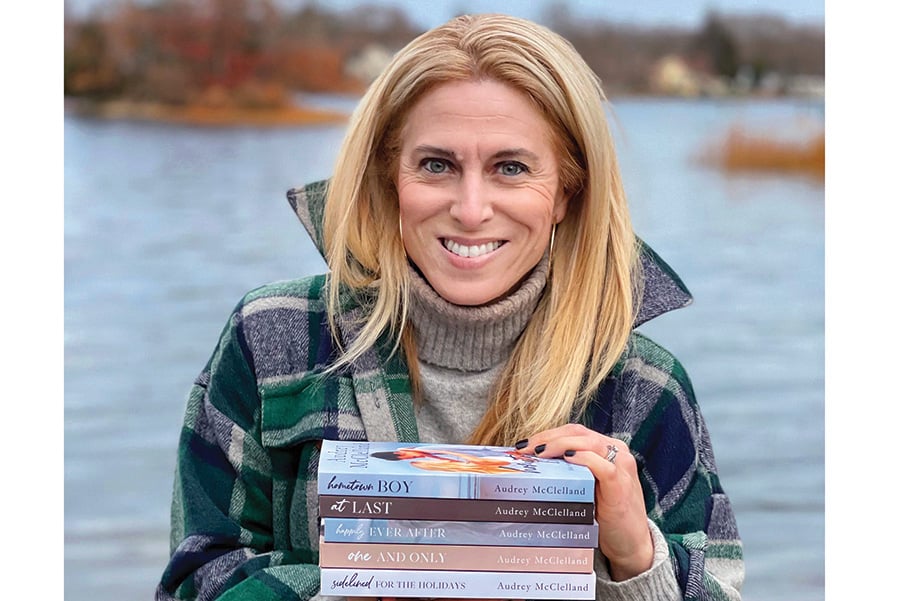 Audrey McClelland wrote five romance novels and released them all in a year. She started writing nearly every day since October of 2019 and hasn't stopped since. She's an Instagram personality, guest TV star and contributor to the "Today Show" Parents Network and "The Rhode Show," as well as the founder of momgenerations.com, an online destination for mothers. Her books are like Hallmark movies between pages.
When did you first know you wanted to write books?
I've always loved creative writing. I actually have notebooks in my office that my mom gave me filled with stories that I wrote as a teenager. They were all young adult romances based in high school, so I guess that romance piece has always been in me. But it became real for me about two years ago, after hearing my dear friend and fellow author, Cecelia Mecca, talk about her love for seeing her stories come alive. I decided that very next month, back in October of 2019, that I finally wanted to get a story that I had brewing in my head for years onto paper. That story is Hometown Boy, my very first book.
What is your romantic inspiration for the series, and why did you focus on four sisters, each with their own book in the series?
I love happily ever afters. I used to love reading the wedding stories in the New York Times when I was in college because it would tell the stories of how couples met! Ask anyone how they met their love, and they glow. My romantic inspiration for this particular series, and all of them to come, is my own love story. My husband is one of the most romantic guys in the world, so I love adding in pieces here and there from our own lives. I decided to base my series around four sisters because I have four sons. I just thought it would be fun to write a series based around a family because I wanted my readers to get invested and truly wonder how each sister found their own happily ever after.
Did you base any of the novels off of real-life experiences or people?
What I ended up doing was taking personality traits from people I know and love and using them as inspiration to build out some of my characters. For example, Mrs. McKay is based on my own mother. All of my leading men are loosely based on my own husband and his personality, too.
I recognize restaurant names and landmarks that are familiar. How much of Rhode Island is in the books?
I love Rhode Island, so I wanted Rhode Island to be another character of sorts. Barrington is the setting for my first series and I did that because it was easy for me to write about it. I plan to make all my books Rhode Island-based because of my love for Rhody!
How are you able to write with five kids and a career?
I feel like where there's a will, there's a way. And I also felt that it was the time to finally just do it, so I held myself accountable. I set aside time every single day to write. I didn't care what time it was or where I was. With COVID last year, my daughter wasn't eligible for a bus, so I would have to pick her up every day. I would have to get to the school an hour before dismissal just so I wouldn't be in a long line down the street. I took advantage of that hour all last year and (literally) wrote two of my books in that pickup line!
After publishing all five books, what's next?
I'm in the beginning stages of writing a young adult romance novel. And the biggest goal of all: Trying to get one of these books on Hallmark! instagram.com/audreymcclellan