Q and A: Fair Food Advocate Vanessa García Polanco
The North Providence resident advocates for sustainable and just food systems as well as fair opportunities in agriculture for diverse growers.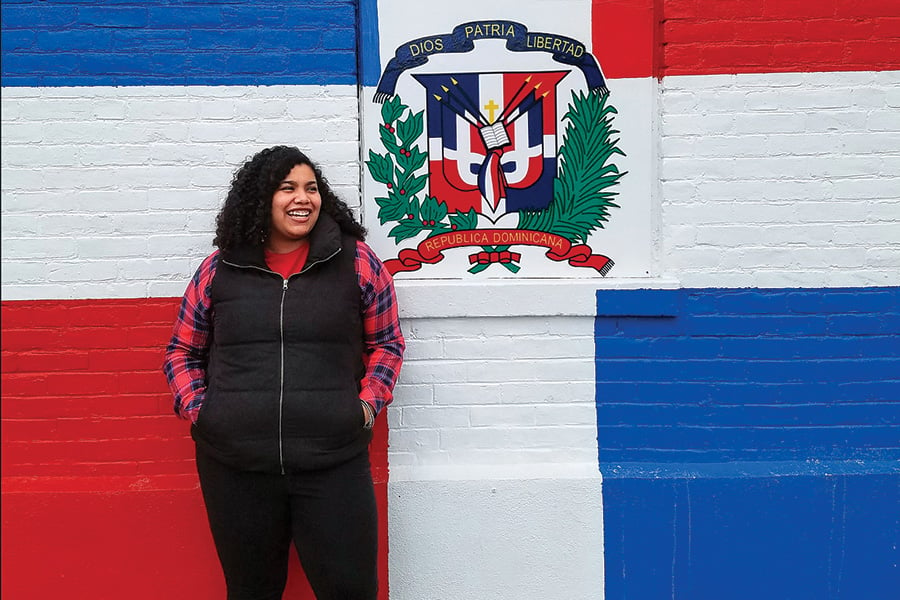 What is the significance of the month of June for you? June is a really important month for me. It's Immigrant Heritage Month and it's also the anniversary of my immigration. I migrated here from the Dominican Republic on June 26, 2011, when I was fifteen, so it's my ten-year anniversary.
How did you get involved with advocating for sustainable and equitable food systems? I was born and raised in Moca, a farming community in the Dominican Republic, where my family owns land and my dad is still a farmer. I have always been passionate about the environment, and that's one of the reasons we migrated here. At the time, there was no environmental policy program in the Dominican Republic. So we moved to North Providence and I attended GRRL (Girls Reaching Remarkable Levels) Exploration Day at URI, and it affirmed I could pursue an environmental career here. Then I enrolled at URI as part of the Environmental and Natural Resource Economics program and I earned a sustainable agriculture minor, a hunger studies minor and a leadership studies minor.
How did URI help facilitate your future career? I got to work for URI's Cooperative Extension Program, part of the College of the Environment and Life Sciences, which includes the free seed program and the school garden programs. I spent a lot of my time educating people on horticulture and growing gardens and working with our farming counterparts. That's how I first started with both the National Young Farmers Coalition and the chapter of Young Farmers in Rhode Island.
How did you get involved with the Young Farmer Network? I started going to Young Farmer Nights. I am dying for them to resume because you meet great people, you visit farms around Rhode Island and eat the best food. That's when you start seeing a lot of challenges for farmers and young people like me who want to transition to agriculture. I was the only person of color attending those meetings until I met Margarita and Teodulio [Martinez], who are also from the Dominican Republic. In the middle of that, I was recruited to be on the Rhode Island Food Policy Council. I think I was the youngest to ever serve at age twenty. I think I was the first Dominican too. I loved that and did it for two years.
You do a lot of work to ensure fair opportunities in agriculture for the Black, Indigenous and people of color (BIPOC) community. Can you explain how you advocate to make farmland more accessible? Previously as a researcher and now in an advocacy role, I try to collect stories from those farmers who are struggling to access land. I am a point of contact and I also communicate their concerns to decision makers. Land access and student debt are the biggest barriers that we have for young farmers, especially farmers of color, to enter agriculture. I am now the federal policy director for the National Young Farmers Coalition.
You've mentioned in your writing that food is more than just food. Why do we need to think more about what we're eating? I always try to say food is not just food and food is political because it's trying to challenge the connection that food is just something we put in our mouths and use to nourish our bodies. Food is a compiled decision that tells about what we value as a society. I feel validated when I walk into any major store and I can find plantains and things I recognize from my home country and from my food culture. When you are a food provider, a food store or a restaurant, and you put something on the menu that is from my food culture, I feel validated; I feel seen. You are recognizing that we exist and we're your community members. vanessagarciapolanco.com