Inside Papillon Jaune, PVD's Chic Wig Salon
Hair stylist Kelly DiNitto launched the business in memory of her sister, Nancy.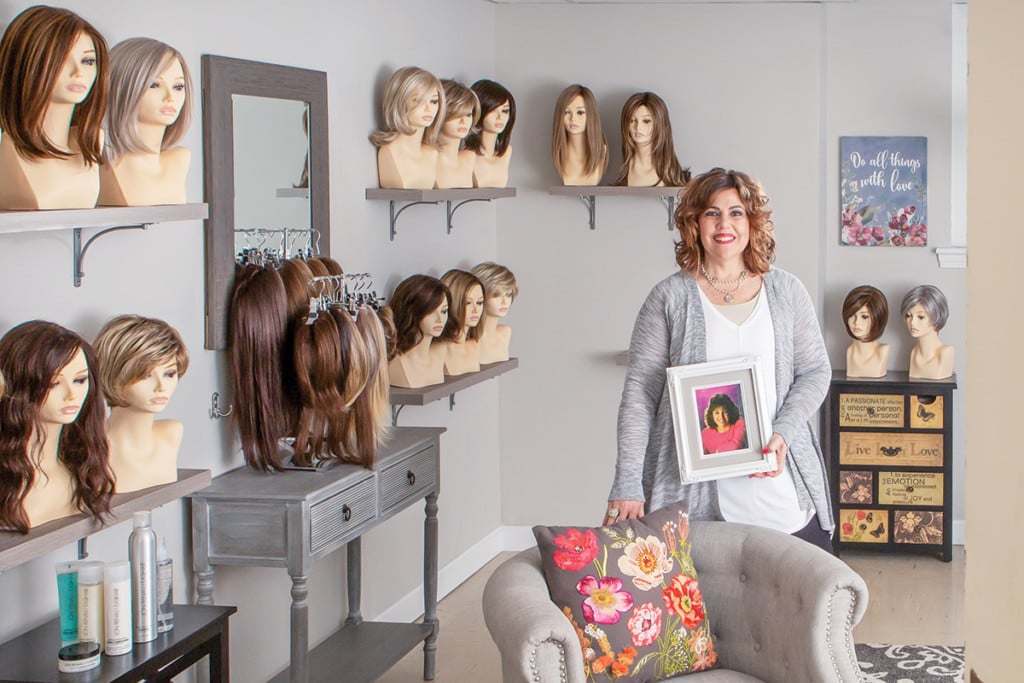 For women going through cancer, hair loss should be the last thing they have to worry about. The specialty wig boutique at Papillon Jaune Salon in Providence's Wayland Square has helped many women look and feel themselves again after undergoing radiation and chemotherapy treatment, or hair loss from alopecia or other circumstances. 
Owner Kelly DiNitto named her full-service salon Papillon Jaune for her sister, Nancy DiNitto Vadeboncoeur, who died after battling breast cancer for ten years. Her sister said she would come back as a yellow butterfly, and it's no surprise DiNitto began to see yellow butterflies everywhere after her death, including out in the gardens in front of her salon. She decided to name her salon the French name for yellow butterfly even though she is Italian, because she says the Italian word for butterfly — farfalle — sounds like pasta. "I looked it up in French and it was beautiful, so that's why I named it Papillon Jaune," says DiNitto. 
She is a breast cancer survivor herself, and she says she owes it all to Nancy, because her sister's diagnosis prompted her to get mammograms starting at age thirty, which led her to undergo a double mastectomy and avoid radiation and chemotherapy. 
She's owned Papillon Jaune salon for nearly six years, but the wig shop just opened this past fall. DiNitto was inspired to open her own specialty wig boutique after accompanying her sister to wig shops when she lost her hair from chemo. "Personally, I didn't feel like they were able to get the right style or fit. After going to a few of them, I was like, 'You know, I am going to open one of those one day,' " she says. "I feel like in my industry, we are so familiar with color and style for the face. We can help women stay on trend and sustain their same natural look."
Clients can choose the Jon Renau wig style that suits them and order their custom color based on swatches. DiNitto sits down with each client in the appointment-only boutique, which is located down the hall and separate from the main salon, behind closed doors. "It's a quiet, private space for a little more intimacy for the client," she says. DiNitto asks clients to bring in a picture of the style they want and they discuss lifestyle, synthetic or real human hair preference, and whether or not the client will wear the wig every day. She measures the head to make sure a perfect fit is achieved. "Every head shape is different, and we make sure it sits on the head correctly," she says.
DiNitto also goes over caring for the wig with each client, and films personalized video tutorials on styling and washing that they can take home for step-by-step instruction. "I want to make each person who comes through that door feel really good," she says. "It's really hard to be faced with that situation every day with a sickness or a disease, and to be able to help others look and feel themselves is important to me." 225 Wayland Ave., Providence, 455-0600, papillonjaunesalon.com