Our Favorite RI Book Clubs
These literary groups thrive in local communities where themes cross over from tomes to treats.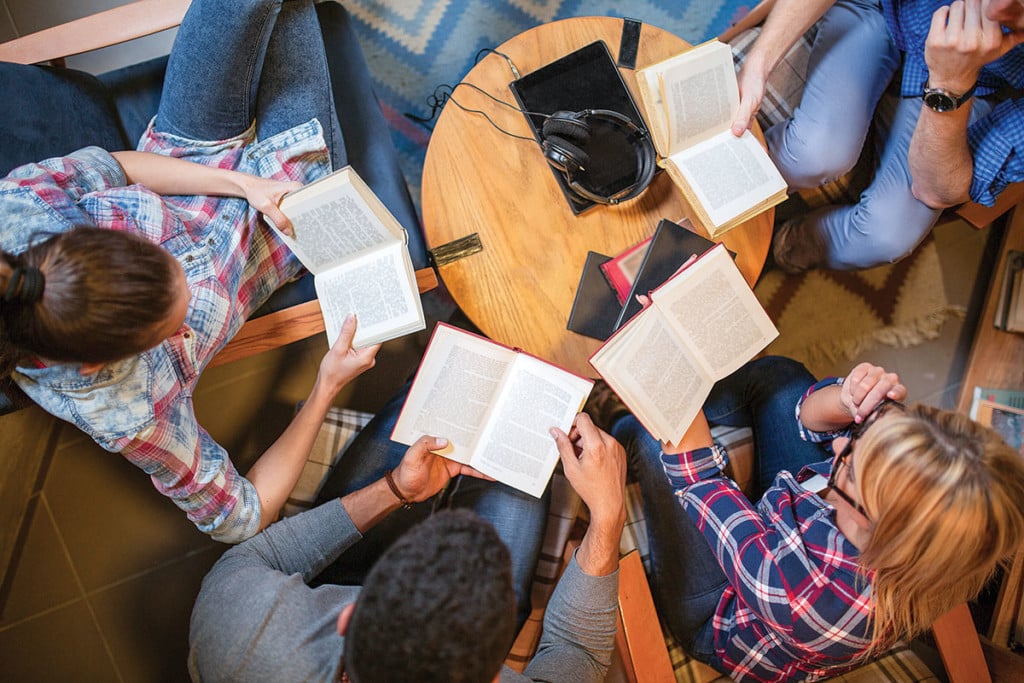 For a small state, Rhode Island has its fair share of book clubs. From Westerly to Woonsocket and everywhere in between, readers have been gathering for years to talk about books, life and whatever else comes up. Find your own
local book club or be inspired to start your own.
Name of book club: "Bats" book club
Where: The Bats rotate between eighteen members' homes, mostly in Cumberland.
Meeting time: Last Friday of the month.
Favorite authors: Adriana Trigiani, Jojo Moyes, Meg Wolitzer and Fredrik Backman.
Prologue: Member Heidi Waters shares: "Our children were all pretty young when we started our book club and we saw each other often back then. Now that they are teenagers, this is a good opportunity for us to get together at least once a month. It also gives us a chance to talk about topics we normally wouldn't discuss, laugh a lot and just be there for each other."
Name of book club: No name.
Where: Providence-centric for more than twenty-five years, mostly on the East Side.
Meeting time: Wednesday evenings about every six weeks.
Favorite authors: David McCullough, Doris Kearns Goodwin.
Prologue: Member Fred Franklin says, "Interestingly, we have struck out with Pulitzer winners or other book award winners. During the last year, the group almost unanimously disliked American Pastoral — although we liked and had good discussions about other Roth books."
Name of book club: GBGC (Good Books Good Company)
Where: During the school year, they meet at the La Salle Academy Library. The August meeting takes place at a restaurant, hopefully one with a nice water view.
Meeting time: GBGC meets on the first Monday of every other month.
Favorite authors: Ann Hood, Julia Child, Jodi Picoult, Fredrik Backman, Liane Moriarty, Jeannette Walls, Carlos Ruiz Zafon and Chris Bohjalian.
Prologue: Member Rosanne Trissler says: "Sometimes the snack is book/theme related. We enjoy a glass of wine if at a restaurant, but given that most meetings are held in the late afternoon, the tea vibe really adds to the focused and lively conversations."
Name of book club: "Tell Me About It"
Where: Each member hosts a meeting at their East Greenwich home.
Meeting time: This club is extremely flexible and could meet anytime. Some prefer to host on a weekday at night; others love a Sunday morning brunch with good coffee and the fireplace on.
Favorite authors: Alyson Richman, Carlos Ruiz Zafon, Fredrick Backman and Amor Towles.
Prologue: The host is in charge of everything from choosing the book, the date and type of food, drinks and dessert. A meal is served that often relates to the topic of the book. For example, when the club read Snow Flower and the Secret Fan by Lisa See, Out of the Easy by Ruta Sepetys and The Gentleman in Moscow by Amor Towles, they served Chinese food, New Orleans delicacies and a Russian meal respectively.
Robin Kall has always been an avid reader, and she developed her own radio program, Reading with Robin, in 2002. She is a literary influencer who has hosted countless author events, including the annual Evening with Authors and Summer with Robin and the Point Street Reading Series. robinkall.com