Go Green With Accessories Inspired by Nature
These eye-catching finds bring the great outdoors inside.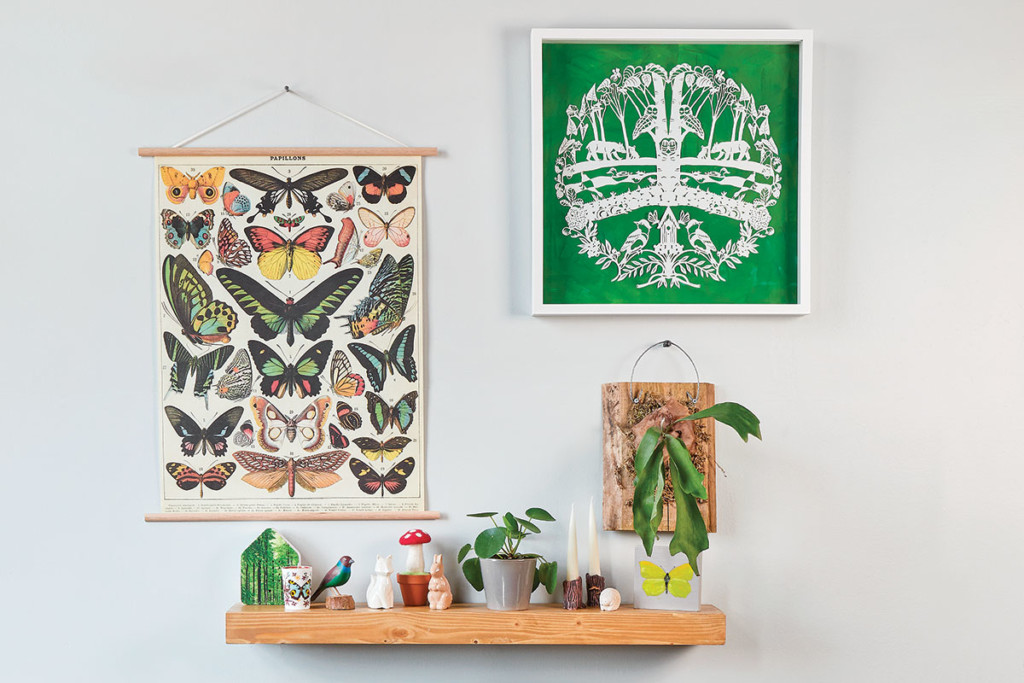 From top down: Paper cut illustration by Ingrid Lavoie, $800, Studio Hop, Providence, or on commission, ingridlavoiepapercutting.com. Butterfly print, $5, poster hanging kit, $19.50, sold separately at Homestyle, Providence. Hanging staghorn fern, $45, Jordan's Jungle, Pawtucket. Yellow butterfly painting by Freddy Daems, $55, Studio Hop. Japanese wooden hedgehog, $18; stump candle holders by Ellen Blomgren, $14 each, both at Simple Pleasures, Providence. Pilea Peperomiodes, $25, in small gray pot, $8, both from Jordan's Jungle. Bunny pie vent, $5, Stock Culinary Goods, Providence. Hand felted mushroom, $24, Craftland, Providence. Fox pie vent, $5, Stock Culinary Goods. Brazilian bird, $58; butterfly candle, $15; Zwitscher bird sounds box, $58, all from Simple Pleasures. Calathea "Medallion," $25, in metallic pot, $18; bird's nest fern, $15, in blueish gray pot, $15, all from Jordan's Jungle. Two custom made pillows, $60 each, Kreatelier, Providence.
Clockwise from top left: Harrisii and brachycaulos air plants, $8 each, Jordan's Jungle. Nathalie Lété bird tray, $36, Simple Pleasures. Blue bear cup, $44; fern tea towel, $16, both from Craftland. Beeswax pinecone candles, $20 for pair, Stock Culinary Goods. Wood tray, $58, Homestyle. Small bunny bowl, $7.50, Rhody Craft, Providence. Small silver spoons, $6 each, Homestyle. Hedgehog bowl, $25, Craftland. Bunny plate, $10, Rhody Craft. Japanese wooden squirrel, $18, Simple Pleasures. Bee bottle opener, $18, Homestyle. Charley Harper bunny tile, $42, Studio Hop. Nesting hedgehog bowls, $30, Rhody Craft. Xerographica air plant, $20, Jordan's Jungle.