Lush and Ambitious, Bayberry Garden Restaurant is a Breath of Fresh Air
The panoramic city views don't hurt, either.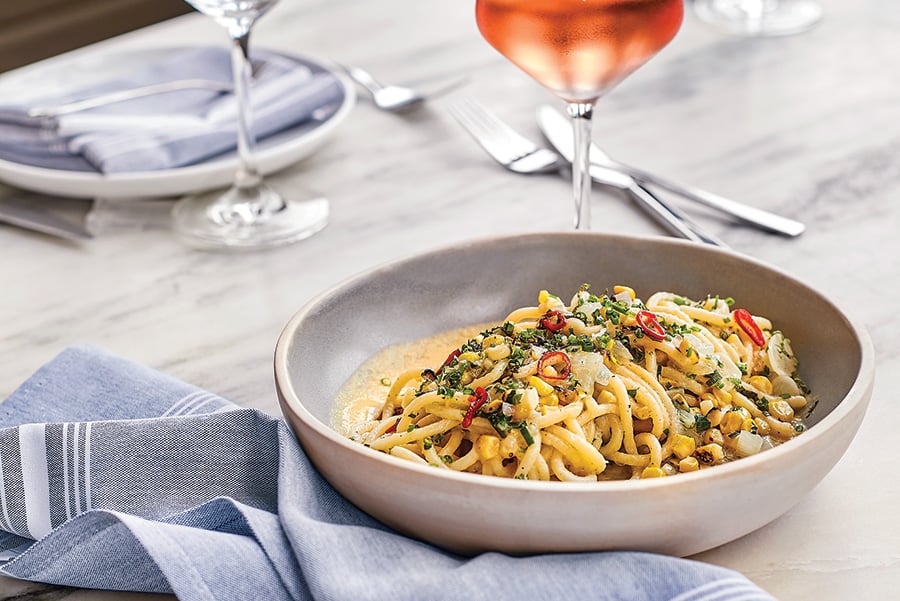 Bayberry Garden isn't so much a restaurant as a biodome: a repository of culinary ambition, local craftsmanship and camaraderie in an atmosphere as organic as it is industrial. Its Dyer Street space dwarfs most Providence eateries, anchored by a mammoth bar with various portals at its perimeter. Tables, computer screens, filling stations and even the kitchen huddle in the shade of potted trees that canopy a microcosmic city under glass. It's as if, in the austere shadow of COVID, Tom and Natalie Dennen constructed a full-scale experiment to breed sensory gratification. And they've succeeded.
The most astonishing feat of this social structure is in the execution of service. While other restaurants are operating in skeletal fashion, Bayberry is loaded with people. The kitchen delivers food swiftly, bartenders crank out cocktails at a steady hum, and servers see every person — rather than each table — as their own, stopping to check in on diners at intervals that far outpace courtesy. The architectural footprint may be immense but intimacy abounds here, each party shrouded in lush plants and privy to a cityscape that suggests Providence's renaissance still rests on the horizon.
If the surroundings strive for a sleek meditative quality, however, food hits the table in dramatic form. The menu is fluid in its presentation: small plates, large plates, larger plates, pasta and a raw bar. But the dishes are held together by an exuberant appreciation of local produce. ("Sweet corn," says a server, acknowledging the last great goods of the season. "Here today, gone tomorrow.") Executive chef Mike Seely plays matchmaker with unlikely components, pairing fluke with shaved strawberries ($14), and grilled melon with cotija and popcorn ($13). The results are often exhilarating and always intriguing, coaxing meaty qualities out of cantaloupe and celebrating the savory side of spring peas. Even a fillet of Ora king salmon ($19) is served so deeply seared that its skin evokes slabs of jerky served with fried rice balls crunchy enough to bring Japanese crackers to mind. Like the decor — half fertile, half steel — dishes find harmony in contrast, allowing familiar ingredients to morph slightly into the unexpected. ("Finally!" cries one fervent customer, "A menu without calamari!")
But Bayberry knows how to speak simply, as well. Its affection for raw fish and handmade pasta offers homage to Ben Sukle's Oberlin without sacrificing originality. Salmon crudo ($15) is deeply flavored when paired with chicharrón, though it's the sconcigli — a seashell-shaped pasta — that stuns and soothes simultaneously. Tossed with smoked lamb belly, fava beans and red wine-steeped goat cheese ($23), it's a contemporary carbonara that outpaces the original with aplomb. Every dish is better shared as there's much to discuss in preparation and presentation, but this is the exception; each bite is too prized to relinquish.
As evidence that communal gathering is at the top of Bayberry's goals, the menu includes several dishes that will feed two people or a "crowd" (four or more). Roasted vegetables in peanut sauce ($19/$35), flank steak with white bean puree ($32), roasted chicken (half or whole: $29/$57) and long-bone short ribs ($49/$89) are more rustic than the other dishes, worthy of praise but willing to be eclipsed by conversations about returning to work and what it feels like to wear shoes every day.
They also allow diners to meander away from their tables for short periods of time, either to greet friends who showed up at a distant table in this new metropolis, or simply to gaze at this modern, multifaceted civilization in which staff members are as animated as the guests. A young woman declares herself the resident coffee junkie, recommending chicory and dandelion tea to a guy cutting back on caffeine. A sturdy, bearded server delivering grilled romaine cuts a striking image with his intricately inked body, and a fifty-something diner, watching him walk, declares loudly that he's "never gonna be as cool as that guy." At the chef's counter, a sommelier in beaded Etsy earrings stops to chat about what drink will make the most impact.
And as compelling as the wine (esoteric) and beer (local) list is, it's tough to pass up mixed drinks that come out as unabashedly as these do. The Half Shell Martini is an oyster-washed martini with seaweed; bourbon explores its sweet side with a whiff of orange and a dose of miso caramel. If you want to pair your food with wine, oenophiles will cheer you on. But if drinking is at the center of your universe, sidle up to the bar and you'll feel as if you've wandered into a funhouse of liquor. The later you stay, the more festive the party, as music creeps up in increments of half an hour and, by 9 p.m., "Groove Is in the Heart" is audible from every seat in the place.
It should go without saying that the dessert — a rainbowed panoply of fruit and herbs — is not to be foresaken. Toffee-tinged creme brulee pairs with miso while floral rosehips balance seasonal fruit. Everything presents like an artist's canvas, though you may be so engrossed in this resurgence of culture that the deeply considered aesthetic might not hit you until you're walking out the door. With its largely glass exterior, Bayberry almost feels like a human greenhouse in which everything is hyper-oxygenated and each experience — from food to drink to dialogue — is verdant and teeming with vitality. It's not so much a reminder of how our days used to be but a promise of what lies ahead. Life doesn't just go on. It rejoices.
225 Dyer St., Providence, 642-5013, bayberrygarden.com.
Open Tues.–Sun. for dinner. Wheelchair accessible. Street parking.
Cuisine Modern American.
Capacity A hundred inside, a hundred more on the patio.
Vibe John Muir meets Ian Schrager.
Prices Appetizers and shared plates $7–$23; dishes for a group $19–$89; dessert $12–$15.
Karen's picks Seafood of any kind, pasta, dessert. Or make a night of drinking in the surroundings.