Kevin O'Connor's Art Captures Hospitality Workers Amid the Pandemic
Kevin O'Connor shares the plight of the hospitality industry through illustrated portraits of people working in local restaurants and bars.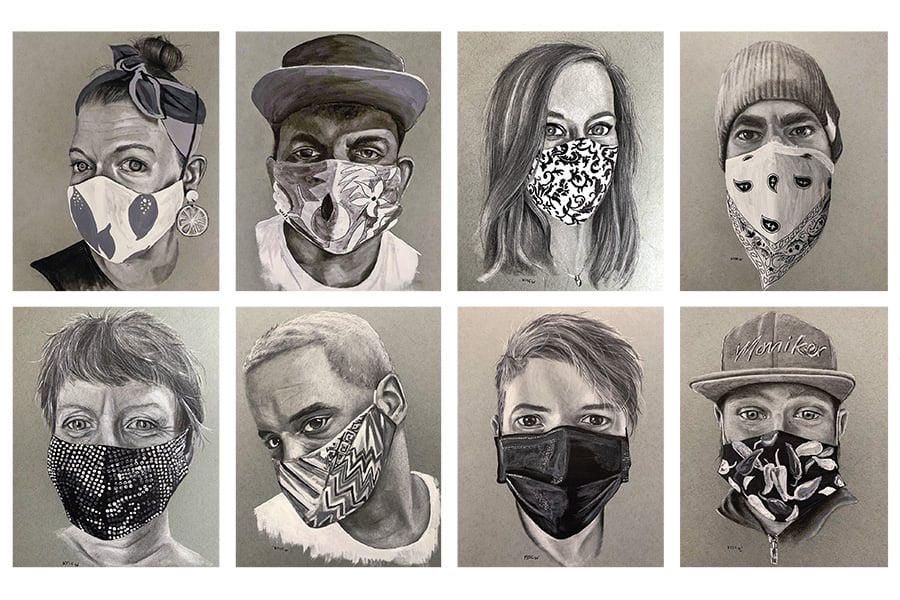 When last spring's restaurant shutdowns went into effect, Kevin O'Connor got right to work. The Persimmon dining room and bar manager and artist was inspired by people he knew on the frontlines of the hospitality industry who were masking up to keep themselves and each other safe. He began illustrating people who work in bars and restaurants as well as close friends on the frontlines by requesting photos of them wearing masks. More than a year later, he has produced nearly seventy portraits in ink, pencil, black and white charcoal and acrylic paint on paper. "The whole idea is that they should be displayed in a group and each illustration shows the person's unique persona and identity, from their hairstyles to their eyes and facial structures, but everyone is doing the same thing, which is wearing a mask and protecting one another at the same time." O'Connor chose to focus on hospitality workers for the project because the industry is like a family to him. He also saw the mental and physical toll the pandemic was taking on his friends and acquaintances who work in restaurants. "There is a certain level of anxiety when it comes to being in the hospitality industry. It's almost like you become an enforcement officer for things that everyone is supposed to be doing without prompt, and that can be very stressful, especially for people who are working in grocery stores, bars or restaurants," he says. "You can see it and I certainly feel it myself working at a restaurant." There is a certain emotion in the eyes of each portrait even when their facial expressions are masked. "I would say it's a look of anxiety, maybe even exhaustion," he says. As we reach the home stretch of suppressing the coronavirus and more people are getting vaccinated, there is also a feeling of hope for the future. But we will never forget what we have all been through. "It's a way to immortalize on a more personal level everything that has happened in the past year or so," O'Connor says.
See most of O'Connor's portraits on Instagram at instagram.com/bar_illustrated, or visit Moniker Brewery in Providence for a wall dedicated to his work. O'Connor can also be hired for personal, family and pet portraits.