Inside the Dye House, an Artful New Hotel and Event Space in Olneyville
The boutique hotel is owned by URI grads, Everett and Valerie Abitbol.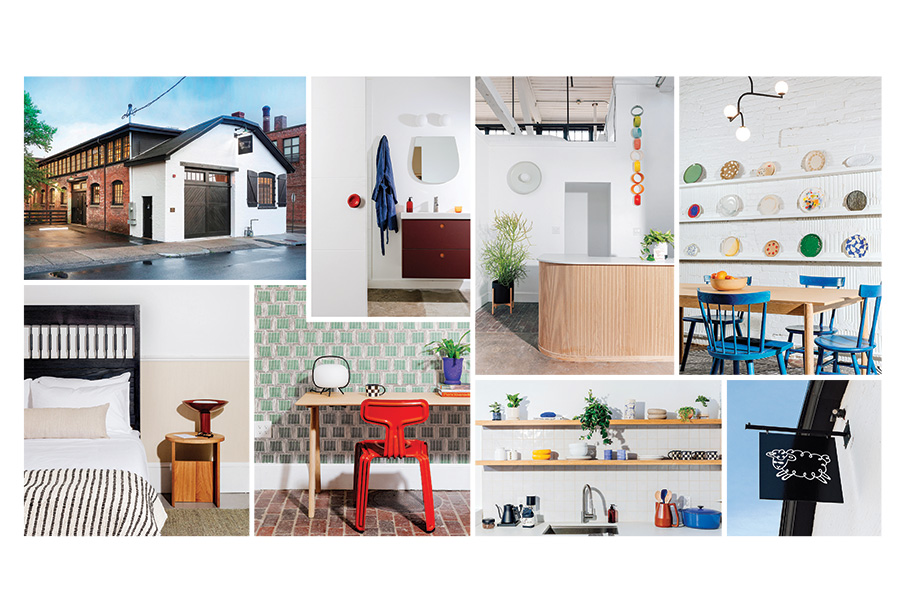 There are signs of sheep all over the Dye House hotel and event space in Olneyville, which opened this past spring. From the sheep-shaped bike racks welded by the Steel Yard to cheeky toilet paper holders in the loft's bathroom and the names of the suites, Twill, Weft and Heddle — which are weaving terms — the building's history as a dye house for wool manufacturing is intertwined in unusual places.
The Dye House previously served as J. Schatz ceramics studio. Owner Everett Abitbol became enraptured with the space when he stopped in to buy a birdfeeder for his mother. Shortly after his first visit, he set the spools in motion to buy the building for his next hotel project, as the owners were looking to relocate. "The joke is I went to buy a birdfeeder and ended up with a building," he says.
Everett and his wife, Valerie Abitbol, previously started Deacon Hospitality Group and launched the Deacon hotel in Philadelphia, a sanctuary that led a previous life as a Baptist church until it closed. "I lived in a neighborhood in Philadelphia where a lot of public space became private by way of condominiums or apartments," Abitbol says. He wanted to turn the building into a hotel with a focus on the community and local art. "We have a love for old buildings and public spaces, and the two kind of came together with the idea of a hotel wrapped around a venue where we offer a good amount of community programming."
The couple hopes to do the same with the Dye House in Providence. The Abitbols are both University of Rhode Island graduates who own a home in Narragansett, and they bought the building with a goal in mind to spend more time in the Ocean State with their two young children.
Dye House has a vast open area, previously the ceramics studio, that they are planning to use for more community events as well as weddings, while three suites and a luxe loft host guests. The loft can also be rented for private catered dinner parties and more intimate gatherings. Each room is designed with local art, furniture and decor curated by renowned Philadelphia designer, Yowie. "The hotel part of the project is the thing that economically supports the venue," he says. "The center area is open so that it can be a place where the community can interact."
The team is making the event space available at little to no cost for surrounding groups like Mend Yoga, which started leading pay-what-you-can classes to Olneyville community members in late July. In addition, they are providing six months of free studio space to textile artist and Design RI catalyst grant recipient, Aleksandra Azbel.
"We'd also like to work with the Manton Avenue Project and West Elmwood Neighborhood Association. We want to build out some programming where our space can be useful to them," Abitbol says. "People don't realize how difficult it is to find space at an affordable cost and being able to grant access is important."
The team chose a sheep theme for the hotel to pay tribute to the mill's history, and they nicknamed the hotel's mascot Baba. "There's no cuter mascot than a sheep and that's how Baba came along, named by my daughter," Abitbol says.
They are also publishing a children's book starring Baba to go along with the theme, and it will tell the history of Olneyville through the sheep. "My daughter saying it first meant that's what it was going to be, because she's three and she's in charge of us all," Abitbol says with a laugh. 46 Dike St., Providence, 347-868-2996, dyehouseri.com