Inside an Interior Designer's Cheery East Side Home
After a cross-country move, Corey Low Satti leaned on fresh traditional for her new Providence abode.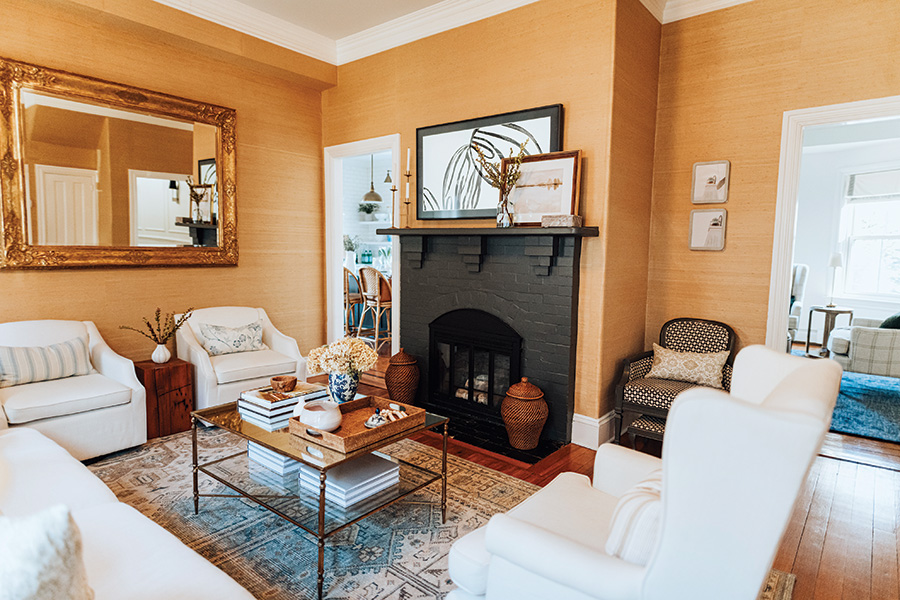 Another World
Some interior designers know early on that creating beautiful spaces is their life's passion. Others take a more meandering path. Corey Low Satti is the latter. A native of Southern California, Satti grew up in a close family. "My grandmother took a lot of pride in her home. All our Christmas dinners were there. She was always fixing it, even though everyone was living in a shoe box," she says. Satti studied at UC Davis, then migrated to Silicon Valley after graduation. "I started at Google out of college, in its rocket ship, unicorn heyday," she says. "There were dogs in the office everywhere, it was a wild ride." As a recruiter for the company, she brought on frontend software engineers. "I can't code," she jokes, "but I know how to hire people who can."
Taking the Leap
Satti's true love, however, was interior design. Every night after work, she pored over design books. The feeling that function has to come first, with no wasted space — an influence from her grandmother — gradually shaped her aesthetic. "People's spirits are lifted by beautiful or relaxing elements."
After ten years at Google, Satti left high tech behind. Without a job, she haunted the San Francisco Design Center, a massive collection of 100 showrooms featuring home furnishings and accessories from all over the world, then worked for a local interior designer. Meantime, her husband, Chris, was getting the itch to move back to Rhode Island, and after two years of scrutinizing Zillow listings from 3,000 miles away, the couple discovered their dream house on the East Side of Providence. They made an offer the same day. Satti, who'd never lived outside California, was now in Rhode Island, where she landed a job working for Janelle Blakely at Blakely Interior Design. "I learned a lot from her, on both the design and business side. Other than that, I didn't know a soul," Satti says. She opened her own firm, Corey Low Interiors, in September.
Flying Colors
The couple's pretty East Side Italianate nest, the Amanda Pimm house, dates to 1886. The previous owners had done a major renovation; all that was needed were Satti's finishing touches. Accents such as an Amy Berry Chinoiserie vase on a kitchen shelf, or a coffee table, are a nod to her personal taste, fresh traditional. "I like blue and white prints that are cheery," she says. "There's a hashtag, 'blue and white forever,' that leans toward the casual, cool side of that."
"I also recognize there's more than one person living here," she concedes. Her husband's preferences, which tilt toward earth tones such as green, are apparent in the fabric choice of the sitting room's wingback chairs. In some instances, the use of green in other rooms echoes the previous owners. "It was a challenge, since it's not a color I gravitate to, but my husband loves it. It brings a lot of contrast and grounds my brighter aesthetic."
Satti discovered East Coast architecture and fixtures are different from what's popular out west. "I enjoy features I haven't seen before," she says, ticking off clients' dormers, even the humble baseboard heater and its cover. "I find rest in things being in order. It gives me peace."