In Conversation with Wallace the Brave's Will Henry
The Rhode Island-based cartoonist spills on his syndicated comic strip set in Snug Harbor.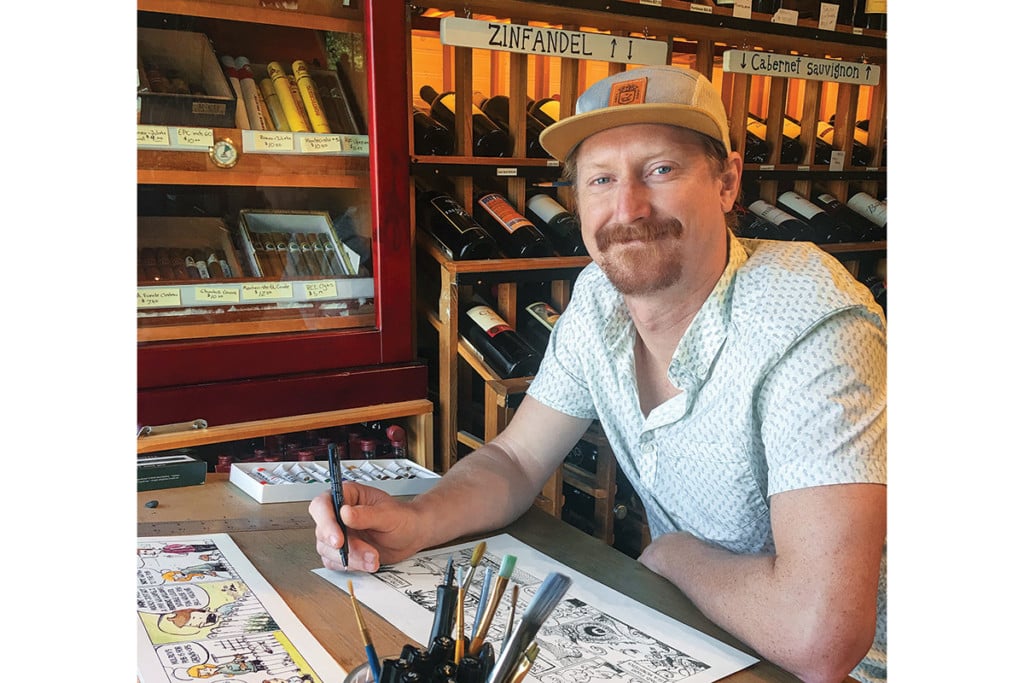 Wallace the Brave follows the exploits of a trio of kids who attend Moonstone Elementary School: the inquisitive title character, his panicky pal Spud and outspoken Amelia (plus Wallace's odd brother Sterling and their parents). Will Henry Wilson grew up in Rehoboth, Massachusetts, but summered at the family cottage at Roy Carpenter's Beach in Matunuck, which inspired the setting for his successful strip (in 2018 it garnered
two nominations for the Eisner Awards, the Oscars of the comics world). For the last ten years, he's honed his craft while working at Grapes and Gourmet, the liquor/cheese shop his family owns in Jamestown.
Your first strip ran in the student paper when you were attending the University of Connecticut. Then you worked on Ordinary Bill [modeled on Will and his wife, Isis] for seven years. How did that experience prepare you for Wallace the Brave? Ordinary Bill was a great stepping stone. It was a crash course in how to meet deadlines, punchline writing and story and character development.
Why did you change your nom-de-plume from Will Wilson to Will Henry? At first, much of the Ordinary Bill subject matter wasn't family-appropriate. So when I created a comic that was for all ages, I didn't want kids to stumble across my adult comics by accident. My grandmother has always called me Will Henry, so it was a perfect way to pay homage to her and possibly avoid some lawsuits.
How closely is the McClellan clan based on your family? Too close — way too close. I'm pretty much writing stories about growing up. Ask my mother, she'd have a lot to say about it.
Wallace appeared for a few years at gocomics.com before it got picked up for newspaper distribution. When did it launch and how many papers run it? The strip debuted on March 26, 2018, two weeks after my wife and I welcomed our first child. It was a bit of a whirlwind. Last I counted, it was around 175 newspapers. Having the comic in the Providence Journal is a local cartoonist's dream come true.
How do you deal with the challenge of creating 365 strips a year? It starts with the writing. I try to write a month's worth at a time and get eight to ten comics drawn a week. I pencil the comic on Bristol board, scan it and send it to my editor, then make revisions. I do all the lettering and inking by hand, old school. Then I scan the original into Photoshop and drop some color in. Boom — done!
What's your favorite reaction you've ever received about your work? Nothing is more rewarding than when a parent mentions that Wallace the Brave helped their child get interested in reading.
What's the most inside-Rhode-Island reference you've slipped into the strip? I love adding Rhode Island Easter eggs! My favorite so far was the Sunday comic that had Roger Williams battling Monodor, the giant eel king, in Narragansett Bay.
Are you close to becoming a full-time cartoonist? I love Grapes and Gourmet. But cartooning is my passion and I'm finally creating enough cartooning income to begin stepping away. I always said that Grapes was my mistress while cartooning was my true love. My wife hates that line. gocomics.com/wallace-the-brave