How to Style a Pretty Tabletop for the Holidays
Learn seasonal tips and tricks to take your coffee table and dining room table from drab to fab.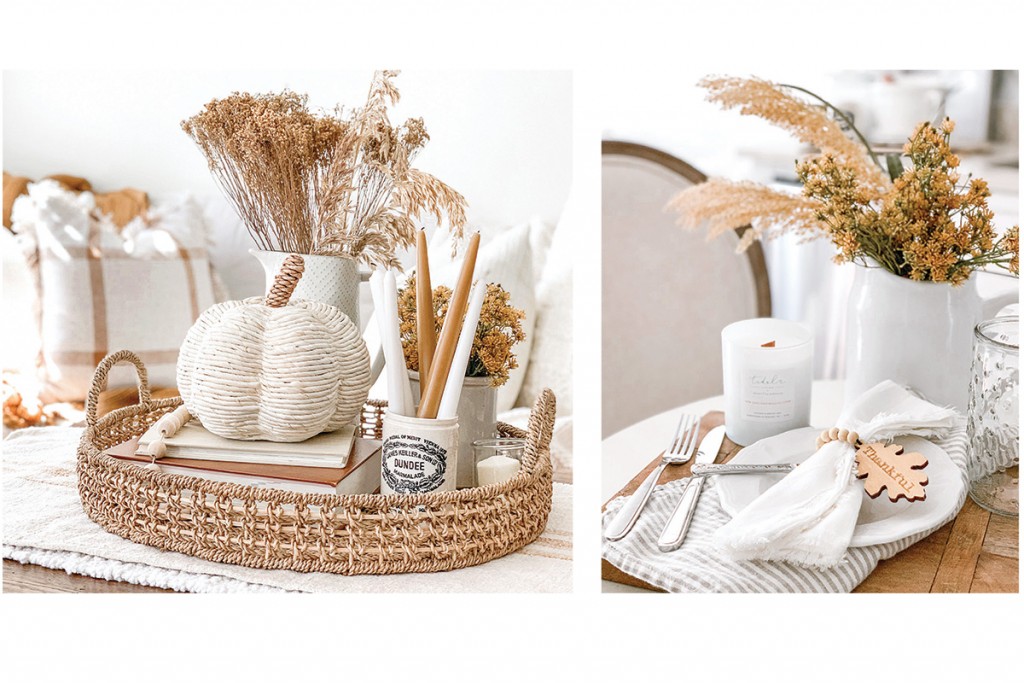 Coffee Table
• Your coffee table is the centerpiece of your main living space, so make it both beautiful and functional.
• Maintain balance. Grouping several large items together can make the tabletop feel heavy, while all small items can feel cluttered. Mix it up!
• Use greenery. Fresh or faux, it doesn't matter what you use. Florals add a pop of color to the space.
• Add height. Items of different heights carry your eye toward the display.
• Include a tray, whether it's wood, glass, metal or marble. The tray serves as the anchor piece on your coffee table and prevents items from feeling as if they are floating.
• Mix elements and use objects made from glass, wood and linens for both color and texture variation.
How to: If you have a wooden table, soften the top with a linen table runner. Then, find a tray that fits your style. Use a book or two to incorporate both color and texture. Next, add greenery for color and height and place the vase on top of the books. Lastly, add a candle (see our Style spread on page 20) to the vignette, which adds warmth especially when lit.
Dining Table Setting
• Keep your setting simple so it can be left out for both everyday use and decor. You don't have to wait for the next dinner party to make this surface shine.
• Use neutral-colored dishware that can be displayed all year long but change the linens with colors that match the seasons (warm hues like yellow and amber in the fall). This offers variety and a pop of color.
• Find napkin rings that match the season, too — leaves, pumpkins or fall flowers, etc.
• Clear glassware can be used any time of the year, but if it is colored, coordi- nate with the seasonal colors of leaves.
• Add height to the center of the table with a floral display.
How to: Start with the plates as the base pieces. Then, place napkin rings around the napkins and put one in the center of each plate. Place the silverware on the side of the plate and the drinkware at the top right corner. Repeat this for each table setting. For a final touch, place florals for both height and a soft texture in the middle of the table.
Find more styling tips and tricks at instagram.com/the617farmhouse.