Hit Up the Burgundian for International Street Food, Liege Waffles and Sweets
The new Burgundian shop in Attleboro, Massachusetts, serves street food dishes and sweet and savory waffles for takeout on Thursdays through Saturdays.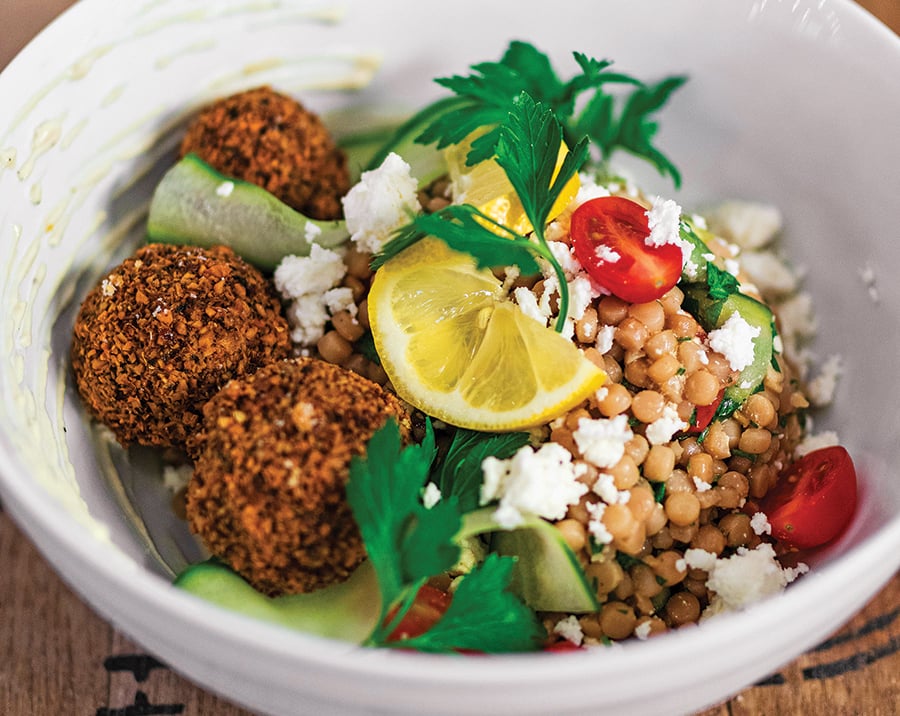 Strike while the waffle iron is hot. The new bricks and mortar Burgundian shop in Attleboro, Massachusetts, is serving all kinds of street-food-style dishes, and sweet and savory Liege waffles for in-person dining as well as takeout on Thursdays through Saturdays from 4 to 8 p.m. The Burgundian menu is focused on street food, transforming international dishes into sandwiches with the goal of allowing locals to travel the world through unique food and drink experiences.
"We put our own spin on items that many of our staff have already experienced. My time working as a product manager at Collette Tours, traveling around Latin America, France and Belgium, inspired this concept greatly," says Burgundian owner Shane Matlock. "We've done a Lebanese-style chicken shawarma, a Filipino street noodle bowl, German schnitzel mac 'n' cheese and so much more. We have a standard menu, and then we rotate a featured menu every month."
For instance, May was May-diterranean Month, a.k.a. street food from around the Mediterranean, while the June menu was dubbed Summer of Sammies and highlighted different sandwiches from around the world, including the Pretzel-Schnitzel Sando from Germany and a prawn roll from Australia. If you're planning to stop by soon, the 'Murica Menu for July debuts specialties from around the states, while the Dog Days of Summer menu in August will feature sausages and hot dogs from around the world.
Past favorites have included the Peruvian Pork Sandwich, which is a sammy stuffed with crispy pork belly, pickled red onions, Creole sauce, sweet potato mousse and pickled chiles; a Korean Jackfruit Sando with Korean barbecue jackfruit, spicy slaw and pineapple salsa; and the Katsu Fried Chicken Sando with panko-breaded fried chicken, pickled cucumbers, Tonkatsu sauce and shredded lettuce. Of course, you can also always get the ever-popular favorites, fried chicken and waffles and In Bacon We Must, a Liege waffle topped with bacon and whipped ricotta. There's also the option to build your own waffle, or opt for a sweet version topped with cinnamon and sugar, strawberries and bananas, Chocolate Obsession or Lemony Poppyseed and so many more options. If ramen, burgers or mac and cheese are more your style, the cafe has elevated versions of those, too.
Matlock also plans to up the shop's coffee game by bringing on an experienced barista who will make specialty coffee drinks based on international favorites. The Burgundian will have a liquor license to serve craft beers, wine and cocktails that will pair well with the waffles once it opens for dining in. Matlock says he is excited to help contribute to the revitalization of downtown Attleboro.
"I live in Attleboro and I have seen the potential of the downtown. I have always dreamed about being an anchor or key to a revitalization, and Attleboro seems like a place that always has a lot going on," Matlock says, adding that he sold his first waffle at the Attleboro Farmers Market and he sees lots of excitement around the farmers markets and the Food Truck Festival at Capron Park. The city is a great base for his kitchen because of the convenient location between Boston and Providence. "Our food truck goes up to Boston, we're all over the South Shore and all over Rhode Island, and Attleboro is right in the middle of it," he says.
The neighborhood near the Burgundian shop includes the commuter rail station to Boston and Providence, and there are factory buildings being converted into apartments behind the shop. Matlock views his cafe as a place where the community can come together. "A brick and mortar like a cafe has the ability to be the intersection of a city or region's livelihood," he says. "You have commuters in the morning, you have the parents with kids, you have people coming in after the gym, there are people on dates and it's a place for team meetings. I have always wanted to have a place like that."
While the food truck and popup waffle business will continue to run catering events, the Burgundian cafe is a place where the "Burgundian" lifestyle can live out its mission. He's recently rebranded Burgundian to be more of a concept rather than just waffles. "I never set out to be 'Burgundian equals waffles' as much as I wanted to promote 'Burgundian' as a lifestyle of eating, drinking and sharing life with people around you," Matlock says. "Having been so well traveled and loving so many different foods from around the world, I said let's take the idea of what we've done and expand on it. We perfected a popular street food from Belgium, and now we're pulling in other types of street foods from around the world and bringing it all together on our menu."
Matlock says the street food offerings, coupled with the monthly menu themes, keep their creative juices flowing. "Creating that foundation for a concept allows us to do whatever we want and get excited about it without being beholden to one style of food," he says.
The Burgundian food truck also has non-waffle selections available like fried mozzarella-stuffed arancini balls with Bomba sauce and Belgian fries. They've been marketing build-your-own waffle kits and selling pre-cooked frozen waffles. Soon they'll start shipping those frozen waffles around the area and offer them for sale at local retail shops. "We hope to see them in stores here in the next year, which I never thought was something I would do. COVID really forced us to adapt," Matlock says. "You've gotta be in survival mode." weareburgundians.com