Giddy Up: Newport Polo Offers Lessons for Kids
The program teaches children sportsmanship and responsibility.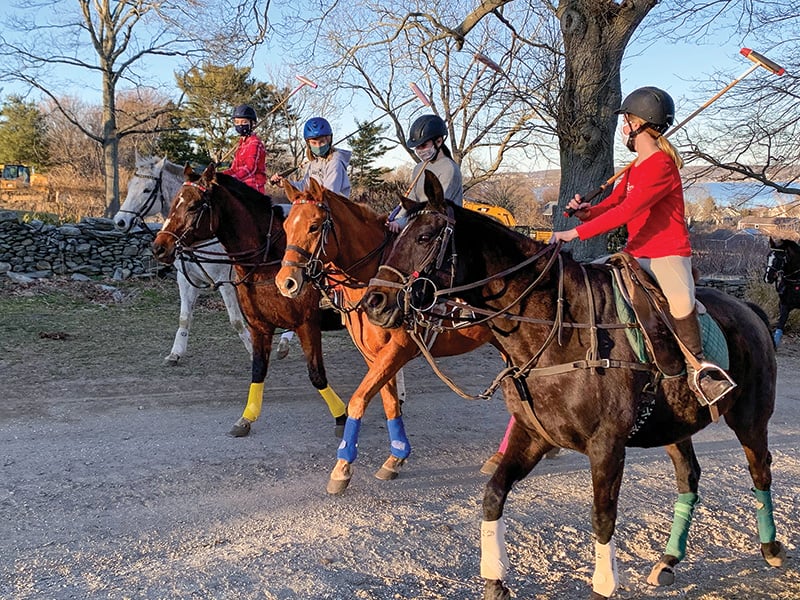 Riding around the outdoor arena in Portsmouth, Hanalei Streuli deftly maneuvers her horse, Ella, around the five other polo players during her latest group lesson. She rotates in and out of the play, lines up a shot and listens to her coach's feedback.
This lesson isn't like other sports practices, however, because learning how to play polo is about so much more than the match itself. Caring for the horse, grooming and preparing it for play, and cleaning up after it are part of the tutorial. The students at Newport Polo become immersed in this the moment they arrive at the arena, and they carry that experience with them throughout their lives.
"Our program teaches these young kids everything about horses. We cover anatomy, health and wellness, and how to prepare the horse to protect it from injury," says coach and long-time player Minnie Keating, adding that they also work in time for extra practice. "That helps build a great work ethic and sense of responsibility."
These junior high and high school students participate on junior varsity and varsity teams in interscholastic arena polo team practices, scrimmages and games. Played in a smaller area, arena polo has three to a team, versus Newport Polo's popular summertime exhibition matches with four players a side on grass fields at Glen Farm. JV and varsity teams play two to three times weekly for an hour. The co-ed teams, which happen to be all girls this season, foster mentorships between the more experienced and the younger players, offering advice on proper horse grooming techniques and riding skills. Working with the horses becomes an incidental team-building exercise that complements synchronicity and technique.
"It is a highly collaborative process," general manager Agnes Keating says. "They have to have a level of maturity and ability to work with others. They gain confidence and a sense of achievement to perform on par with adults."
With this approach, even those with no prior riding experience become skilled equestrians. Streuli, an athletic twelve-year-old from Newport, had never shown an interest in horses, let alone ridden one, when she started group lessons last year. Now she is excelling, and helps the professional grooms prepare horses during international competitions for additional practice and exposure.
"I like polo because it has taught me responsibility and independence," Streuli says. "It means a lot to me, because it is one of my favorite hobbies and I have had an amazing time getting to ride." nptpolo.com