Garden to Table Living Spaces
Down-to-earth homeowners get a new route, from the garden to their table.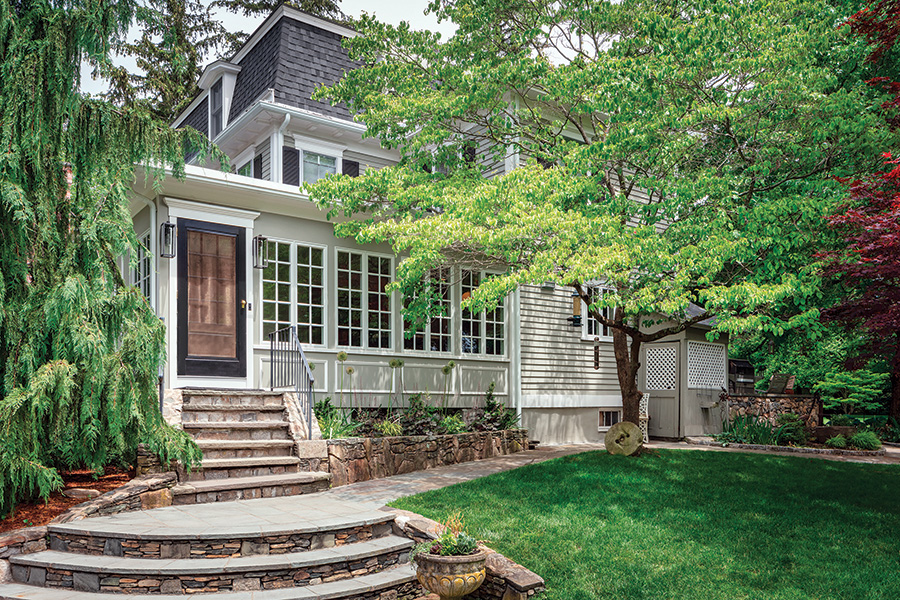 Alex Millard jokes that he and his wife are the only people who grow legitimate plants in their basement. The pair start their heirloom seeds inside and, when the weather turns warm, they transfer the seedlings to their 600-square-foot garden out back.
"We have a real love of gardening," Millard says.
Their bounty feeds the family much of the year but, for more than a decade, their route from the garden to the kitchen was made complicated by a series of rooms and ill-placed, back-to-back hallways. So the Millards tapped Brewster Thornton Group Architects to turn their maze into a direct pipeline to produce.
"It was really a collaborative effort," says principal architect Mary Brewster. "We wanted to make sure we were on the same page and it was looking the way that they wanted it to; it was not me working in my ivory tower."
The historic house, with owners that included Civil War heroes, manufacturing barons and former Governor Don Carcieri, had undergone a series of awkward additions over the years. But little had been done, in recent times, to undo that work.
"We just lovingly changed it," Brewster says, by adding windows overlooking the backyard and a door connecting the terrace to the kitchen, with cabinets by Rome Point Woodworking selected by Millard's wife, who handled the interior design. A pinched-off family room was opened up with a new entry point and fireplace, and a phantom hallway became a pantry space. They even added a cute mudroom.
"All these spaces that didn't work well all of a sudden fell into place with this reorganization," says Brewster. "Lots of times, we want to take a bad area of the house and add onto it. This way, it's greener and less expensive to re-work what was there to make it work better."
The project wasn't without surprises; things were a little out of square and a little out of plumb. But the end goal — for the homeowners to pick produce outside, bring it in to prepare, then serve it under their big terrace tree — was wholly accomplished, says Millard.
"Who knew there was a global pandemic right around the corner when we finished this thing," he says. "We had a space that was really comfortable to be in to sit and watch the world go by for a while." brewsterthornton.com
Onside the Reno
Year built: 1894
Project timeline: Nine months, completed in the summer of 2019
Team: Brewster Thornton Group Architects; MRD Woodworking; Rome Point Woodworking; Cornerstone Masonry
Biggest supprise: "How long do you have? The biggest surprise was all the structural work needed to be re-done," including flooring systems and framing, says Millard.