Friday Food Truck Feature: Gnarly Vines
Local farm makes the most of their products with delicious, Brazilian-inspired food truck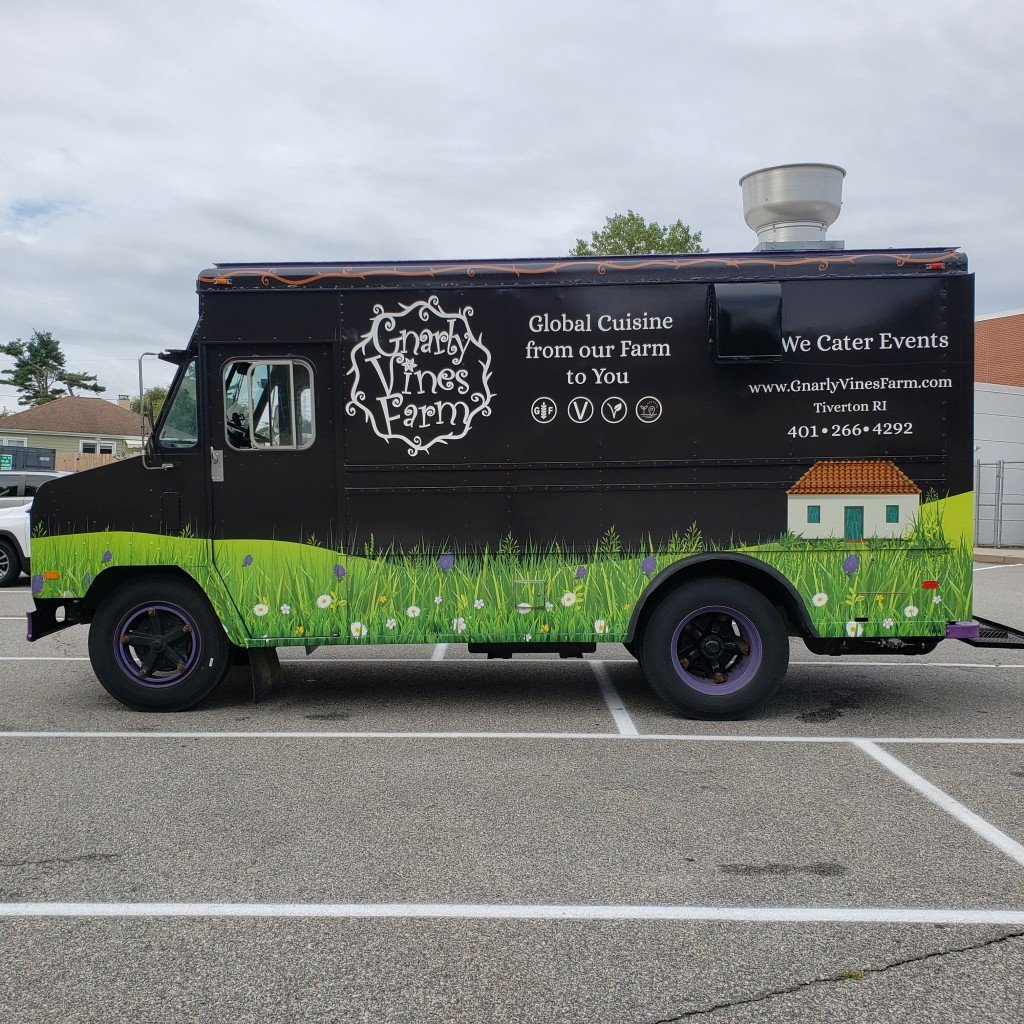 Food is the perfect vehicle for sharing and exploring vibrant cultures. Ester Bishop, a Brazilian-American, lives by this mantra every day as the owner and operator of Gnarly Vines Farm and the food truck. Not only are traditional Brazilian dishes served, almost all ingredients are locally sourced from the Gnarly Vines Farm. If you want to try delicious, traditional Brazilian dishes and feel good about eating healthy, local food, Gnarly Vines is worth a try.
Q: Gnarly Vines is the name of your farm in Tiverton, what is the inspiration behind the name and what led you to run a food truck in addition to your farm?
A: When we moved here, the property was completely covered by gnarly vines and thorny plants and that's where the inspiration for the name came from. We couldn't really explore our property because it was so densely covered. We employed the help of some pigs and goats and very quickly they cleaned up the areas which now are turning into pasture.
We try very hard to not waste food, our animals bring us joy and they live a great life at the farm, and we want to make sure we honor that by using every piece possible. With that said, we still have a lot of less desired cuts that we end up eating, but as we couldn't keep up with leftovers and we needed to find a good use for them. That's when we decided to start making food, and it so happened that there was a half-built food truck for sale up the street from us. We bought it, finished building it and put it on the road in 2021. We produce all the chicken, pork and goat served on the truck and we source beef from two local farms in Tiverton and Westport.
Q: Where does the Brazilian influence of the Food Truck come from?
A: I am originally from Brazil; I came to the U.S. when I was 20 and quickly fell in love with this land and decided to stay. I learned a lot of English by watching the Food Network Channel and as a bonus, I fell in love with cooking. At home, most of my cooking is influenced by my heritage: there is always rice, beans, meat and veggies. I want to make sure to pass that down to my kids.
Q: What is the most popular dish and why do you think it's a best seller?
A: Our most popular dish is Feijoada (fay-jwah-dah). Feijoada is Brazil's national dish. Originally it is something you cook for a crowd, and it is made with pigs' feet, ears, tail and smoked sausages. It is not about the meat, but the flavor the meat gives to the beans. On ours, we use smoked hocks, bacon, shoulder, ham, chops and sausage. Feijoada is our best seller because it has the incredible flavor of our pasture raised heritage pork and freshly made sides (jasmine rice, farofa, vinaigrette and collard greens). One of our regular customers said she has been going around trying other feijoadas but hasn't found one as good as ours, and I told her she never will, unless they are using pasture raised pork!
Q: What makes Brazilian food unique and why should people try it?
A: Brazil is a huge country with lots of history and culinary influences from all over the world. Although most people know Brazilian food as meat on a skewer, there is so much more to explore. We have influences from African descendants up north, to European, Asian, and Middle Eastern down south and Native Brazilians all over, especially in the Amazon. Every state has its own special and native ingredients that can easily transform a simple dish into something incredible. I am blessed to be able to find some of those special ingredients right here in specialty stores to bring a little bit of our flavors and traditions to our community. Our chicken Muqueca is a great example; we use dendê oil, which comes from the fruit of a palm tree brought to Brazil from Africa, a long time ago. It is sort of a small red/orange coconut, it is a staple of Bahia's dishes, and it gives a special flavor and color to our dishes.
Q: Where does the truck frequent the most? Where can people find you?
A: The Food Truck goes all over RI and some of MA. We do several private events such as rehearsal dinners, weddings and corporate events. We also work with PVD Food Truck Events, and you can find us most Fridays at the Roger Williams Carousel Village and many other events they organize. The best way to find us is to follow us on Instagram @gnarlyvinesfarm.
Q: What is your favorite part about serving the community through the farm and the food truck?
A: I believe in resilience and sustainability of our local food system. Becoming a farmer has opened my eyes to so many problems and opportunities when it comes to access to nutrient dense foods. Our goal as a farm has always been to bring healthy offerings to our community and now with the truck, we can show people how simple local ingredients and a little bit of meat can nurture your tummy and soul! The Food Truck has been so successful, we are now working on bringing our best-selling dishes as frozen and prepared foods to local farmers markets, supermarkets and stores.
Make sure to check out Gnarly Vines online to learn more about their farm, food truck and upcoming initiatives to make it into local stores. 241 Cornell Rd., Tiverton, 816-502, gnarlyvinesfarm.com