Plan to Get Away with These 6 Picturesque Fall Weekend Escapes Around the Northeast
Driving distance weekend getaways (and one longer respite) that include where to eat, play and stay in Boston, the Cape, the White Mountains, Maine, New York City and the Adirondacks.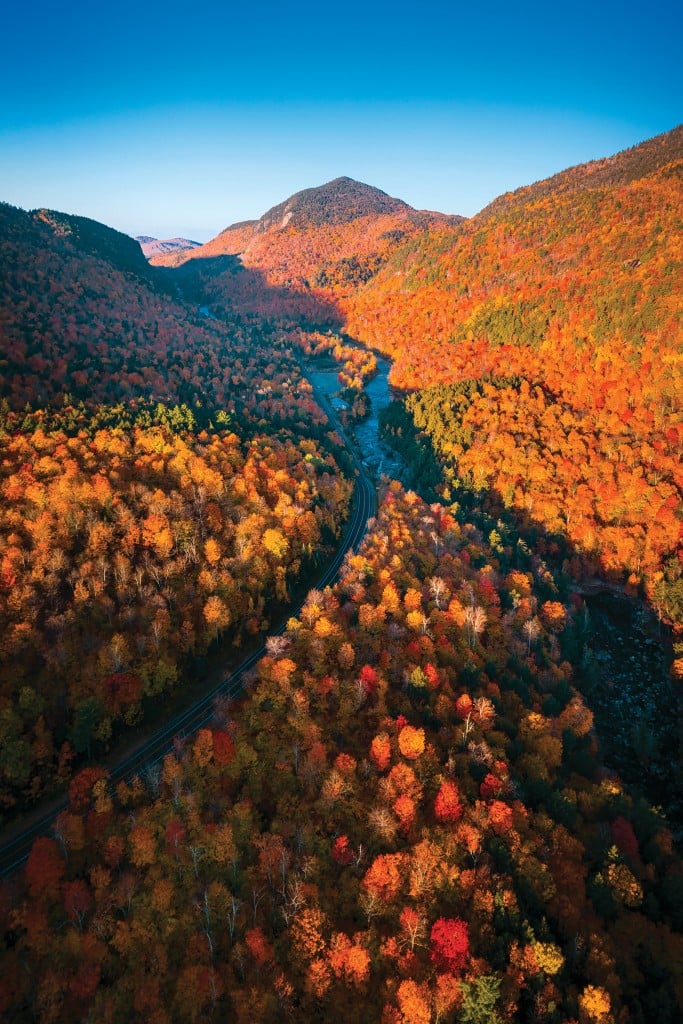 The Adirondacks, New York
Once the playground of Gilded Age families, Hamilton County offers a quiet retreat where modern-day travelers can unwind and reset. By Lauren Clem
Vanderbilt. Rockefeller. Morgan. When these wealthy industrialists weren't frequenting the mansions of Newport, they tucked themselves into the woods of the Adirondacks, where elaborate, camp-style complexes offered all the comforts of a luxurious home. Today, the region's lakes remain a draw for travelers seeking the rustic charm of a slower time.
Thursday evening: We head north to the Hamilton County region of the Adirondacks — a quieter outpost than the busy Lake Placid region further north — and arrive just as the sun is setting over Blue Mountain Lake. A cozy cabin awaits us at Potters Resort (pottersresort.com), where owners Pete and Connie Sahler continue the tradition of Adirondacks hospitality with four lakefront cabins offering beach access, fire pits, kayaks and a private dock. We check in with our hosts and settle in over some local craft beer, allowing the soothing sound of waves lapping in front of our cabin to lull us to sleep.
Friday morning: We head across the street to Chef Darrell's Mountain Diner (bluemtdiner.com) and fuel up with a hearty breakfast. Chef Darrell, a trained chef whose career has spanned resort communities from Puerto Rico to the Catskills, is happy to swap stories over a sausage-and-Monterey-jack skillet and omelet with crispy breakfast potatoes. Afterward, we check out the Adirondack Experience (theadkx.org), a museum dedicated to the life and history of the Adirondack Mountains, whose varied exhibits include outdoor lawn games and activities for kids.
Friday afternoon: We grab lunch at the museum's Lake View Café — the patio seating area boasts an impressive view of Blue Mountain Lake — and continue on to Great Camp Sagamore (sagamore.org). Built in 1897 and purchased four years later by the Vanderbilt family, the sprawling complex was once a coveted getaway for society elite who wanted to rough it in the woods without sacrificing the luxuries of their Park Avenue mansions. Today, visitors can tour the property's many outbuildings and marvel at the outdoor bowling alley, where generations of Vanderbilts entertained their guests.
Friday evening: We grab a few cans from Strong Rope Taproom (strongropebrewery.com) — the Brooklyn-based brewery hosts a seasonal location at Potters Resort — and enjoy a BYOB dinner of baked ham, tilapia and strawberry shortcake at Hemlock Hall (hemlockhall.com), one of several area resorts that opens its dining room to visitors as well as overnight guests.
Saturday morning: An early start leaves little time for breakfast as we hit the road toward Camp Pine Knot, the first of the historic Great Camps built by local entrepreneur William West Durant. Now owned by the State University of New York at Cortland, the peninsula-bound camp — accessible only by boat or ice road — was once Durant's personal retreat. After our tour, we cruise Raquette Lake with Donna and Dean Pohl of Raquette Lake Navigation Co.(raquettelakenavigation.com). The aptly named W.W. Durant, a diesel-powered steamboat replica, offers dining and sightseeing cruises as well as tours of Camp Pine Knot at select times during the season.
Saturday afternoon: Famished after our morning tours, we stop into Raquette Lake Hotel and Tap Room to people watch over a basket of fries and a Saranac Legacy IPA. We take our time getting back to the cabin, stopping to browse an antiques fair outside the Adirondack Lakes Center for the Arts (adirondackarts.org) and stock up on maple syrup from local vendors. Feeling the effects of the early morning start, I grab coffee from the Corner Store at Blue Mountain Lake, where an "Adirondack Coffee" — two pumps each of maple and vanilla syrups — perks me right up.
Saturday evening: Intrigued by the nondescript sign, we backtrack to the town of Indian Lake to check out Willie's BBQ. It's everything we'd hoped a backcountry barbecue joint would be — heaping portions of sweet, succulent pulled pork and fall-off-the-bone chicken served Carolina-style with vinegar sauce — and we take our haul back to the lake and dig in by the shining blue water. It's tempting to lounge away the rest of the evening, but we make the short drive back to the Adirondack Lakes Center for the Arts and catch a show by local folk duo Blessid Dirt.
Sunday morning: We explore Long Lake, yet another one of the region's lakeside hamlets. A cinnamon scone and croissant from the waterfront Paradise Cafe are followed by a visit to Hoss's Country Corner (hccll.com), a fifty-year-old general store stocked with gifts and treats for visitors of all ages.
Sunday afternoon: We grab a sandwich from the Corner Store — we're quickly becoming regulars — and take advantage of our first good-weather day to hit the trails. After our barbecue feast the night before, the four-mile-round-trip hike to Blue Mountain Fire Tower seems like the right choice, and we sweat our way up the trail before enjoying the 360-degree view of the lakes and distant Adirondack High Peaks at the top. For a shorter adventure, the 2.8-mile-round-trip Castle Rock Trail on the other side of the lake offers similar views for less effort.
Sunday evening: After a brief refresh at the cabin, we head back to Long Lake for dinner at the Adirondack Hotel (adirondackhotel.com). My boyfriend (a predictable Johnstonite) orders the chicken parm, and I enjoy a tap room salad with steak, tomatoes, onions, bacon and crumbled blue cheese. The sunset over Long Lake provides a stunning backdrop to our dinner, and we gladly linger over a chocolate Kahlúa Bundt cake with vanilla ice cream that seems to come straight out of the Gilded Age. Back at the cabin, I stretch out in an Adirondack chair under the stars, listening to the loons and realizing why generations of visitors have made their way back to these remote shores.
Monday morning: Determined to make it onto the lake before our departure, we borrow a pair of kayaks from our hosts and set out for Rock Island. A quick dip in the lake later and we're on the road back to Rhode Island, refreshed and already planning our return trip.
NUTS & BOLTS
Travel Time: Four hours and forty minutes from Providence
Miles: 273 miles.
How to Get There: I-90 West to I-87 North, then follow NY-28 into the Adirondacks.
Best Season to Go: Memorial Day to Columbus Day (Some attractions in this region don't open until mid-June, so be sure to check travel schedules ahead of time.)
Bucket List for Next Time: The Adirondack Fire Tower Challenge rewards visitors for exploring the region's twenty-five historic fire towers, including several in Hamilton County.
Worth a Detour: The drive up from Rhode Island will take you through Lake George, where kids can indulge in old-fashioned attractions like an arcade and wax museum while the adults enjoy drinks overlooking the lake.