Everything's Hunky Dory at This New Warren Eatery
The delightful restaurant exudes Southern charm by way of drop biscuits, fried green tomatoes and smoked meat.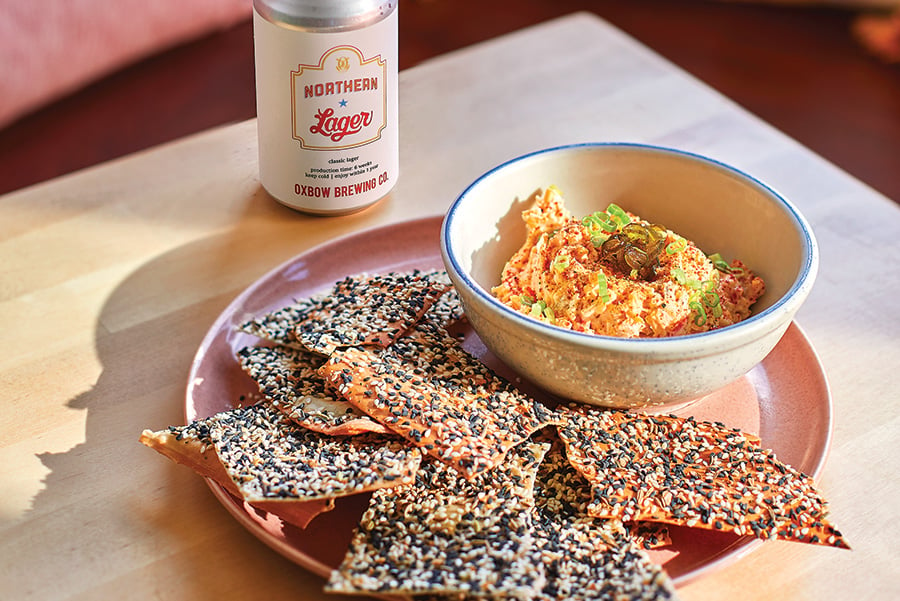 ne response to regaining normalcy: Create a large enough distraction — big space, loud music, dramatic visuals — to drown out any memory of deprivation. Sam Duling and Joanna Ray's approach? Conjure tiny, intimate pockets in which food might lull us all back into meditative delight. Their restaurant, on Market Street in Warren, once housed Eli's Kitchen (at which they both worked) and recently became their own small repository of Southern charm.
By any standard, it's a diminutive space: seating for ten on the patio when the weather allows and twenty-four indoors. Primary colors punctuate the space in vibrant bursts but it's Duling and Ray's good will that permeates the air. Hunky Dory is more than a name, it's a directive. This is a restaurant in which every gesture is public and kindness is the only viable option. Servers refer to diners as if they're old friends — "How's it going, Bud?" — and respond to requests with limitless grace. "You don't like vodka? Let me see what other elixirs we've got."
It's no wonder Southern food has gained new ground in 2021. An amalgam of comfort and community, it's a quick trip to a better place, an immediate gift of the proverbial warm and fuzzies. And that's exactly what Hunky Dory achieves. Guests run the gamut from a green-haired teenager FaceTiming with a friend to a toddler in a puka necklace, holding tight to a Tootsie Pop, to an older couple reliving the week over drop biscuits.
The food's not fancy but it hits the heart in a way that feels both familiar and elating. Pimento cheese ($9) is served with dramatic triangular everything crisps, and smoked wings come doused in Alabama white sauce ($13). Corn on the cob is sheared into curled ribs and served spicy, a fitting seasonal manifestation of the homegrown hoedown. Entrees also gravitate toward the tried and true: a snappy smoked bauernwurst ($16) with green tomato chowchow and a mustard-rich barbecue sauce and fried chicken ($16) that will stand up to any national rollout. It's these dishes that arrive at the table with virile machismo — a dare on every plate, both in portion size and reckless disregard for ramifications.
Duling, who oversees the kitchen, knows how to invoke intimacy in poetic form, as well. Grilled shrimp and fried green tomatoes, another seasonal dish, look as if they came out of a fairy's garden dotted with hand-picked herbs, flowers and peanut-sized tomatoes straight from the yard. It's a form of delicacy that embodies Ray's front-of-the-house gentility. Each customer is thanked for their presence and, at a time when much of the country is hotly embroiled in dissent, this is a space that reminds us that the building blocks of American commerce are molded out of small and sincere businesses. In fact, the restaurant's indoor dining room took flight with loans from locals and each table commits to the feats of this shop with raucous laughter and genuine enthusiasm for the neighborhood success.
Evenings end with small scoops of housemade ice cream ($8), an offering that appeals as much to the children as it does to the groups heading out for more drinks. Flavors offer retro appeal — chocolate cherry, root beer float, vanilla with rivers of caramel — and a reminder that simplicity often speaks loudest of all.
40 Market St., Warren, 245-1809, hunkydoryri.com.
Open Thurs.–Mon. for dinner, Sun. brunch.
Lot parking across the street.
Must get: Pimento cheese, smoked wings and anything they're serving on a bun.