Drink and Gift Local Whiskey This Holiday Season
Give the gift of spirits: flavored local spirits from Sons of Liberty.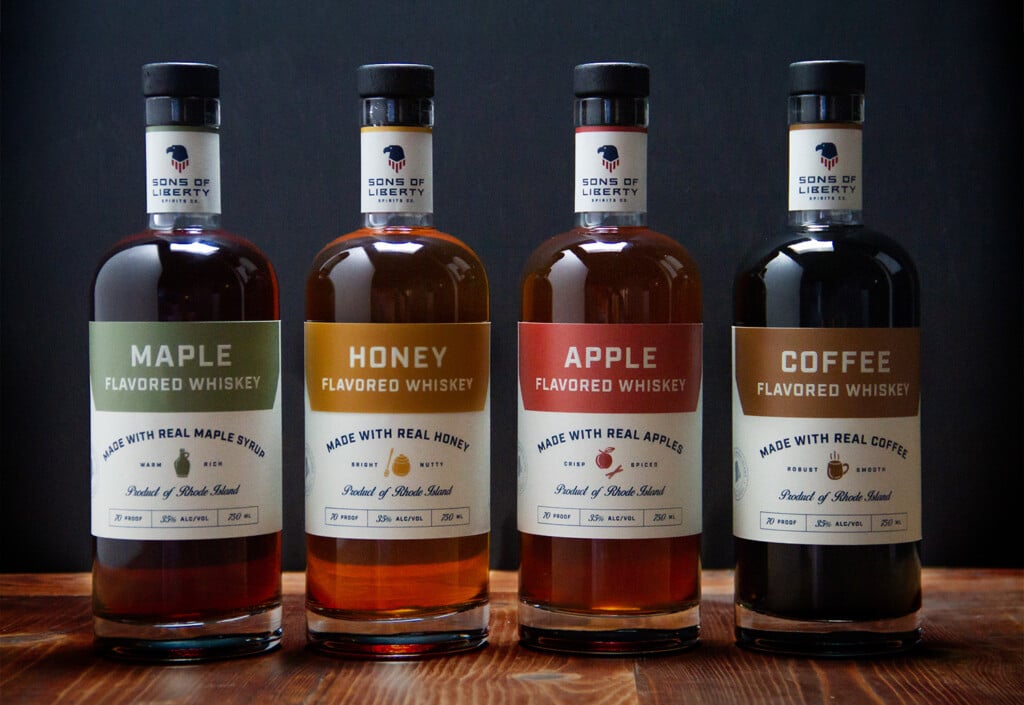 Looking for a last-minute gift to bring to dinner or a gift swap? Or maybe wanting to bring that extra special something to the bar cart? Try bringing a flavored whiskey and shake things up a bit (but not literally, if you want an Old Fashioned).
Sons of Liberty, well known for its strong summer cocktail of Loyal 9 Lemonades (a hefty 9 percent ABV) and its Battle Cry Whiskey and True Born Gin, has dipped its toes into four new flavors of whiskey: maple, honey, coffee and apple. While these flavors aren't exactly uncommon, locally distilled liquor makes all the difference without any high fructose corn syrups or artificial flavorings. After sample tasting, maple and honey seemed to the be clean winners of the new releases due to its subtle natural sweetness without being too overpowering. The coffee flavored whiskey is incredibly smooth and would work best in an espresso martini. The apple would work well in an apple whiskey sour.
The best way to enjoy these are either neat or on the rocks, but if you so please, they make fantastic flavored Old Fashioneds.
While Sons of Liberty has a curated list of cocktail recipes on their website, we've decided to share our own, but check them out!
Maple Old Fashioned
2 oz maple flavored whiskey
¼ oz cinnamon simple syrup
Dash of bitters
Stir all ingredients and pour over a large ice cube, serve in a rocks glass. Garnish with an orange peel.
Whiskey White Russian
1 oz coffee flavored whiskey
1 oz coffee liqueur
4 oz milk
Stir and serve over a large ice cube in a rocks glass.
Apple Whiskey Sour
2 oz apple flavored whiskey
1 oz simple syrup
1 oz lemon juice
Shake all ingredients and serve over ice in a Collins glass. Garnish with a cherry.
Honey Whiskey Iced Tea
2 oz honey flavored whiskey
1 oz lemonade
1 oz unsweetened iced tea
Shake all ingredients and serve over ice in a Collins glass. Garnish with a lemon slice.
These flavored whiskeys are available in most Rhode Island liquor retailers (check the list here), but feel free to order and pickup directly from the distillery.