Dining Review: Lucky Enough
A retro-style bar on the West Side of Providence puts a creative spin on typical bar foods and drinks.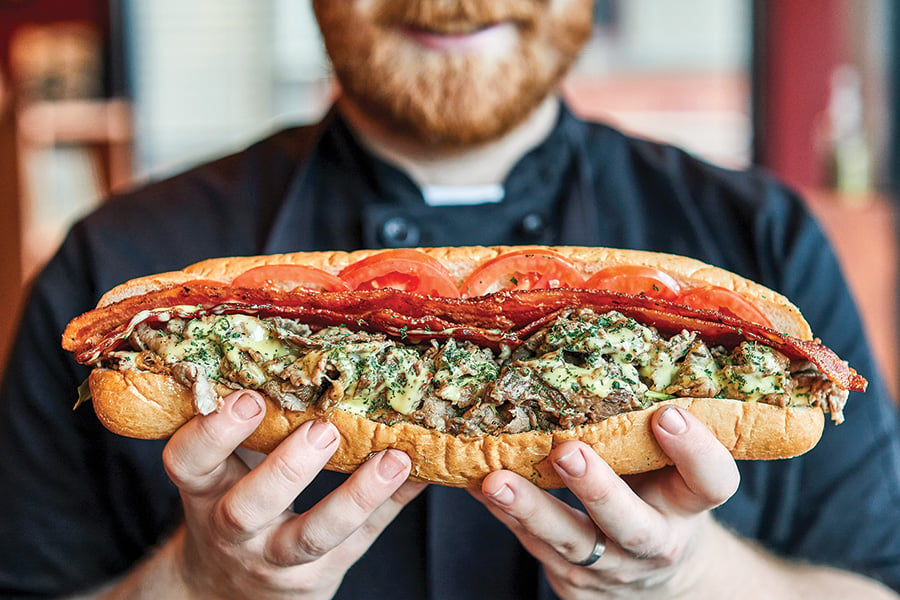 The West Side is an organic fit for Vito Lantz and Art Chamberland's Lucky Enough — a bar set in a brand new green-coded building that looks, from the interior, like it popped out of 1976. There's no flash here, no 21st century aesthetic, and no desire to rebrand the neighborhood hangout. Instead, the dialogue centers around a horseshoe-shaped bar with appropriately designed bar taps and the duo — Lantz and Chamberland — slinging drinks. Everything about the space celebrates the rock era, from the photos of pre-Peter Cetera Chicago and a playlist that celebrates vinyl cover art as much as the music. ZZ Top, The Rolling Stones and Tom Jones are all headliners — though there's a discreet screen that descends from the ceiling when the Patriots or other sports teams come to play.
To call Lucky Enough a sports bar, however, is to miss the point completely: nothing is as interesting to the staff as the people walking in the door. They'll take your order and quickly ask your name because this is the start of a long-term relationship, both with the bartenders and with the booze. There are multiple versions of a shot and beer, all titled with song lyrics. ("Going to Jackson, I'm Gonna Mess Around" will get you a Pabst draft and a Jack Daniel's while "Sleazy with a Special Kind of Sassy" mixes cider and Becherovka for a fruit-forward night of debauchery.) And though many regulars take what's on tap, the cocktails — tinged with Tang syrup and plenty of citrus — are determined to set the clock back to a time when no one was carrying, let alone checking a phone during dinner.
And dinner, in this case, leads us to casual bun-borne meals. Constructed, precious food has no place in this space. It's hoagies, grinders ($9-$18) and hot dogs ($7), most of them covered in cheese and everything ringing loudly with nostalgia. Your side dish is homemade chili, salad or a snack pack-sized bag of Ruffles, barbecue chips or Cool Ranch Doritos, possibly a compulsion you gave up in your youth or until you tried those baby chips with a Dos Equis and a shot of tequila. The goal here is the dream of every great bar: to mix all the disparate parts together into a superlative whole.
It's true for the drinks, the crowd — often seen throwing darts together — and the food. Messy cheesesteaks, heaping hot subs, roast beef sandwiches and Chicago dogs are piled high and meant to spill out in hedonistic glee. Time it right and you'll find that the kitchen is cooking up thick slabs of bacon with pickled jalapeños and hot sauce potatoes with ranch dip. Whatever you decide to pair with your drinks, it's fodder for everyone sitting in proximity to discuss. Live music, brunch or chatting about local news is a shared experience and if you leave with three more friends than you came in with, Lantz and Chamberland will consider their work done.
Lucky Enough
1492 Westminster St., Providence, 642-2749, luckyenoughpvd.com.
Must get Cheesesteaks, bacon, booze.