Dining Review: Cinder
A cozy neighborhood restaurant in Westerly dresses up your typical bar menu with a creative, vegetarian-friendly twist.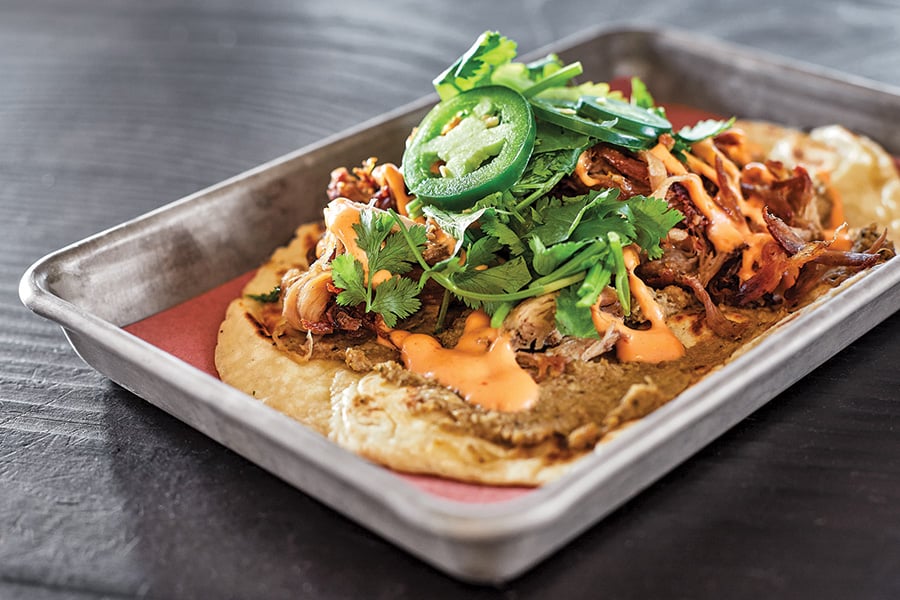 If Lucky Enough is myopically focused on building community by way of buns and booze, Cinder presents a prismatic dining experience. Tucked away in Westerly, the newly constructed barn with a minimalistic Scandinavian design and sliding garage doors opens up to the outdoors. With a smoker out back, it's hard to categorize though, not surprisingly, smoke is at the center of it all. You could call it a barbecue bar — a collection of slow-cooked and braised meat and equal vegetarian dishes complemented by beer — but the kitchen is determined to create a culinary commune in which pork cracklings are married off to vegan fare.
The restaurant holds about forty people who perch on low stools at the reclaimed wood counter and at slim industrial tables, though firepits keep a three-season patio populated. You might expect platters overflowing with chargrilled beef and pulled pork, but the stellar, seared meats serve only to ground the myriad herbs, spices, sauces and vegetables that Cinder thrives on. In fact, the backbone of the kitchen are small circles of naan that take over for tortillas in cradling a mélange of ingredients ($8-$9).
Most start with something barbecued: crispy pork, pulled chicken, sliced brisket, even smoked tofu. But the action belongs to everything that plays off of that deeply singed flavor — pineapple kimchee, candied jalapeños, lemongrass jus, piles of pea shoots and pickled everything. (The kitchen's pickled garlic is a game changer of epic proportion.) If the smoker screams America, the sides are decidedly international, pulling from Asia (togarashi and Korean barbecue) as readily as from Mexico (salsa verde and cilantro slaw).
If you're lulled into meat dreams, however, know that there are ardent, even obsessive, vegetarians on the line. Someone has clearly been reading food pyramids as the menu is anchored by produce and grains ($8) — a Masterclass in having your meat and eating it too. Root vegetables are roasted with miso maple butter, tabbouleh is dotted with festive pomegranate seeds and bok choy disguises itself convincingly as lettuce in a vegan Caesar with sunflower parmesan. It's hard to believe such disparate approaches can live harmoniously under one roof, but Cinder proves that fragrant hardwoods love all their children — farm produce and cattle — equally.
There's not a lot of chatting between staff and those being served — except when you're up at the register to plan your meal. Most of the line is busy breaking down bones, clearing out ash and dreaming up ways to make mushrooms act even more like meat. The menu hangs overhead on butcher paper and it's clear to everyone who walks into this minute mecca that barbecue isn't just for carnivores. Wrapping anything in bread is a mark of progress, not only because we're less likely to dump dinner on ourselves but because we're more likely to pass it around. If a bar stands for anything, it's this: every experience is better when it's collective.
169 Main St., Westerly, 229-3377, cinderrestaurant.com.
Must get Brisket, smoked chicken, banh mi, meatballs and everything green on the side.