That Derby Trophy is Made in Rhode Island
A fifth-generation silversmith crafts the award over a period of months.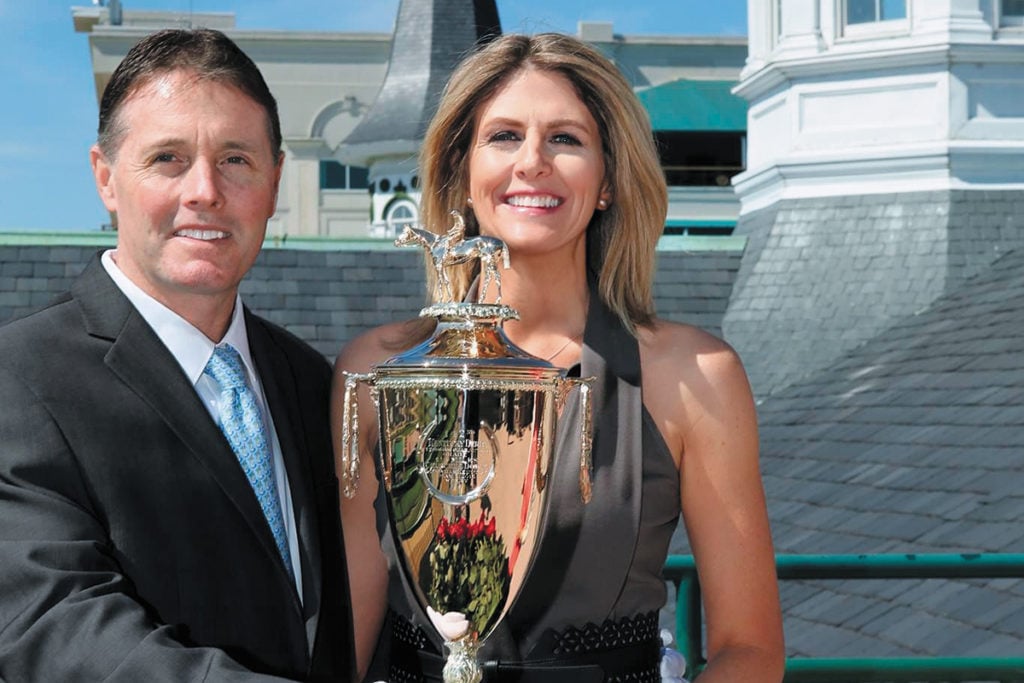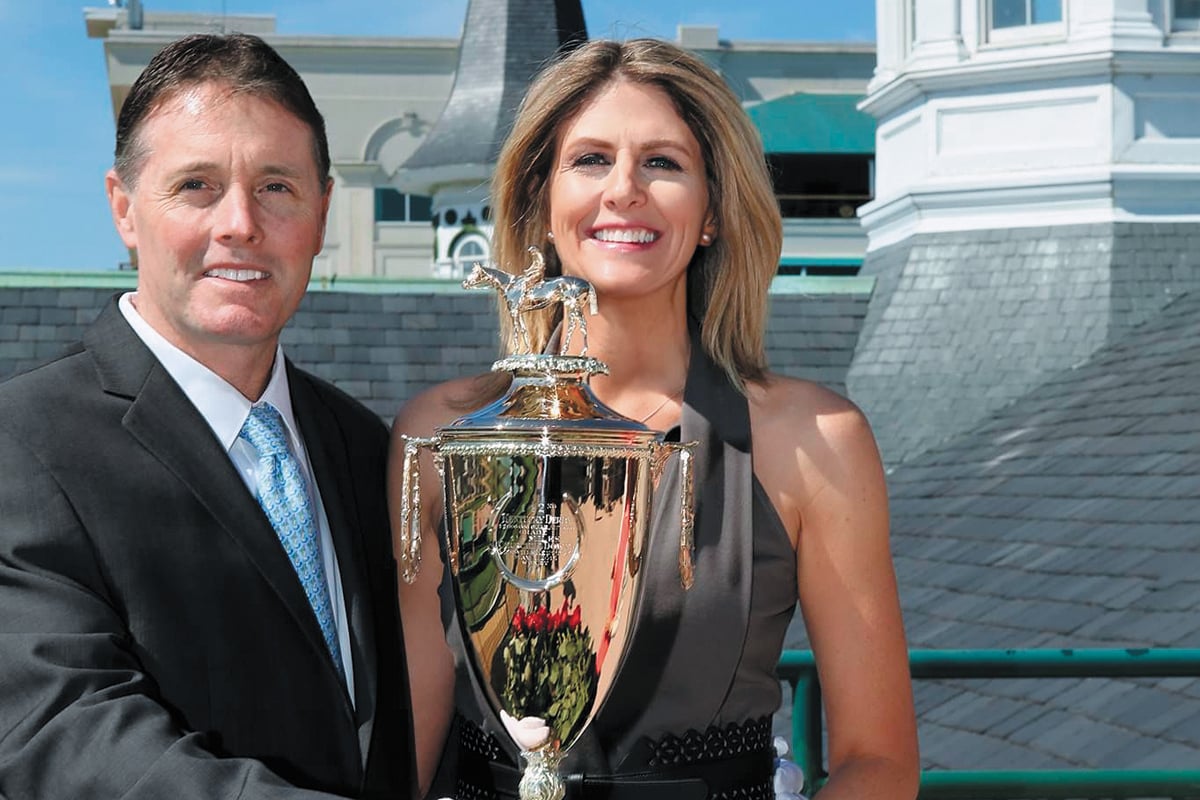 Susanne Blackinton-Juaire holds a fourteen-karat gold horse figurine and uses a tiny texturizing tool to refine the detail in its mane and tail. The figure will stand atop the Kentucky Derby trophy, which is made at her family business, S.R. Blackinton in Smithfield. The solid gold cup stands on a table with casted ornamental pieces, waiting be polished and soldered onto the trophy. It makes its debut at Churchill Downs a month before the 143rd Derby weekend on May 5 and 6.
Susanne, a fifth-generation silversmith, and her husband, Bill Juaire, are the primary artisans who create the trophy. They craft the award over four to five months; Bill spins the body, base and cover from solid gold circular flat disks produced by Leach Garner in Attleboro while Susanne performs silversmith work on the casted details provided by Racecar Jewelry in Pawtucket. The trophy is sent to a hand-engraver, and then gets its final polish back at S.R. Blackinton by Gil Rosa, the same polisher since 1979. At that point, it's specially packaged and handled only with white cotton gloves.
Silversmithing runs in the family. Susanne's great-great grandfather founded the R. Blackinton Company in 1862, and the tradition continued with her father under New England Sterling in North Attleboro. Her dad's company absorbed the job of creating the trophy in 1975, and although businesses have changed, the family has been responsible for it ever since.
Bill and Susanne met on the job and operate New England Copperworks — which creates copper finials, balusters and lanterns — and S.R. Blackinton, which produces sterling silver mint julep cups, custom trophies and awards, wedding and baby keepsakes and jewelry, as well as the Derby cup and three other sterling silver trophies presented in the Winner's Circle.
This year marks the first time the S.R. Blackinton name will be engraved onto the bottom of the Derby trophy. "It's a labor of love," says Susanne. "It's sentimental for me because it connects me to my heritage, and to be able to work with my husband and create it together is really awesome." srblackinton.com
Made in Rhode Island
Items of national importance that are crafted in the Ocean State.
Item: Kentucky Derby Trophy
Where it's Made: S.R. Blackinton, Smithfield
How Long it's Been Made There: Made by the same family since 1975.
Materials Used: The eighteen-inch, sixty-three-ounce trophy is made of fourteen-karat gold.
Value: Priceless. It's the only solid gold trophy of its kind.
Item: Vince Lombardi (Super Bowl) Trophy
Where it's Made: Tiffany and Co. Forest Hill manufacturing facility, Cumberland
How Long it's Been Made There: Forty years by Tiffany and Co.; Since 2014 in Cumberland.
Materials Used: The twenty-two-inch, seven-pound trophy with a regulation-size football is made entirely of sterling silver.
Value: The spot price of the silver is $1,631, but the trophy itself is priceless.
Item: Official White House Christmas Ornament
Where it's Made: ChemArt manufacturing, Lincoln.
How Long it's Been Made There: Since 1981.
Materials Used: The ornaments are made with twenty-four-karat gold-plated brass.
Value: For sale by the White House Historical Association for $20.95.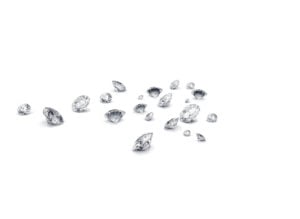 Item: The Academy Awards backdrop
Where it's Made: Orion RED, Smithfield
How Long it's Been Made There: Since 2007.
Materials Used: The arch backdrop is covered with 150,000 sparkling Swarovski crystals.
Value: $200,000.