Is Factionalism Tearing RI's Democratic Party Apart?
The Reformers are shaking up the old guard on Capitol Hill.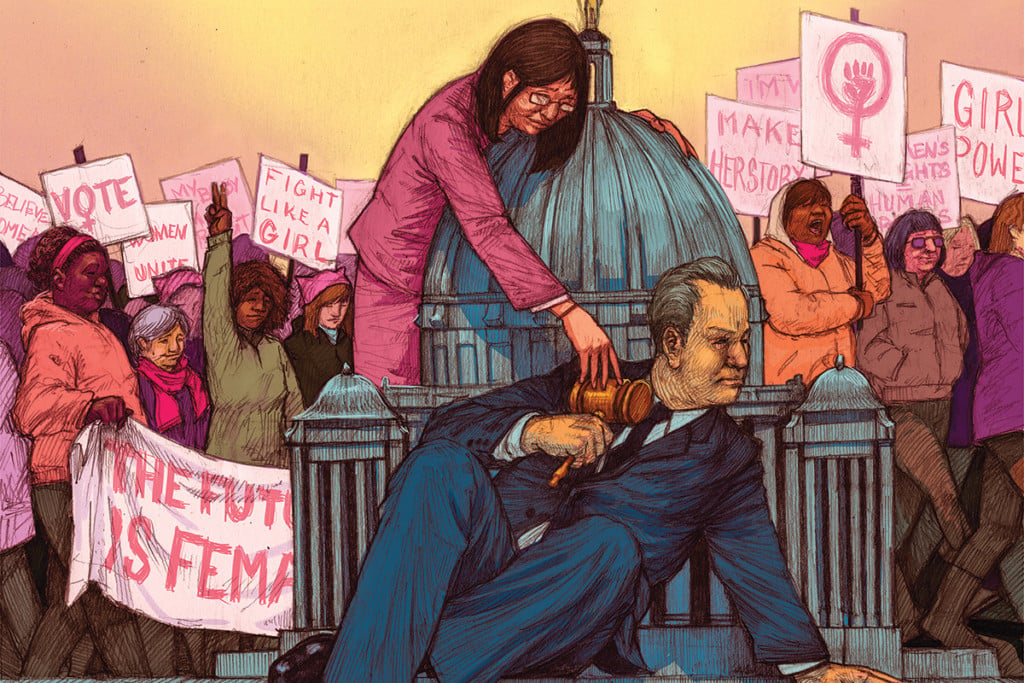 Two days after the mid-term elections, Emily Boucher bundled up against a brisk November evening and headed to Garden City. A knot of people had gathered outside the Chapel Grille, where House Democrats were holding their post-election organizational meeting. In the teeth of a biting breeze, the protestors chanted, "Hey, hey, ho, ho, Mattiello's got to go" while inside the restaurant, District 15 Representative Nicholas Mattiello was collecting enough chits from his fellow Democrats to stay as Speaker of the House.
"I'm pretty passionate about the Speaker not being appropriate for the job he has," says Boucher, a Narragansett resident who has been advocating for the Reproductive Health Care Act, which would codify women's privacy rights under the 1972 United States Supreme Court decision Roe v. Wade and strikes old state laws outlawing abortion. Bouchard was particularly angered over Mattiello's decision last May to devote the end of the session to crafting a deal to keep the Pawtucket Red Sox in-state. (The team blamed Mattiello's last-minute rewrite for their planned move to Worcester.)
"Why would anyone prioritize baseball over the health of women's lives?" she says.
Across-the-aisle endorsements, harsh words, direct challenges: The 2016 election was, in some intra-party contests, an ugly family feud that laid bare divisions in ideology and personalities. As the General Assembly opens for another six months of doing the people's business, Democrats and Republicans are hoping to coalesce around common legislative goals and party leaders.
Political scientists say that factionalism is the inevitable consequence of a two-party system in a nation as economically, racially and culturally diverse as the United States. Our 242-year-old history is littered with them: established opposition parties, such as the Whigs, and groups organized under flimsier banners within their party affiliation, such as the Freedom Caucus — and in Rhode Island, the new Reform Caucus.
"There is also ambition in politics," says David Hopkins, an associate professor of political science at Boston College who studies party factionalism. [Second,] the parties are, to a large extent, decentralized; no single authority can impose discipline over the entire party. The Speaker doesn't have control over the nomination process, you only have to appeal to the voters. Party factionalism has gone back and forth over the last twenty years. At the national level, it's gotten worse for Republicans but better for Democrats."
Rhode Island offers the opposite case.
The Republican gubernatorial race saw a clash of two incendiary personalities. While Cranston Mayor Allan Fung consolidated the rank and file behind his second challenge to Governor Gina Raimondo, House Minority Leader Patricia Morgan launched a primary bid. The two sparred over the debate schedule. Morgan, never one to hold back, called Fung "pathetic" and tweeted a photo of someone in a chicken suit bearing a sign that read: "I'm afraid to debate Patricia Morgan." She fell in the primary with 40 percent of the vote.
Former House Republican Joseph A. Trillo waded into the general election as an Independent. His campaign was distinguished by two incidents: running a boat festooned with a campaign sign aground off the Charlestown breachway, and a retelling of a run-in between Trillo, then thirty-two, and neighbor Nicholas Mattiello, then twelve, in which the older man was arrested for reportedly hitting the boy in the head with a caulking gun (a Rhode Island story if there was one). Morgan threw her support to Trillo, prompting Republicans to immediately remove her from leadership; state GOP Chair Brandon Bell accused the pair of acting out of "spite."
"We have a simple message: the economy and good governance," Bell says. "It's helpful that Trillo and Morgan are not in that caucus. Morgan had good ideas and she was a fighter, but not exactly a unifier."
The tensions among Democratic legislators preceded the elections. State representatives groused about Mattiello's lack of transparency, autocratic style, anarchy in June with little time to weigh or even read the onslaught of legislation and the death-by-committee of bills popular with the public. Pundits have characterized the divisions as ideological: the Progressives versus Mattiello, the self-described "firewall" against "ultra-left-wing groups." An analysis of District 15 voter demographics by political blogger Samuel Howard makes the case that it is actually a more conventional fight between Democrats and Republicans. Howard took the pulse of District 15 by comparing the votes for Donald Trump and Hillary Clinton in the 2016 presidential election to the votes for Fung and Raimondo in the 2018 gubernatorial contest, and identified Western Cranston's strong Republican identity.
"Mattiello's district is one of the most staunchly Fung districts in Rhode Island," says Howard. He has to pay attention to Republican voters' priorities to get elected, and his caucus is way more liberal."
The fissures also spider out along gender lines. Female legislators have complained about his antipathy to mainstream issues they have championed. (Mattiello declined an interview for this story.)
Bristol Representative Susan Donovan saw her fair pay bill eviscerated in the waning hours of the last session. South Kingstown Representative Teresa Tanzi's "Me Too" revelations about sexual harassment on Smith Hill brought national attention; Mattiello swiftly installed Tanzi as the chair of a study commission, but the resulting bill package went nowhere. Nonetheless, the issue exploded last fall. Mattiello had elevated Burrillville Democratic Representative Cale Keable to chair the powerful House Judiciary Committee despite knowledge that he had been accused of harassing East Providence Representative Katherine Kazarian. When the allegations became public, Mattiello stripped Keable of his post, and he lost his seat to a Republican. Representative Carol Hagan McEntee's (D-Dist. 33) proposal to lift the seven-year civil statute of limitations on sexual abuse lawsuits never even got a vote, despite horrific testimony from victims.
The primary saw open warfare between the Democratic establishment and three female critics of the Speaker who had toppled three old-guard Democrats in 2014. The state Democratic Committee and party leaders, such as Lieutenant Governor Daniel McKee, endorsed opponents over incumbent women Democrats. The most highprofile double-cross came in July, when the Rhode Island Democratic Party endorsed Trump-supporting former Republican, Michael Earnheart, over Providence Representative Moira Walsh, while a Mattiello-controlled PAC donated the maximum $1,000 to Earnheart's campaign.
Most of the incumbents survived. And in this Year of the (Democratic) Woman, the ranks of female legislators grew. There are now twenty-seven women — 36 percent — in the House and sixteen in the Senate – 42 percent. These represent 20 and 23.5 percent gains respectively.
"A third of the chamber is Democratic women, and we should have had a woman appointed to leadership. This is one of the disappointments that make no sense," says Tanzi. "We are going to work like hell to make sure women's issues are not ignored."
In the House, the majority of female legislators (fifteen) initially threw their lot in with the Reform Caucus — twenty-one Democrats who, in November, opposed the return of the Speaker. (One member, Laufton Ascencao, was forced to step down after a campaign scandal. In December, Providence Representative Marcia Ranglin-Vassell left the caucus.) Among them is freshman Representative Justine Caldwell, whose canvas of every voter in her East Greenwich district teased out a thread of discontent over the General Assembly's modus operandi.
"It was a pretty popular insight, but it wasn't personal: They thought the speakership held too much power," she says. "And they want to have as much voice in the State House as those Cranston constituents."
The periodic uproars have forced party leaders to retreat and Democratic State Party Chairman Joe McNamara promises kumbaya going forward.
"As a party we have more in common than divides us. We agree on gun control, support immigration and have strengthened language on reproductive rights," he says. "Sometimes we disagree on how to get there."
But maybe they haven't backpedaled fast or far enough. University of Miami political scientist Gregory Koger says factions can wield power in two ways: by obstructing and by forming alliances with rivals to make policy changes. The Reform Caucus could do either a primary goal going into the session was to change the House rules to spread the decision-making. Minority Leader Blake Filippi says Republicans were listening.
"We have been talking about this for four years. Our caucus will talk with anyone — Progressives, Conservatives — about policies to improve things in this state."
If the Reformers stay together, a coalition with the Republicans could be in the position to bargain. They may not have enough votes to block a Speaker, but they might have enough to block the state budget.
Editor's note: Ellen Liberman has contributed to Progressive candidates during past elections.