Creative Union
Kitchen Views transforms an unsuitable kitchen space into an expansive cooking/dining area the whole family can enjoy.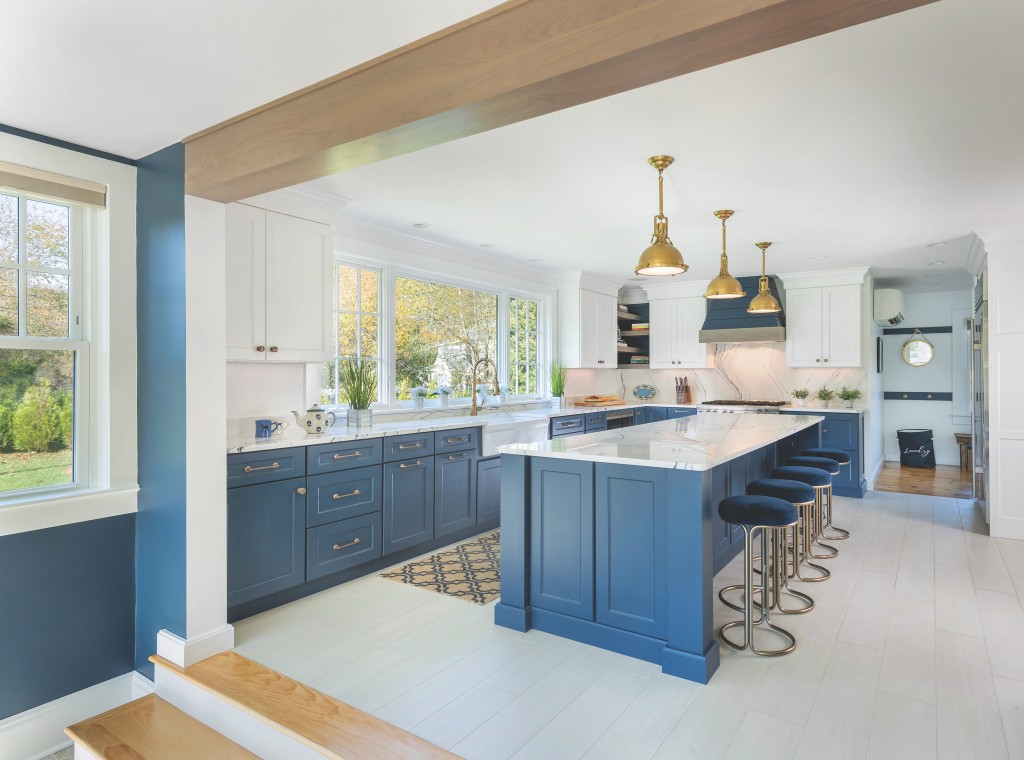 Kitchens are made to bring families together, but that wasn't necessarily true of this Marion, Massachusetts, home prior to Kitchen Views' intervention.
"When I met the family, they hated their kitchen," says Brandy Souza, Designer and Vice President of Kitchen Views. "It was separated from the dining room by a wall, blocking a lot of natural light. The roll-out drawers did not pull out all the way and stuck. There were no doors on the wall cabinets leaving no room for closed storage."
Aiming to remedy each of these concerns and more, the Kitchen Views team certainly had their work cut out for them. The biggest undertaking was the kitchen itself. The team revitalized the space with durable PRYZM rigid core hybrid floors from Armstrong Flooring underfoot and gold pendant lighting from Restoration Hardware overhead. White Omega cabinets with Renner-style doors now line the perimeter while a gleaming thirty-nine-inch Hyannis-style apron-front Nantucket Sink sits in front of an expansive window, allowing for lovely views while food prepping or dish washing. Above the oven sits a custom-designed shiplap wood range hood in shade "blue lagoon" with a walnut apron trim. Both colors also tie into the freshly appointed corner shelving. As for the center island, there is a special design reason behind its shape: the large square legs sit proud in the front of the cabinet while the back extends over the rear legs to accommodate seating. Even the smallest of details were taken into consideration.
"The homeowner's daily routine included microwaving her coffee mug and then placing coffee in it," Souza says. "I recommended a warming drawer to keep her mugs in and a built-in coffee maker above it. Below is a bar fridge for their favorite creamers and milks."
Another large task involved eliminating the obtrusive wall between the kitchen and dining room in order to allow each space to breathe and naturally flow into one another. Knowing an LVL—a.k.a. laminated veneer lumber, a high-strength engineered wood product used for permanent structural applications—would be needed in its stead, Souza designed a custom walnut beam to conceal the addition and frame the entry. Just beyond, the dining room likewise saw a few upgrades.
"The floor tile had been an orange color, which we changed to the blue/gray wood flooring," Souza explains. "I also added a table with a walnut top to bring the whole design together."
This overall redesign also includes a mudroom attached to the opposite end of the kitchen. Here she added blue shiplap to match the wood range hood just around the corner, as well as panels behind the custom walnut shelving in the corner.
"I also added cabinetry for more storage and cubbies with a walnut top where people can sit and put on shoes."
Now, thanks to Souza and the Kitchen Views team, this family can happily come together, no matter if they're enjoying their new dining room, kitchen or mudroom.